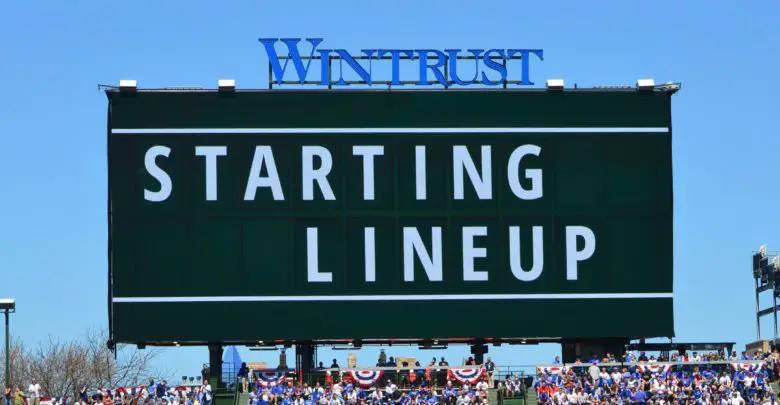 Chicago Cubs Lineup (9/2/19): Heyward Leads Off, Garcia at 2B, Russell at SS, Hendricks on Mound
Is it too much to ask for a hard-hit ball to find a home somewhere other than in an opponent's glove? Or to not soil the bed with runners on and no outs? When the Cubs weren't being victimized by bad luck this past weekend, they looked pathetic in nearly every offensive facet of the game. Time to shake that off while they still can.
Jason Heyward is back in the leadoff spot and playing center, followed by Nicholas Castellanos in right, Kris Bryant at third, and Anthony Rizzo at first. Robel Garcia is at second, Kyle Schwarber is in left, Addison Russell is at short, and Jonathan Lucroy is catching.
Javy Báez is out after jamming his thumb in Sunday's loss, an injury that forced him out of that game as well. X-rays were negative, so his absence should not be extended much further.
They'll try to take a few balls into the basket and out onto Waveland against Justus Sheffield, a 23-year-old lefty making just his fourth start for the Mariners. Once one of the more coveted prospects in the Yankees system, he was traded as part of a package for James Paxton last November and has had a terrible time finding the strike zone since.
After pitching to a 6.87 ERA with a 7.85 K/9 and whopping 6.71 BB/9 over 55 innings at Triple-A, Sheffield has done more of the same for the M's at the big league level. Not only is that 1.57 K/BB ratio ugly, but he's also given up three homers in 11.1 innings. We could chalk that up to a fluke, but he allowed 12 dingers over that Triple-A stretch as well.
Sheffield does get a lot of grounders, but he's had so much trouble with command that he's often forced to throw strikes to hitters who are sitting dead red. He's also got a limited repertoire that features a mid-90's fastball, a biting slider, and a very firm changeup. None of those have served him particularly well, with the heater failing him as a setup pitch, and hitters don't have to try too hard to guess what's coming.
There's really not much more to get into here because the Cubs have every reason to pound this guy. He's young and inexperienced, hasn't been able to find a groove over his last 70 innings or so, and the top hitters in this lineup crush southpaws. Oh, Sheffield has also struggled mightily against hitters from both sides in his limited action, so it's not even about the splits.
Going for the Cubs is Kyle Hendricks, who's hoping a little of that home cooking can do him well. Hendricks has been much better at Wrigley than on the road and the Cubs desperately need a good start from him this afternoon. Is desperate too strong a word? Maybe if the Cubs hadn't given up three games in the standings over the last two days.
First pitch is once again set for 1:20pm CT and can be seen on WGN or heard on 670 The Score.
Here is today's #Cubs starting lineup.

Game preview: https://t.co/0aqLEZkoI1 pic.twitter.com/R5zPWg164U

— Chicago Cubs (@Cubs) September 2, 2019