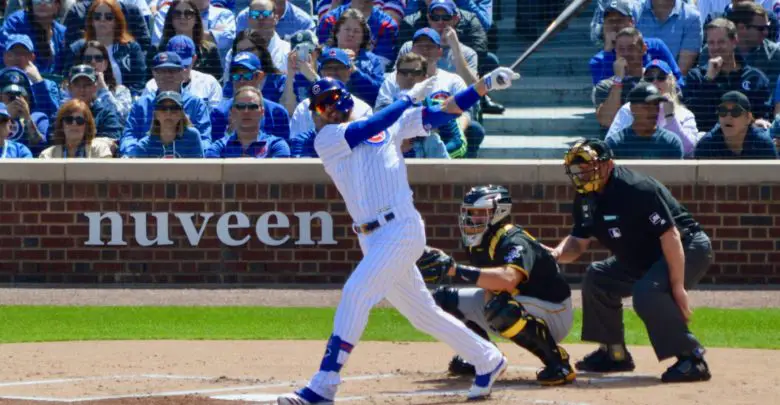 Kris Bryant Receives Cortisone Injection in Ailing Right Knee, Could Play Tuesday
The Cubs announced Monday in San Diego that Kris Bryant had received a cortisone injection in his ailing right knee and has been ruled out for the series opener in his old stomping grounds. Bryant has not been ruled out for Tuesday, which is a good sign. Believe it or not, getting the injection is also a good sign in that it means there's nothing structurally amiss with the knee.
"Treatment makes it feel better," Bryant told reporters Monday. "But sometimes you just can't catch up with it, and it just kinda got to the point where it was like, 'Yeah, maybe we take a little step further.' And especially with the timing of it, with it being so close to the end of the year, I'd like to speed it up so that we could really nip it in the bud and cover the last two months of the season.
But wait, there are only three weeks left in the season. That means Bryant planning to play well into October, which of course he is.
If the medical staff was concerned that there was anything that could get worse by playing on it, opting for the injection would be pretty irresponsible. Because cortisone injections — which usually comprise a corticosteroid medication and a local anesthetic — knock out pain and inflammation, they mask the body's natural response to injury and can lead to the recipient pushing things to the point of further damage.
That's not quite the same as Biofreeze, the official topical pain reliever of the Chicago Cubs, which invites users to "feel no limits." Maybe Bryant will actually use some of that OTC menthol sauce, though, as cortisone injections can lead to the deterioration of cartilage in the joint and should not be administered more frequently than every six weeks.
This is similar to what Bryant went through last season, when he received a cortisone shot in his left shoulder after an MRI revealed no structural issues. Now let's just hope this enables the slugger to recapture the form that has been lost for the most part since the knee flared up during the All-Star break.