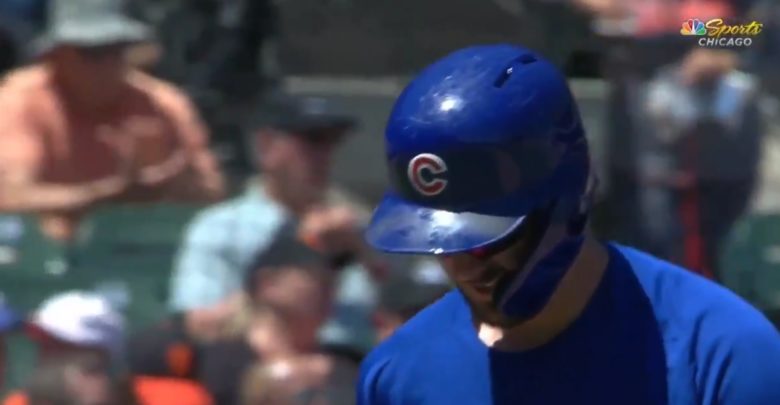 Reluctance to Utilize Injured List More Proactively Remains Perplexing Theme of 2019 Season
One of the themes of the 2019 Chicago Cubs has been a maddening, consistent repetition of mistakes. From poor bullpen management to questionable lineup decisions, it feels like we as fans have been strapped into a Clockwork Orange style chair and forced to watch the same movie over, and over, and over again.
By that analogy, one of the movies we've had to watch on repeat more than most is a puzzling reluctance or inability to meaningfully react to player injuries. We've seen this with situations ranging to Javier Báez's pair of significant injuries to Anthony Rizzo's recent non-placement on the injured list despite missing eight days with back issues.
And we recently learned more about just how much this peculiar line of decision-making has extended to former MVP Kris Bryant, too. Bryant, who was out of the lineup for a couple days and has missed previous starts as well, received a cortisone injection in his troublesome right knee this past weekend. The results were almost instantaneous, as he returned to the lineup with two huge home runs in Tuesday's loss.
Prior to that, however, he had posted just a 95 wRC+ with a .241/.333/.426 slash line since the start of August. Those numbers got progressively worse as August wore on, to the point that Bryant admitted he was dong a "disservice" to teammates and fans by playing at just 60-70% capacity.
Good stuff from Kris Bryant. Audio to be played on JHood show tonight on ESPN 1000. Said playing at 60-70 percent is a "disservice" to his teammates and the fans.

— Jesse Rogers (@JesseRogersESPN) September 9, 2019
Whether or not his two-homer game on Tuesday is an indication that he's "back" remains to be seen. But he's not alone in suffering diminished production following injury. Before his recent hand ailment, El Mago had been battling a heel injury since May.
If you believe that injury has impacted him all season, I happen to agree with you because the number bear it out. Báez's first half wRC+ of 121 was followed by a comparatively pedestrian 96 in the second.
The question is, then – what exactly are the Cubs doing here?
They aren't gaining anything from playing Bryant and Báez through injuries that so severely diminish their production. Nor are they gaining anything from a refusal to use the 10-day injured list for situations like Rizzo's, which is just about explicitly the purpose of the recent addition to major league teams' arsenal of injury management options. And this isn't exactly a new phenomenon, though we don't need to rehash additional examples.
That the Cubs generally aren't handling these situations well seems, at this point, beyond dispute. What remains in question is whether this is a failure of diagnosis and prognostication on the part of the Cubs' medical staff, poor management of the roster vis-à-vis injuries, or, most likely, some combination of both.
No matter what happens to the Cubs the rest of the way, this season will have been significantly impacted by these injury issues. Among the laundry list of organizational, process-oriented changes that should be on Cubs' docket for improvement in the offseason, injury prevention and management stands out as one of the most significant.