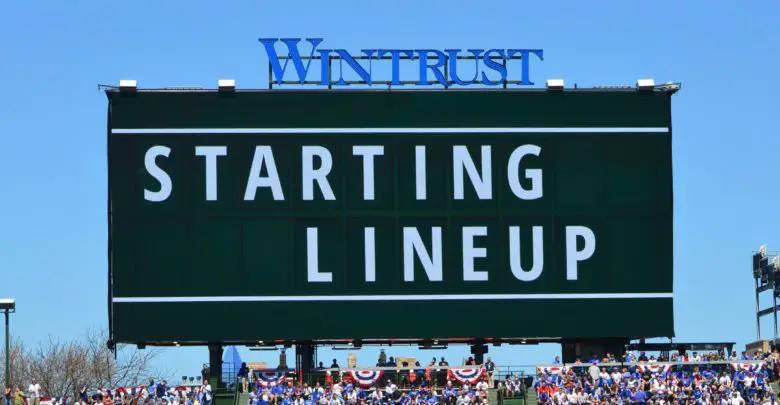 Chicago Cubs Lineup (9/16/19): Zobrist Leads Off, Caratini at 1B, Hamels Pitching
Ben Zobrist had been moved to the middle of the order, but he's back in the leadoff spot with Anthony Rizzo out as the result of spraining his ankle Sunday. Nicholas Castellanos follows in right, then it's newly minted NL Player of the Week Kris Bryant at third, Kyle Schwarber in left, and Willson Contreras behind the plate.
NL Player of the Week looks good on you, KB! pic.twitter.com/2mYSplMuuE

— Chicago Cubs (@Cubs) September 16, 2019
Victor Caratini will handle first base in Rizzo's stead, then it's Jason Heyward in center and Nico Hoerner at short to finish the lineup. Here's to hoping Rizzo isn't as badly injured as our worst fears currently hold. Hey, maybe they can just give Big Tony a cortisone shot (except not really).
The Cubs were initially set to face Sonny Gray, but the Reds shuffled the rotation and now have Kevin Gausman pitching Monday with Gray bumped back a day. That also means the Cubs will miss Luis Castillo and Trevor Bauer in this series, though it would've been nice to see the latter brain genius eviscerated. Oh well.
This is actually Gausman's first start for the Reds after starting the season in the Braves' rotation. Cincy claimed him off waivers in early August and moved him to the bullpen, where he had been pitching significantly better. Gausman's 6.19 ERA as a starter was at least partially the product of bad luck, as is the 4.02 he's put up in 15.2 innings since the move. Or maybe it's not.
It's not uncommon to see a pitcher put up better numbers after a move to the 'pen, which Gausman has done with significantly better strikeout and walk results. Rather than coming as a result of increased velocity, the success can be attributed primarily to ditching his subpar changeup in favor of the splitter that he's now throwing nearly 44% of the time. It's his most effective pitch and it's his preferred option when he gets ahead.
What remains to be seen is how he'll operate now that he's back in a starting role. Though he's typically been deployed as a multi-inning reliever, he's probably not stretched out enough to go deep into this one. He may also need to change up his repertoire, since going with just the fastball and splitter probably won't work as well When facing a lineup multiple times.
Gausman has posted nearly identical platoon splits this season, with righties just six points higher in OPS (.798) and five in wOBA (.336), so there isn't much of an advantage there. His recent results do suggest a big change from his Reds production, though, as he's giving up over 51% hard contact and nearly 38% line drives. A continuation of that against a Cubs team that has been crushing mistakes could spell another offensive outburst.
It might be a good idea to hang a bunch of runs on Gausman early, since Cole Hamels hasn't exactly been lights-out lately. He did, however, limit the Padres to one run in a laborious outing last week. Hamels' velocity has gone up over each of his last four starts, a very positive sign that could portend a return to his proper mechanics.
First pitch from Wrigley is at 7:05pm CT on NBC Sports Chicago and 670 The Score.
Here is tonight's #Cubs starting lineup. #EverybodyIn

Stream on @NBCSChicago: https://t.co/rGCuW1XI7C pic.twitter.com/X3uRKKdehv

— Chicago Cubs (@Cubs) September 16, 2019