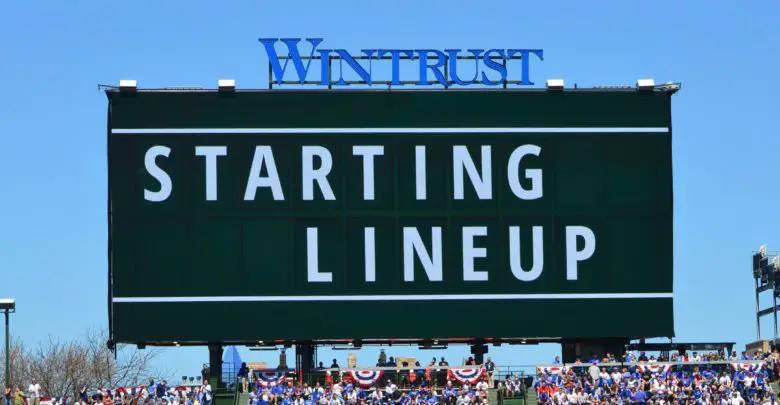 Chicago Cubs Lineup (9/18/19): Zobrist Leads Off, Caratini at 1B, Lester Pitching
Ben Zobrist is leading off at second base, followed by Nicholas Castellanos in right and Kris Bryant at third. Kyle Schwarber is in left as he employs an all-fields hitting approach, Willson Contreras is catching, and Victor Caratini is at first. Jason Heyward in center and Nico Hoerner at short finish things out.
They're facing Tyler Mahle, he of the 5.11 ERA over 22 starts. While a pitcher's record should not be used as a sole indicator of his performance, going 2-11 tells us that Mahle hasn't done a great job of keeping the Reds in games. That's been true of his last eight starts, over which time he's posted a 6.98 ERA with multiple homers allowed four times.
To be fair, he missed about six weeks in between there with a hamstring issue, though that doesn't really appear to have impacted his pitching one way or the other. Mahle can run his fastball up there at 93-94 mph and he uses it to get a lot of first-pitch strikes to set up his secondaries, but his curveball really hasn't been good this season.
The splitter has actually been Mahle's best pitch this season, which is interesting because he only started throwing it this year. His cutter, which may actually be a reclassification of his slider, has not been nearly nearly as good and he doesn't throw it often as a result. Pitch tracking shows that Mahle used to throw the slider 20-25% of the time, but he appears to have ditched it after it betrayed him badly last season.
Hitters from either side will see nearly the same offerings from Mahle, with the only differences being a few more splitters for lefties and more curves for righties. However, Mahle will throw lefties a first-pitch curve nearly one-third of the time. He likes to get ahead early, with a 69.8% first-pitch strike rate that would rank second in MLB if he had pitched enough to qualify.
Because Mahle doesn't walk many batters, the Cubs may want to be a little more aggressive in this one. He can miss a few bats and that splitter isn't something they'll want to have to battle with two strikes, so maybe sit fastball or curve and try to take advantage of his propensity to work in the zone.
They may have to do that in order to give Jon Lester a little cushion, though he's due for a good start based on his trend. The lefty has gotten mixed results against Cincy in two previous starts this season, putting up decent strikeout and walk numbers while giving up three earned in each. A vintage start sure would be nice.
First pitch is at 7:05pm CT on WGN and 670 The Score.
Here is tonight's #Cubs starting lineup.

Game preview: https://t.co/DFCF0c8TFN #EverybodyIn pic.twitter.com/0OTFzIm5xc

— Chicago Cubs (@Cubs) September 18, 2019