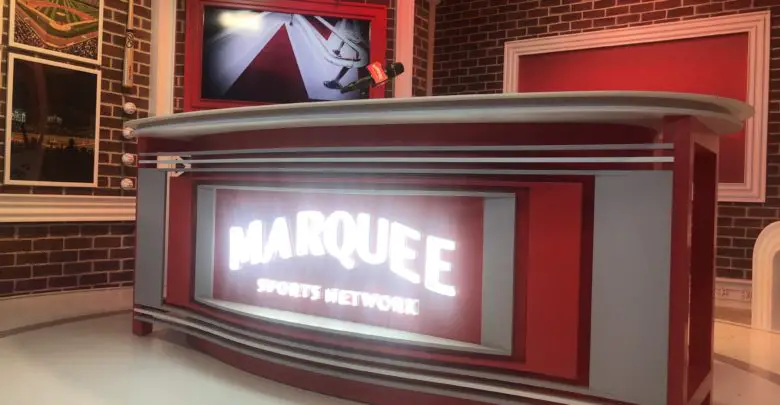 Marquee Sports Network Facing Uphill Climb as Marketing Push Begins in Earnest
If you've watched or listened to Cubs games over the last week or so, you've probably been inundated by the ads. Even in markets outside of Chicago and on stations that don't carry Cubs broadcasts, Marquee Sports Network is marketing to fans. The new exclusive home for Cubs baseball starting in February of 2020, Marquee warns you to hold onto your helmet nachos as you prepare for the glorious coverage to come.
While the team itself is doing a pretty terrible job of supporting the marketing push as they stumble out of the playoff race, the timing is perfect from a broadcast standpoint. Over the last handful of games alone, the Cubs have bounced between ABC 7, NBC Sports Chicago, and WCIU. Then there's WGN, which will air its final game from Wrigley on Saturday. For fans having a hard time figuring out what channel to pull up, if they have access to it at all, Marquee seems like a beacon of hope.
Except that it might not be if their television provider opts not to carry the Cubs-only station, a very real possibility that becomes more plausible every day. Negotiations reportedly began back in May, with Sinclair Broadcast Group — the Cubs' partner in this venture — pitching Marquee at a $4 carriage fee. That is apparently still the going rate, a fairly reasonable one all things considered, though negotiations like this typically go down to the wire and might not be finalized until spring training or even the start of the season.
In essence, we could see the same situation with Marquee as what's happened with MLB free agency the past couple years. But with Cubs games all consolidated under one roof, such a delay could be disastrous. Crane Kenney, the Cubs' President of Business Operations, admitted recently that he expects the process to drag on for a while, and a Comcast representative told Bill Shaikin of the LA Times that negotiations with Sinclair have not even begun yet.
Given that Comcast is the largest cable provider in the Chicago area, having them on board with Marquee could put heat on the competition. But when that same provider is hemorrhaging subscribers, it needs to determine whether it's better to add a niche channel and charge more for their service or risk attrition to another carrier that has Marquee.
Most Cubs fans are probably fine having an extra $4 rolled into their monthly bill, but that's not how cable works. Should Comcast opt to carry Marquee, it would be at an additional cost to every single subscriber whether they're Cubs fans or not. And since there are far more non-Cubs fans among Comcast's total subscriber pool, even in the Chicago area, they may feel that charging more to carry Marquee is the greater risk.
"In the old days, when you were making so much money in your video business, you couldn't afford to let a sports channel go off, because you would lose video subscribers," a Comcast exec shared with the Times.
"The question you've got to ask is: If a Cubs fan doesn't have the Cubs on Comcast video, are they going to turn off their Comcast broadband business? My guess would be very few do."
Cable providers gained more of an advantage back in July, when Dish Network stopped carrying 22 Fox Sports-branded regional sports networks. It remains to be seen whether others will take that same tack, but having one major player out of market means fewer opportunities for Marquee to pitch its product.
"It doesn't look good that the regional sports will ever be on Dish again," Dish Network Chairman Charlie Ergen said of the move. "The frustrating thing is, they are not very good economic deals for us. We have real data that tells us that the channels are overpriced, and Fox had a lot of leverage to get people to overpay when they owned them."
That last bit there could be most troublesome to Marquee, since the whole idea from the start was that Sinclair would be able to leverage its wealth of local television stations to grease the carriage wheels. It was that same thinking that led Sinclair to purchase those Fox RSNs from Disney for $9.6 billion back in August, finalizing a process that had been underway for several months and included the likes of Amazon.
Okay, let's pull this all back together and see if we can make sense of it. The Cubs have wanted to launch their own network for a long time, but either couldn't or chose not to five years ago when their WGN deal first expired. So they opted for the fractured arrangement to which fans have been subjected since, hoping that the broadcast environment would shift enough that they'd be able to command massive windfalls from a new consolidated deal.
As you probably know by now, that isn't the case. While the Cubs have said repeatedly that Marquee will generate significantly more revenue than their current partnerships, that's all based on projections and might not come to fruition the way they've planned. Kenney recently told 670 The Score that the Cubs expect TV revenues to fuel a very high payroll again next year, but what happens if those revenues aren't available until March or even April?
The baseball budget for 2020 should be finalized in the next month or so, at which point there may not be any headway on carriage negotiations. That means limited guarantees on Marquee's revenue stream, a problem that stretches far beyond just the ability to spend in free agency and on extensions.
It's entirely possible that the regular season will start with entire segments of the Cubs' fanbase, whether in Chicago or throughout the Midwest, unable to access games on TV. Those outside the team's MLB-mandated territory will still be able to watch via MLB.tv or other subscription services, but carriage issues could hose the folks inside the blackout region.
This all comes down to a matter of timing, both in terms of the Cubs' choice to put off launching their own RSN and how quickly they'll now be able to get Marquee out to the masses. But with the clock ticking and little progress made so far, there's still a lot of work to be done to keep Marquee from flopping.