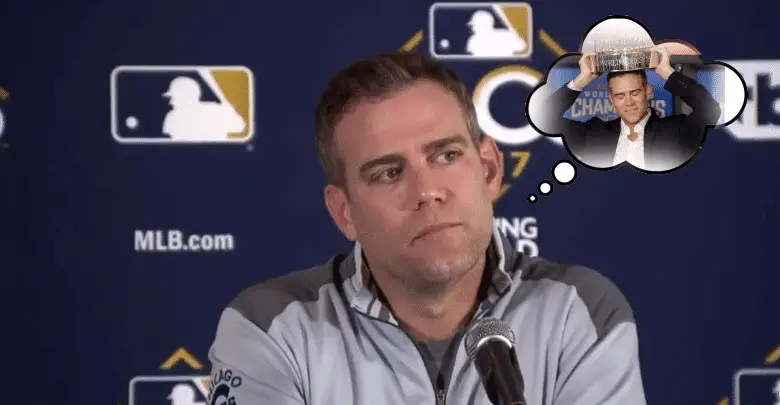 Despite 99 Problems, Still Reason to Sing 'Don't Worry, Be Happy' About Cubs' Future
I've had a million songs running through my head as I tried to frame the last few days as a Cubs fan into some semblance of perspective. Lately, issues have been springing up like holes in a dastardly cartoon villain's boat and Phil Swift was nowhere to be found with the Flex Seal. As such, I thought Jay-Z's 99 Problems could be the Cubs' new theme song. Then I realized a pitch — more than one, actually — was indeed one of those problems.
Then the tune changed as Cubs Twitter got incendiary, with Bobby McFerrin's iconic earworm Don't Worry, Be Happy invading my brain. I have the audacity to hope for success on the North Side. Not necessarily for a playoff run this year, but for the future.
To paraphrase McFerrin's words, everyone is going to have some troubles at some point. If you worry and take it too seriously, it'll be twice as hard on you. Even though it's nigh impossible to be positive about the Cubs at the moment, pragmatic thinking might even tell you that with the gift of hindsight, this year might just be a blip on the radar of an otherwise mighty Cubs' juggernaut.
Windows of contention vary based on many factors: money, owners, coaches, players, luck, injuries, etc. With a core of talented players, lots of money, the possibility for middling-to-massive turnover, and philosophical changes with new coaching staff, the Cubs are about as well positioned as any club throughout MLB. Bad years happen, the trick is to wedge that window back open before it slams shut.
Just take a look at the Yankees, Red Sox, and Giants, three teams that have enjoyed enormous success over the past 20 years. Since 1998, the Red Sox have gone to the playoffs 12 times and won the World Series four times after breaking "The Curse of the Bambino" in 2004. They've also had three losing seasons, including the real stinker in 2012 in which they won 69 on the heels of the infamous chicken-and-beer year of 2011. Guess what they did in 2013.
Since 1995, the Bronx Bombers have been to the playoffs 20 out of 25 years, an astounding run. They've won five rings in that time and have not had a losing record once. But they still underachieved at times and even sold off their assets in 2016. You might recall that both Aroldis Chapman and Andrew Miller ended up pitching for the respective World Series competitors that year. The Cubs won, by the way, people forget that.
The slight outlier here is the Giants, who had a smaller run from 2010-16 as they proved that one year at the bottom of the track doesn't mean diddly squat as a return to the roller coaster's apex could be right around the next turn. They won three World Series titles in their famous even-year run, and could have won another if not for the Cubs. The Giants missed the playoffs in the odd years and have been stinky since, but their recent performance is hardly the point.
The Red Sox had to get rid of several star players and bloated contracts, even parting with beloved manager Terry Francona, who had never won fewer than 86 games in eight years. The dude had even managed the 2004 team that broken the curse. Sound familiar? Crazy thing is, the Red Sox did it again in 2017 when they jettisoned the not quite as beloved John Farrell, who had added another World Series in 2013 and guided the Sawks to three 90-win seasons. Alex Cora took over in 2018 and they won another ring.
The Yankees hired Aaron Boone, who came in with zero managerial experience in 2018 after Joe Girardi had won 91 and made it to the ALCS the previous season. While they lost to Boston in the division series in Boone's first season, the Yanks won 100 games and all they've done to follow that up in 2019 is win 100 again to cement Boone as the leader of savages.
The Giants are oddities in this discussion because of their undulating play. They didn't fire their manager when things went badly and even won a World Series in 2014 despite winning only 88 games and finishing second in their own division. That being said, they did have an extreme amount of turnover in five years. From 2010-14, only three of their starters (Matt Cain, Madison Bumgarner, Tim Lincecum) remained the same and their bullpen had a complete overhaul.
I guess the point is this: despite the difficulty humans have in accepting or wanting it, change can be good. Letting Joe Maddon go could be good. And we can still love him. Don't they still love Tito in Boston?
The Cubs can and will trade some homegrown guys and fan favorites while possibly letting others go in free agency. There's absolutely nothing wrong with that. In the middle of this very real and very raw thing called "about to miss the playoffs," it's not easy to accept the reality of losing some of those comfortable security blankies we've gotten used to.
So, here's the little piece I wrote. You might want to sing it note for note: Don't worry, be happy.
Even if the Cubs miss the playoffs as appears to be a near lock at this point, we've seen more than once that it doesn't preclude them from winning the World Series in 2020. Maybe looking back on this moment 20 years from now, everyone will say how it was just time for certain guys to go and new guys to come in. Here's hoping we'll see it was all just a little speed bump on the way to two or three more rings.