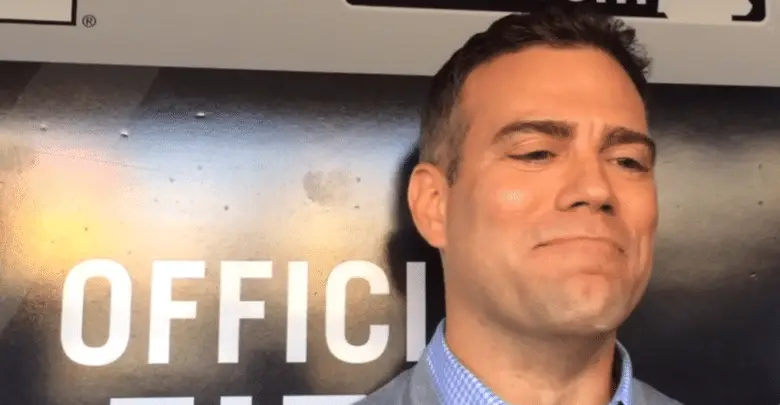 The Rundown: Epstein Sees Opportunity Ahead, Significant Changes Coming, New Music Tuesday Returns
Ahh, the impending glintt of first light as it lurks behind a weeping marquee on Chicago's North Side. Let the dismantling begin, no matter the depth or breadth. It's time for Theo Epstein to get out his tool belt, with tire irons and crowbars ready to swing.
It's hard for me to call Epstein's recap presser a postmortem. We've been eulogizing this Cubs team for quite some time, some of you as early as mid-June, so we're past the disbelief and shock, and most of us had no trouble breezing through denial and anger. For the most part, we've reached a feeling of acceptance, which is necessary because changes are coming. And like the dismissal of Joe Maddon for some, many of the imminent alterations may be tough to swallow.
On that note, yesterday represents a birth of sorts. Theo spent a good 81 minutes deconstructing a miserable season while talking about what lies ahead. I can sum it up in a few bullet points for you, as much of what the president of baseball operations said is typical executive management porn with a baseball chaser.
Failure means opportunity.
Accountability means being above board within the management structure as well as with the team's fans.
Aggressive mediocrity proved to be a poor way to improve a team coming off of a 95-win season.
The front office is willing to take the knock on consecutive disappointing seasons.
Expect delayering changes within the organizational DNA.
You've got to hit on your deals, and he hasn't. (That's actually verbatim).
Epstein played it close to the vest, so he didn't really drop any bombs on those watching. He basically said that no players, including Kris Bryant and Javier Báez, are untouchable, and that the front office may need to make some tough decisions on some of those fan favorites as they get closer to free agency. Theo and his executive entourage have a pretty good idea of the type of manager that they want to succeed Maddon, and he is excited to build Chicago's next championship team.
Baseball is all about adjustments. Pitchers learn hitter tendencies, they adjust their approach. Hitters read how a pitcher works them, they make appropriate adjustments. Now it's Theo's turn to adjust to a league that's caught up to him.

— Brad Robinson (@bradrobinson8) September 30, 2019
Waking up on a warm October morning on the outside looking in at the postseason hits me about as hard as an overdraft fee, and I'm sure many fans feel similarly. I've heard whispers and read reports that the game has passed Epstein by, so the next two seasons of his stewardship are critical in proving that's not true. The first step is finding the right manager, then deciding who stays and who does not.
If you were expecting "The Reckoning: Part II" during yesterday's state-of-the-organization address, you were probably disappointed. Perhaps Epstein learned from the mistakes he made last October, when he led with anger and frustration instead of being his usual even-keeled self. The reality is that the expectation of shock and awe that was promised to Cubs fans was merely the rope Epstein needed to hang himself, or forthrightly, Maddon. As we learned, fire and brimstone are not represented in human form by the likes of Daniel Descalso and Brad Brach.
Still, change is coming.
Baseball is no longer just a seasonal sport. The regular season lasts 186 days, there's 30 days of playoffs, and 42 days of spring training. That leaves just under 110 days for this front office to right the ship. It will be interesting to see what Epstein has in mind.
Cubs News & Notes
Ian Happ named NL Player of the Week. pic.twitter.com/CSCfYe1hAc

— Chicago Cubs (@Cubs) September 30, 2019
Extra Innings
On my wish list of players I hope the Cubs sign or pursue in trade this winter, in order:
And just a note to the next manager: If a prototypical leadoff hitter isn't acquired by your bosses this winter, just put Anthony Rizzo in the one-hole and leave him there all season. That may be all the Cubs need to get back to the playoffs.
New Music Tuesday
Nighthawks at the Diner by Tom Waits – This album is like a Jack Kerouac novel set to music. Waits is one of the greatest storytellers in music history, this live performance is his finest work, and it's one of my favorite albums of all-time. I own a remastered version of this LP, but found an original a few weeks ago at a vinyl store in New Buffalo, MI.
Dick's Picks Volume Three by The Grateful Dead – I recently started collecting the Dick's Picks series on CD, and this is by far my favorite of the entire series. Recorded May 22, 1977 in Pembroke Pines, Florida at the Sportatorium, it features their best live version of the Bonnie Dobson-Tim Rose penned (Walk Me Out in the) Morning Dew, a truly sacred performance that closes out disc two. The CD retails for about $230, so I can only imagine what a vinyl version costs, as the band limited it's 180-gram release to just 2,000 copies. I bought my VG/VG+ CD at a rummage sale for six bucks back in July.
Nashville Skyline by Bob Dylan – For whatever reason, this is my go-to offseason album. It's a perfect musical transition from summer to fall. If you haven't heard Girl from the North Country, Dylan's haunting duet with Johnny Cash, you are missing out on a musical masterpiece. To Be With You is an excellent song, too.
They Said It
"I think [Bryant and Báez] are hugely important, and it'd be hard to see them out of a Cubs uniform, but we're at a transition point, and we have to do whatever is best for the Cubs. I hope [the future] includes both of those guys."- Theo Epstein
"I just think we didn't get it done. We didn't do enough to win. It's on us players. It's on me. It's on Kris [Bryant], Javy [Báez], Jay-Hey [Jason Heyward], our pitching staff, bullpen — all of us. We didn't get it done." – Anthony Rizzo
Tuesday Walk Up Song
Winning Streak by Glen Hansard. Let's get Championship Window Number Two open ASAP. You may recognize Hansard from the movie The Commitments as the lead guitarist of the semi-fictitious band from Dublin upon which the movie is based.