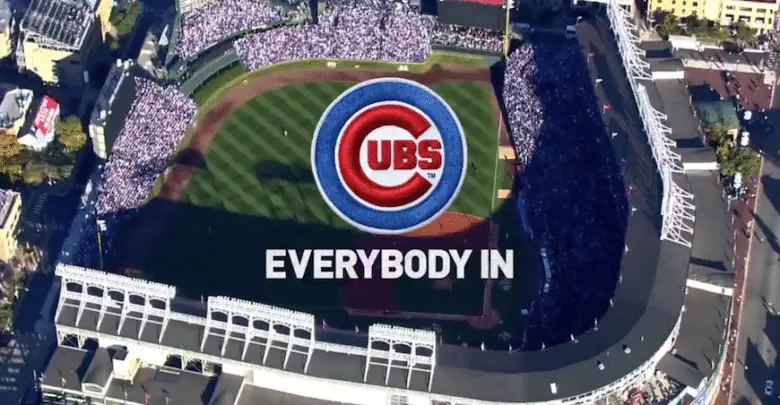 Cubs Conversation: Gordon Wittenmyer on Budget, Blame, Kris Bryant, Nick Castellanos
I once worked a well-known Chicago nightclub promoter by the name of BJ Murray. In the short time we worked together he introduced me to a phrase he used constantly; "Flip the script." He would use it when it came to changing the vibe of a venue or trying to tell a DJ to change the type of music he was playing.
"Get that DJ to flip the script!" he would command.
That phrase has been bouncing around my head all season regarding this Cubs team and I truly believe Theo Epstein was ready to make a change after the 2018 campaign. However, I think it's fair to say after that now infamous presser that he likely thought he would have more latitude when it came to getting things, er, flipped.
Now that the Cubs have missed the playoffs for the first time in five years, however, there should be some big changes. We already got one of our first major "whacks" in Jason McLeod, who should be a big part of the organization moving forward, but let's not pretend that move wasn't performance based and the start of an organizational upheaval.
Marc Silverman of ESPN 1000 discussed this when he joined me as the first guest on my podcast, Beers and Beat Guys. Silvy and I likened this Cubs competitive window to an HBO or Netflix show entering its fifth season and none of the main characters have been killed off yet. Only the supporting characters like pitching coaches or hitting coaches were getting axed, so things were getting a bit stale on the show.
That's about to change now.
The most recent guest I had on was Gordon Wittenmyer of the Chicago Sun-Times, who I'm sure many of you think can be a little too critical. Other beat guys can be just as critical at times, it's just that Wittenmyer has less of a filter when saying it.
Wittenmyer and I discussed his recent article about where the blame for the 2019 season should lie. He feels not only does the front office needs to share some of the blame with Joe Maddon, but pointed his finger directly at an ownership group that basically canceled their team president's credit card when he had ideas of fixing the mess he helped create.
"This is a team that won 95 games in a disappointing season," Wittenmyer said. "And if you're ownership, these windows don't just magically appear. And when they're there and you're one of the top three or four revenue producing teams in the game, your role, your job, your duty is to do your end of that.
"And that's to free up some of those revenues to keep that window going and as a function of how much money they make. The Cubs are not spending as much of it as they did 10 or 12 years ago. In some cases some of their higher payrolls back then made up a much larger chunk of their revenues.
"I know you've got a flawed roster, but you're just going to have to make do and we'll address it again at the trade deadline is malpractice, you charging fans as much money as you are? You owe the fans more than that."
Wittenmyer also pointed to having to bring back Cole Hamels due to the rough return Epstein and Jed Hoyer received on their free agent pitching spending spree before 2018 as the main culprit in allowing this team to enter 2019 with glaring holes.
"I don't think that (Theo) was handed one budget at one point and then some of it was taken back later, but I think he had expectations of having more to work with," Wittenmyer explained. "One of the things that came into play right away was nobody counted on the Hamels situation. Certainly he didn't count on it last year.
"So by the time you got into the second half of last season, you were already poised to spend $20 million of whatever you had left in your budget for this year anyway, that comes into play in a big way. Had that not happened, he would have had been able to add some significant guys."
While we can all count on some familiar faces leaving town, the Sun-Times scribe does not expect one of those faces to be Kris Bryant.
"The whole relationship with Boras and this idea that (Bryant) won't sign an extension is way overplayed, way overplayed," Wittenmyer said. "People use that like it's some kind of factor that that's been building all this years. It hasn't. Yes, they've made offers. They also knew those offers weren't going to get accepted. They were low-ball offers at the time too and they knew he wasn't going to accept it, but if he did, Hey great, so you do it".
As happy as some of you might be to hear that take regarding the former MVP, you might be disappointed thoughts on the Cubs' chances to re-sign new fan favorite Nick Castellanos.
"I don't think Castellanos is coming back," Wittenmyer stated. "He's a nice fit and he would be a good piece, but for what he's going to cost. I don't think it's going to be a piece that would pay off over time for what this team needs.
"And you know, as nice a hitter as he is and as complimentary as he is to what some of the other guys in the lineup do, they need, they desperately need at least a platoon on-base guy, a guy that they can put at or near the top of the order, preferably at the top who is at least a good platoon guy against right-handers."
We also discussed the other needs that may be addressed this offseason and the way Wittenmyer would attack it. I really enjoyed my talk with him, so please give it a listen if you have the chance. Even some of his harshest critics admitted they enjoyed it too.
I begrudgingly admit that I enjoyed this

— Matt Hickey (@hickeymj) September 26, 2019