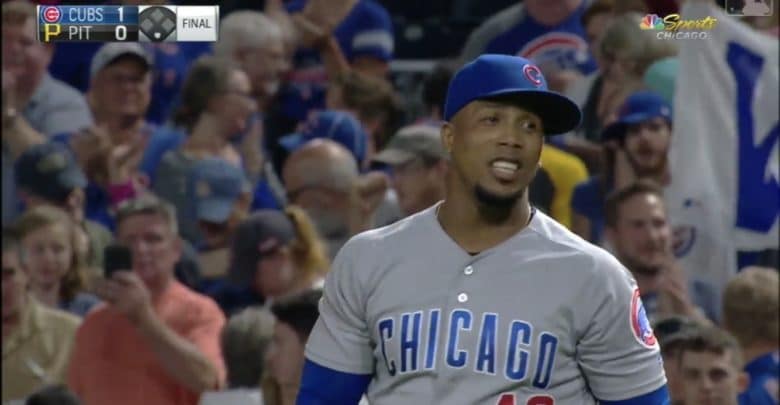 Pedro Strop on Potential Cubs Return: 'They Know This Is My House Here'
Pedro Strop was part of the problem for a Cubs bullpen that failed to hold far too many leads this past season, but that doesn't mean he won't be back next year even after reaching free agency. He'll return to the Cubs if he's got anything to say about it, as it's evident Strop wants to remain in Chicago. The team may be open to that also since, as Patrick Mooney wrote for The Athletic, having a fiery bilingual veteran leader on the pitching staff would be a boon to the new manager ($).
Strop would be a veteran presence in a bullpen that is shaping up to be Craig Kimbrel and a bunch of young Pitch Lab graduates. It would take both sides getting creative, a team source said, and it's too early to say for certain, but the Cubs are expected to be open to the possibility of re-signing Strop for all of those reasons.
A career-worst stat line was influenced by age and injury, then exacerbated by a supporting cast that was in too much flux to allow Joe Maddon much runway for his former setup man. Though Strop was clearly incapable of handling high-leverage outings throughout much of the season, he was forced into those situations out of necessity. The results were…less than great.
His 2.90 ERA in a Cubs uniform was inflated by a 4.97 that even the Orioles wouldn't have been happy about. He walked too many men (4.32 BB/9) and gave up too many homers (1.30 HR/9), making him far too inconsistent and unreliable. Interestingly enough, though, Strop's 27.5% strikeout rate was higher than it had been since 2016 and he limited opposing hitters to a .216 average.
But his velocity was also down and he wasn't able to retire righties, allowing them to rack up a .779 OPS that was only a skosh less than 200 points above his career average (.582). That's not really the kind of performance you reward with a new contract, particularly when the pitcher in question will turn 35 next season. However, Strop knows the deal and might be willing to accept significantly less than the roughly $6 million he's earned over each of the past three seasons.
"I'm a free agent," Strop said. "We don't know what's going to happen, if I'm coming back or not. We built a family here in this clubhouse and we've been proud of it for a long time. …And they know this is my house here."
He admitted that he hasn't talked with his agent about things yet and hasn't really thought about the numbers, but he obviously values what he has in Chicago and views himself as a leader. As easy as it would be for the Cubs to replace Strop's presence on the mound, finding a way to replace his presence in the clubhouse is a different matter. So if he's willing to take a reduced base salary with incentives, likely without much of a guarantee for future seasons, it's entirely possible something gets done.
Of course, Strop would also have to be used much more judiciously and would almost certainly have to be transitioned into earlier innings and more favorable matchups. But who knows, maybe he can get right this winter and recapture some of that form he had prior to batting for himself in Washington and tearing his hamstring last season.
Even in a reduced capacity, we know without a doubt that Strop will be able to piss plenty of people off simply by cocking his hat to the side. All that virtual pearl-clutching alone is worth the Cubs bringing him back, so we'll just have to wait and see how it all shakes out.