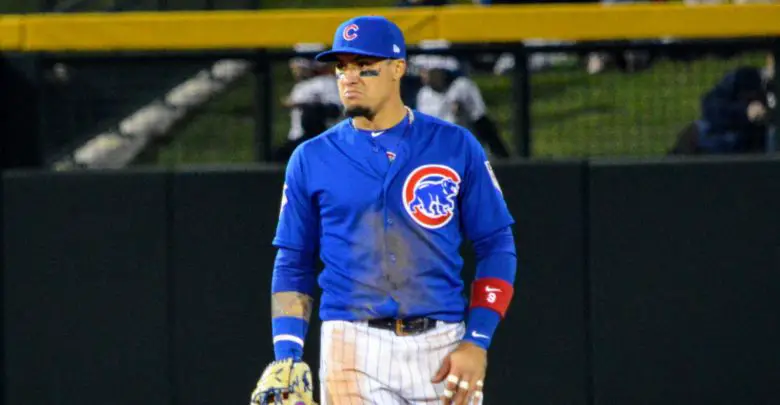 Cubs Projected for $22M in Arb Raises, Almost $211M in Total Payroll Heading into Winter
The Cubs are projected to have $48.3 million committed to arbitration salaries in 2020 according to recent estimates from MLB Trade Rumors. That's right around $22 million more being paid to their seven arbitration-eligible players, a figure that will impact what and where the team is willing to spend in free agency this winter.
Kris Bryant leads the way with an $18.5 million projection, which would be a $5.6 million increase on this year's salary. Kyle Schwarber is actually next in terms of increases with a $4.6 million bump, followed by Javy Báez at $4.1 million and Willson Contreras at $3.8 million.
Addison Russell is projected at $5.1 million for next season, but it seems likely at this point that the Cubs will part ways with him in one way or another this offseason. The same may be true of Albert Almora Jr., particularly if they make a move for an outfielder. Kyle Ryan will absolutely be back as a member of the bullpen, especially when he's only pulling down $1.1 million.
Even though these are just estimates and we don't know what the Cubs' budget is for next season, we can do a little quick math to figure out how much room they'll have for offseason moves. Assuming they have a hard limit at the $248 upper threshold of the competitive balance tax penalty, we can work backwards based on what we know.
According to Cot's Contracts, the Cubs currently have roughly $133.5 million in AAV committed for next season. Adding in the projections above with options on José Quintana ($11.5M) and Anthony Rizzo ($14.5M), with Kendall Graveman ($3M) also likely, we get to $210.8 million. Again, those are scratch-pad calculations, but it looks like the Cubs are already over the $208 million CBT baseline before even making a single external move.
That doesn't mean they can't sign any free agents, only that they aren't likely to make splashy moves without finding ways to shed salary elsewhere. We already discussed Russell as one option, but Quintana could be another. While $11.5 million is very palatable for a mid-rotation starter, the Cubs could look to trade him in order to sign more of an ace type.
I hate getting too speculative with these things and I don't want to name names, so let's just call this hypothetical starter Carrot Goal. Let's also say he commands a salary of around $30 million annually, which would eat up more than three quarters of the Cubs' available money below the highest threshold. But moving Q suddenly brings the net impact — at least for next year — to only $20 million (h/t to FullCountTommy for thinking along the same lines).
Even if they don't go big to add Cole, er, Goal, the Cubs could have about $42-45 million available just by facilitating changes of scenery for Russell and Almora in exchange for prospects. Not necessarily good ones, mind you, just some minor league depth pieces with a little upside.
As with any projections, this stuff is all for entertainment purposes only until the salaries are actually determined and the other numbers are finalized. We can say almost for certain that moves are going to have to be made, now it's just a matter of waiting on them.