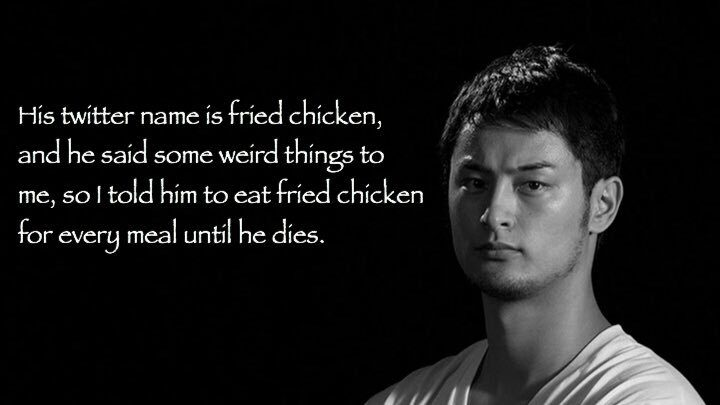 Yu Darvish Says 'Eat Fried Chicken Until Death,' Jason Heyward Was Always Buff
Yu Darvish came into spring training with a whole new demeanor, smiling and joking much more while speaking directly to the media without the help of an interpreter. That shift was the result of a much greater level of comfort, but those who've known Darvish for a while would tell you that's really who he is.
His personality frequently comes out on social media, where he's able to cut loose and joke with people in either Japanese or English as it suits him. Remember when he was following the Twitter discourse of his own free agency and shutting down rumors prior to signing with the Cubs?
Anyway, this latest round of hilarity came as the result of Darvish either trolling or getting trolled, maybe both. It's difficult to discern the real context of the conversation, but it ended in Darvish telling the other person to "eat fried chicken until death."
死ぬまで毎食唐揚げ食べとけ。 https://t.co/ixbz2TrAoj

— ダルビッシュ有(Yu Darvish) (@faridyu) October 11, 2019
That's actually a lot funnier than the actual translation, which Darvish was nice enough to provide for CI's Corey Freedman.
His twitter name is fried chicken, and he said some weird things to me, so I told him to eat fried chicken for every meal until he dies

— ダルビッシュ有(Yu Darvish) (@faridyu) October 11, 2019
If you'd like to commemorate the exchange, you can do so with one of these sweet new shirts from RotoWear. We don't have any sort of arrangement with them, though now I'm thinking I should have reached out to set something up before hyping their product. Oh well, maybe they'll send me a free one (XL, please and thank you).
Eat Fried Chicken Until Death

🔥👕 available only at:https://t.co/afZAMrd0ZY pic.twitter.com/be2IVhv7Gr

— RotoWear (@RotoWear) October 12, 2019
Speaking of sweet shirts, Darvish also shared a picture of himself as a 4-year-old rocking a shirt with "C.U.B." emblazoned on the chest. Pretty cute pic, though he's got nothing on Jason Heyward when it comes to sharing childhood photos.
https://www.instagram.com/p/B3h_rVHH-4z/?utm_source=ig_web_copy_link
Sun's out, guns out.
https://www.instagram.com/p/B3e-4gcBYZ9/?utm_source=ig_web_copy_link