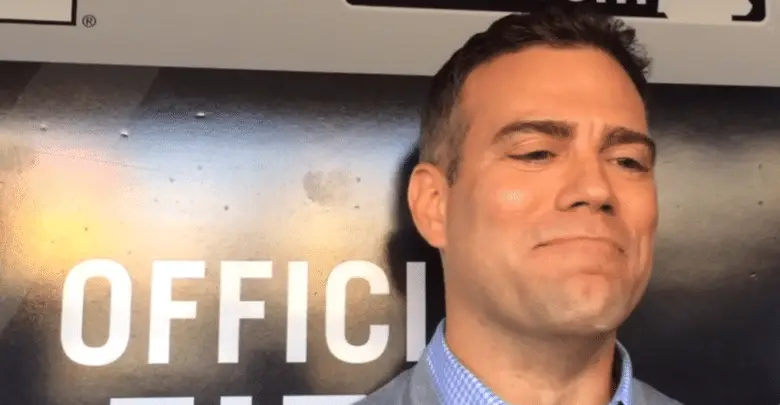 Maybe Cubs Actually Need to Get Older to Get Better
If the Cubs are wise, they'll replace outgoing oldsters like Ben Zobrist (38) and Cole Hamels (35) with Curtis Granderson (39) and Edinson Volquez (36). Yes, I just implied that the Cubs should try to get older for 2020, though maybe I overdid it a little when it comes to pitching.
With the proliferation of youth travel sports and state-of-the-art academies across Latin America, among other factors, baseball has increasingly become a young man's game. After peaking about two decades ago, the share of plate appearances and WAR for position players age 32 and older has fallen steadily. Probably just coincidental that PED testing was strengthened over that period, right?
But that doesn't mean teams need to start putting all their tricenarians out to pasture in favor of prospects in order to achieve success. In fact, the opposite may be true to an extent. The six oldest teams in MLB by average age made the playoffs, with the oldest (Nationals, 31.1) already in the World Series following their sweep of relatively youthful Cardinals. The four other postseason participants were among the 14 oldest teams in baseball.
The oldest teams in MLB, by average age:

1. Nationals (31.1) – Made WS
2. Yankees (30.0) – ALCS
3. Braves (29.7) – Won NL East
4. Astros (29.4) – ALCS
5. Dodgers (29.0) – 106 wins
6. Cards (28.8) – Won NL Central

But yeah, aim for those cheap young guys. Right, savvy MLB execs?

— Matt Weyrich (@ByMattWeyrich) October 16, 2019
So if we do a little quick math, that gives us only…four non-playoff teams from among the 14 oldest: the Cubs (7th, 28.7), Mets (9th, 28.3), Red Sox (10th, 28.2), and Giants (11th, 28.1). Is it weird that all of them were in their collective age-28 season? The three other teams in that same age range to make the postseason were all Wild Cards, so they just barely made it. I'm not sure there's anything more to that, it's just interesting.
There obviously isn't a direct correlation, but a look at average age of position players does seem to indicate that older is actually better. At 27.7 years, the Cubs are younger than all but nine other teams, only one of which (Rays, 27.2) made the postseason. Seven of the 13 oldest teams by position-player age played past Game 162, so that's something.
Now let's take a look at the average age of pitchers, where the Cubs top the list as the only team over 31 years old. There are only five other teams at age 29 or older, four of which made the playoffs, and six of the nine oldest teams were invited to the dance.
While it's not as easy as saying the Cubs will improve if they get older at the plate and younger on the mound, that's definitely a strategy they should look to employ. With full understanding that there are myriad intricate details to hitting and pitching, the things the Cubs lacked this past season are largely a product of age one way or the other.
A desirable plate approach, including the ability to understand and command the zone while being comfortable going the other way, typically comes with experience. Kyle Schwarber showed this season that it doesn't always take years, but you're typically going to find a higher percentage of hitterish dudes among those still in the league past the age of 28 or so.
Think about how getting Ben Zobrist's steady bat back into the lineup energized the Cubs down the stretch. Even after missing most of the season, he immediately became a sparkplug for the team and set and example with his professional approach. Anecdotal as it may be, it was clear that Zobrist's absence was felt through the summer.
As for the pitchers, one of the biggest laments of the past two seasons is that they simply didn't have any margin for error. For every Justin Verlander (36) still hucking high-90's heaters at an advanced age, you've got a Jon Lester (35) barely sitting at 90 mph. Hamels likewise saw a dip in his fastball velocity as he failed to average 92 mph for the first time since 2013.
There's obviously more to it than fastball velo, but it's pretty clear that losing a little zip here or bite there is going to reduce a pitcher's effectiveness. Beyond the starting rotation, it was clear from the performances of guys like Steve Cishek (33) and Pedro Strop (34) that the back end of the bullpen was just a little long in the tooth as well.
So while adding the specific players listed above was a goof, the Cubs could do worse than signing, say, Howie Kendrick (36). If he'd be amenable to a one-year deal to play a part-time role, that's the kind of addition the Cubs need to make. Except that there's no way he maintains that career-best .344/.395/.572 slash next season. Perhaps a better fit for what the Cubs need is Japanese centerfielder Shogo Akiyama, who'll turn 32 in April.
Then you have to take into consideration that all the players currently on the roster will be older. Though age along doth not a hitter make, maturity and a new voice might indeed have a positive impact.
The departures of Hamels and at least one of the relievers mentioned above, along with Brandon Kintzler (35) and David Phelps (33), will make the staff younger by default. But since the nature of the free-agent reliever market means signing older pitchers, the Cubs may experience just a nominal reduction in average age. Going big and signing Gerrit Cole (29) would make them slightly younger and much better, putting Adbert Alzolay (25) or Cory Abbott (24) in the rotation would make them much younger and probably a little better.
It goes without saying that constructing a roster with average age as a primary target would be an egregious miscarriage of the front office's responsibilities. At the same time, there are some inherent benefits to getting a little older with position players while getting younger with pitchers. In the end, as with just about everything, it's all about balance.