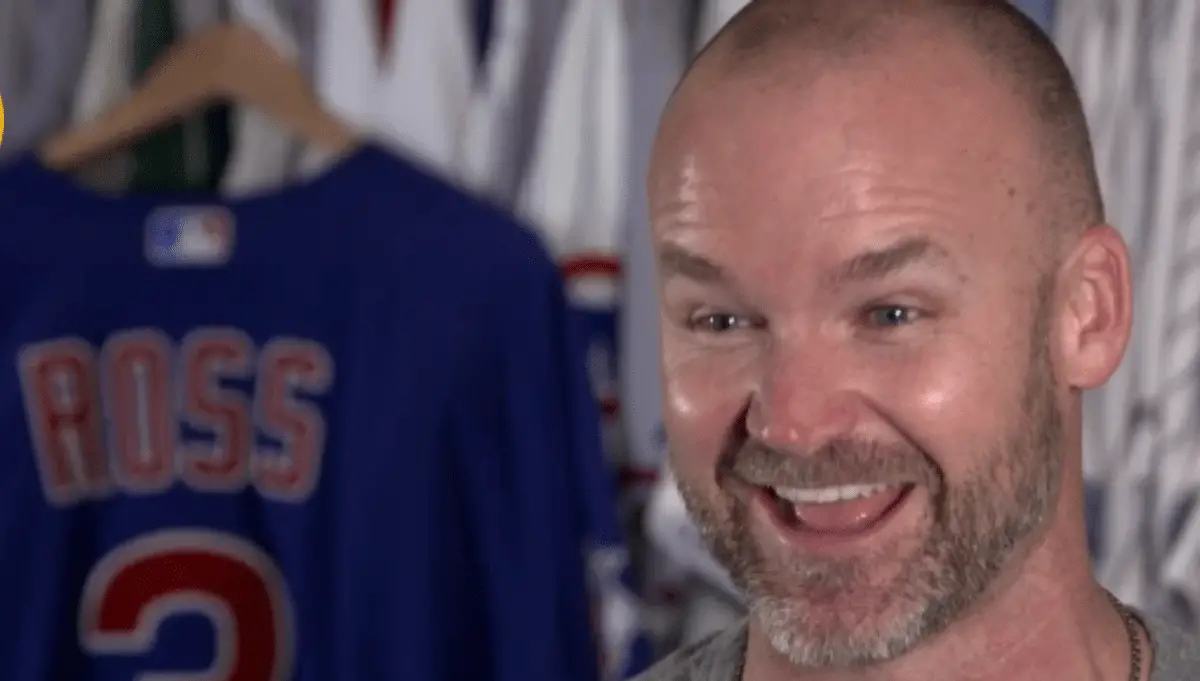 The Rundown: Checking Down on Absurd Gossip, Cubs Get Carriage Deal for Marquee, 'Stros Go Up 3-1 on Yanks
I think it's time to address what I feel is some frivolity that exists this offseason. It's been nearly four weeks since the Cubs played their last game, and now that Joe Maddon has been hired by the Angels, Cubs fandom seems to be growing weary of what seems like a lengthy period of interviews to decide his replacement. And though rumors run rampant whenever a team commits to moving in a new direction, it's often necessary to pump the brakes just a bit when the gossip starts to get absurd.
First and foremost, David Ross is not going to become bench coach for the next manager. If Theo Epstein is not holding a presser in the next 4-5 days to announce Ross as the team's 61st manager, it's probably safe to assume that Grandpa Rossy will be keeping his gig with ESPN while moonlighting as a member of the Cubs front office. I shouldn't have to explain this, but the former catcher and team leader is not going to give up his current career and spend time away from his family to hold hands with whomever Epstein does hire.
I would assume the Cubs will announce Maddon's replacement as soon as the ALCS concludes. The consensus is that it is a two-man race between Ross and Joe Espada.
Houston source tells me Astros coach Joe Espada had a sensational interview w/Cubs front office. "He gave Theo + Jed a lot to think about. They really liked him + came away exceptionally impressed. Was it enough to overcome David Ross's relationship w/Theo and Jed? We'll see."

— David Kaplan (@thekapman) October 17, 2019
Epstein will probably step down when his current contract expires after the 2021 season, so it makes little sense for Ross to take a position on the coaching staff. If anything, the remaining shelf life of the executive team could potentially dissuade Ross from accepting the open manager position. He's very close with Epstein and Jed Hoyer, and would have no guarantees that the next regime would have any intention of keeping him.
Speaking of the team's front office, I've read articles recently that the upcoming season will cement Epstein's legacy with the organization. Though I don't disagree that the president of baseball operations and his entourage are on the proverbial hot seat after missing the playoffs this season, winning the team's first World Series in 108 years is his permanent get-out-of-jail-free card. If that isn't enough, the Cubs made the playoffs in four consecutive years for the first time in a century and reached the NLCS in three consecutive seasons.
In fairness, he could be fired if he underperforms again this season, or if the team's ownership simply decides they need a new voice to guide its on-field operations. That wouldn't tarnish Epstein's accomplishments. From 2012-16, the guy was nearly flawless in his decision making, and the Cubs will enter into the 2020 season with as good a chance to win the NL Central as any of their rivals. For a team that suffered through decades of poorly run teams, its safe to say that Epstein is, and has been, the best executive Chicago has ever had.
Cubs News & Notes
MLB Playoffs
The Astros capitalized on four Yankees errors in an 8-3 win last night, giving Houston a 3-1 lead in their best-of-seven league championship series. George Springer and Carlos Correa both homered in the same playoff game for the sixth time, an all-time MLB record.
Astros manager AJ Hinch is upset that Yankees fans have been throwing debris on the field and feels that some of the projectiles have been directed specifically at his players. He has threatened to pull his team from play if it continues.
On May 25, the Nationals had a 0.1% chance of winning the NL pennant. They've had a phenomenal run.
Friday Stove
Now that the Angels have signed Maddon, they appear to be "overwhelming favorites" to sign Houston ace Gerrit Cole, per Ken Rosenthal of The Athletic (subscription required). Anaheim has long been expected to make a run at Cole, who has carried his regular-season dominance into the playoffs for the Astros this year.
The Astros have more than $156 million already committed to Justin Verlander, Zack Greinke, José Altuve, Michael Brantley, Alex Bregman, Josh Reddick, Ryan Pressly, and Yuli Gurriel for 2020. Keeping Cole without moving one or more of those players seems unlikely.
The Yankees appear to be interested in the Houston starter as well, and may let Didi Gregorius walk in favor of pursuing Cole.
The value of the qualifying offer for the coming 2019-20 offseason has been set at $17.8 million, and players who previously received a qualifying offer or were traded during the season are ineligible for one. Since its inception, only six of 80 players offered the QO have accepted. Andrew Simon of MLB.com provides detail on the successes and failures of those deals.
The Red Sox are likely to explore the possibility of trading David Price. Actually pulling off a deal will be easier said than done, as Price has three years and $96 million remaining on his deal and is coming off an injury-shortened and inconsistent season.
On Deck
Reader Scott W. provided me a link to the history of the baseball glove. It's an interesting read so I thought I'd share.
Extra Innings
On this date in 1977, Reggie Jackson became Mr. October. Yes, fans pay to see taters. Jackson has a perfectly-timed home run trot. Despite getting around the bases faster than most, he does it with sublime confidence.
They Said It
"I think I saw probably seven or eight water bottles out in the outfield, two baseballs got thrown from center to left. It's frustrating to see as a player in the outfield. So it's scary. I don't think a lot of people realize how dangerous that can really be. You throw a baseball hard enough and it hits somebody in the head and we're not looking, it could do some damage to you as a player. So, it's definitely disrespectful, but at the same time, very unsafe." – Josh Reddick
Friday Walk Up Song
Houston by Dean Martin – The Astros are one win away from reaching the World Series. The Yankees have an uphill climb being down 1-3, but it's not like that's never been done before. A note about the video: Martin is obviously lip-synching and the producers had a little light-hearted fun at his expense.