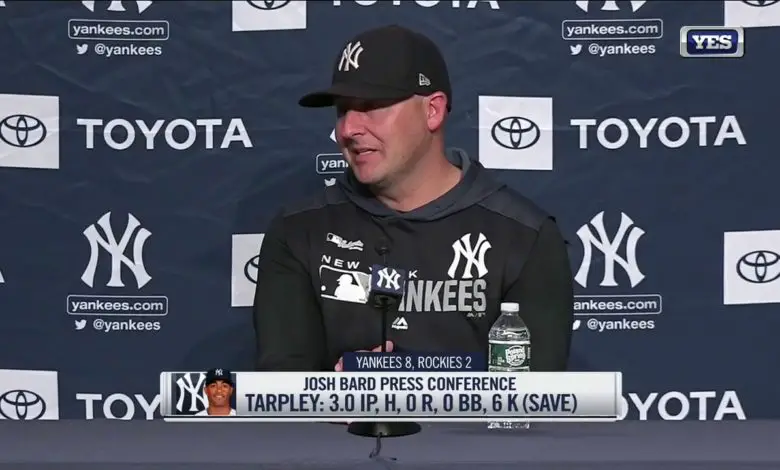 Cubs May Have Another Unidentified Candidate as Manager Search Nears End
I had predicted a few days ago that the Cubs' search for a new manager would be over by Monday one way or the other, but that may not be the case ($). While it has been declared a two-man race between David Ross and Joe Espada, Patrick Mooney of The Athletic wrote that the list "may include another unidentified candidate who could come in for a meeting at the Wrigley Field office building."
That's really amorphous and far from definitive, but a little reading between the lines with educated assumptions may help us discern something from it nonetheless. Candidates not occupied by playoff concerns probably would have been brought in already, so that eliminates all but three teams. Unless the Cubs are going to try to lure Dave Martinez away from the Nationals, and they aren't, we can remove any of their employees. Espada is likely the only Astros option, so we can nix them.
That leaves the Yankees, but Carlos Beltrán already declined an opportunity to interview. There is, however, another excellent candidate wearing pinstripes and informing the decisions and emotions of Aaron Boone and Yankees players. Josh Bard, a 41-year-old former catcher, has served as Boone's bench coach for the past two seasons and a recent feature by Jake Kring-Schreifels for Yankees Magazine paints him as an ideal hybrid of new and old schools of thought.
At the end of his second season as Yankees bench coach, Bard's passion and intellect have made a sizable impact on the organization. Since Boone hired him, the 41-year-old former catcher has implemented unique analytical processes, been a positive life force in the clubhouse, and has undoubtedly become a devout champion of his manager, blending computed decisions and baseball instinct.
Bard has some ties to the Cubs front office from his time with Boston, though his brief Red Sox tenure was marked by infamy. Acquired in 2006 to serve as the backup catcher responsible for working with knuckleballer Tim Wakefield, Bard racked up 10 passed balls in five games and was quickly traded to the Padres so the Red Sox could bring Doug Mirabelli back. The Sawx then signed Bard to a one-year deal in 2009, but released him prior to the start of the season.
Apropos of nothing, Mirabelli had been traded to San Diego in exchange for current Cubs bench coach and managerial candidate, Mark Loretta.
Beyond any anecdotal connections or his role as a catcher, which tends to look good on a managerial resume, Bard seems to embody exactly what the Cubs are looking for. Theo Epstein spoke during his end-of-season press conference about wanting to establish a culture of self-perpetuating energy in which players were able to become the best versions of themselves. For the Yankees, Bard has been that driving cultural force in the clubhouse.
"I think I'm definitely an acquired taste because I don't really have a filter," Bard told Kring-Schreifels. "But I know this: Unequivocally, when I talk to a player or an office person, I'm always trying to take the attitude of, 'What can I do to make that person better?'"
Whoa, it's almost as though he's speaking right to what Epstein wants, and it's the reason Bard will be a manager somewhere in the near future. His name doesn't seem to be coming up too often, though, which is strange given the Yankees' high profile and the respect he's garnered throughout the game. A lot of people have said that it'd take someone blowing the Cubs away to unseat Ross from the presumed top spot, but Bard might be that guy.
Then again, he might not and it's possible he's neither willing nor able to interview for a bigger role with another club for a while. So even though the Cubs don't seem to be in any particular hurry, there's a sense that they'd like to wrap things up soon so they can move forward with the rest of the offseason planning.
Monday could be a very informative day in that regard, even if we don't get a direct announcement on the new manager.