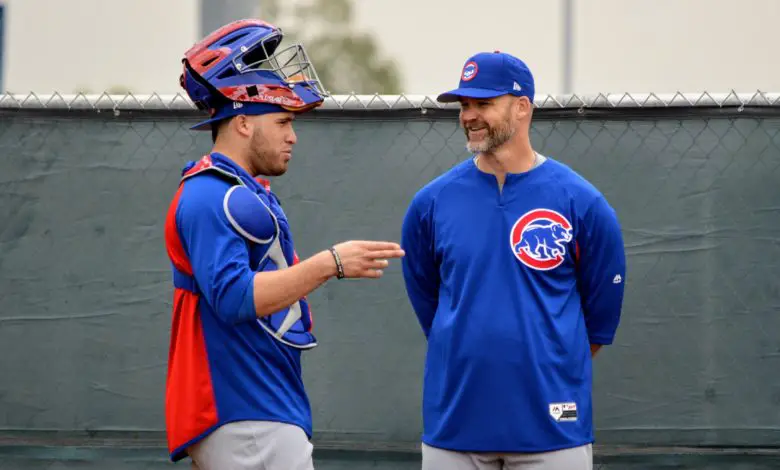 Big Potatoes: David Ross More Than Just Some Cuddly Joe Maddon Retread
The Cubs' managerial search appears to have come to an end, with David Kaplan of NBC Sports Chicago leading multiple outlets in reporting that David Ross will succeed Joe Maddon. While the move was at one time time considered what Maddon would've called fait accompli, there was reason to believe Astros bench coach Joe Espada had gained an edge. Not so, apparently.
Highly placed source has confirmed to me David Ross is expected to be named Cubs manager this week. His agent has been discussing contractual terms with Theo Epstein. Deal is almost done. More on @ESPN1000 at 9 am. On @NBCSChicago + https://t.co/VqUFW8rK8r throughout the day.

— David Kaplan (@thekapman) October 23, 2019
The immediate reaction to Ross's imminent hiring has mirrored the discourse around the idea when it was yet hypothetical, which is to say there's a healthy skepticism throughout much of Cubdom. By far the most common aversion to the idea of Ross as manager is that this group of Cubs, specifically the core group that played with him, needs someone who will push them and hold them accountable rather than a buddy to pal around with.
What those people seem to have forgotten, or perhaps never saw due to the media-driven Grandpa Rossy facade, is that the former backup catcher was the clubhouse enforcer in Chicago and throughout his career.
The strong bond between battery-mates Ross and Jon Lester, which dates back to their days in Boston, is no secret. However, that relationship extends far beyond what some have thought was just buddy-buddy. As Tom Verducci' detailed in The Cubs Way, Lester's view of his catcher was almost like that of a son working to earn the approval of his father.
Speaking about thoroughness and intensity, Lester said, "Going into the [2013] postseason, I just felt like that wore off on a lot of our pitchers. That intensity, and where he wanted the ball, and he expects so much out of you that you want to almost do more sometimes to kind of get that approval-from-your-dad type thing. And it just evolved from there."
Let's be clear about who the two men were at this time. Lester, who will end up as a borderline Hall of Famer, was already a Red Sox legend. That a journeyman backup catcher was able to elicit this level of respect and admiration from the lefty speaks far less to his fairly mediocre on-the-field production than to his ability to be a leader of humans.
Lester isn't alone in crediting Ross with exceptional leadership abilities. In August, Javier Báez praised his former teammate's influence on his early career development.
"I remember when I came up, I used to ask a lot of questions, especially to Ross," Javy said. "And one time he told me that I didn't need to learn so much…Like, I needed to play, to let the game teach me things that I wanted to know. And that was a big thing for me and I started learning simple stuff different than in the past.
Baez on wisdom from David Ross pic.twitter.com/9PqrKoSLtw

— Mark Gonzales (@MDGonzales) August 6, 2019
Hey, that almost sounds like Ross was advising the phenom to do simple better while just being himself. Those seem like familiar concepts. While Javy wasn't yet "El Mago" at that point, he was still a highly-regarded prospect with a lot of hype and flash to spare. Very little about what Ross did in terms of on-field production would suggest that someone like Báez would have much to learn from him.
But with Ross, it's always been about more than that. It's about his ability to connect with others in a way that allows him to motivate and teach them. Those connections aren't always easy, though, and sometimes there can be a little friction as they're formed. In his autobiography, Teammate, Ross shared that Javy thought he was an angry redass. Munenori Kawasaki, on the other hand, praised his "average pickle with huge potatoes, huge balls."
And here's an excerpt from Ross's book, Teammate, in which he says Javy said Ross could be very angry. Muni Kawasaki said he had an "average pickle with huge balls." pic.twitter.com/2NxKP61pTA

— Evan Altman (@DEvanAltman) October 23, 2019
If there's a more critical quality to being a successful leader than having an average pickle with huge potatoes, I challenge you to share it. While perhaps lacking eloquence, Kawasaki described what you're likely to hear from anyone who has worked with Ross: He projects far bigger than what you see on the surface.
In a prescient October 2015 article on the the impact of the then-backup catcher, Bruce Levine concluded a lengthy dive into what makes Ross so valuable with the following:
Only a special guy like Ross would get a two-year, $5-million deal after hitting .184 in 2014. The beauty of Ross is no player on this team would consider him any less a contributor than the Rizzos, Bryants or Arrietas.

"Being the same person when I come in or Joe comes into the clubhouse, the veterans we don't change from day to day," he said. "There is no panic in this group. We don't get down on ourselves. When we have won the way we have the lost three weeks, there is no reason to get down. All you are going to ask from your teammates is come in and do the best job you can. I can sleep fine (with that effort). This is a hard game. Let's go out there and fight tooth and nail and sleep fine afterwards win or lose."
A history like this suggests that what made Ross so special as a player is going to make him even more effective as a manager.