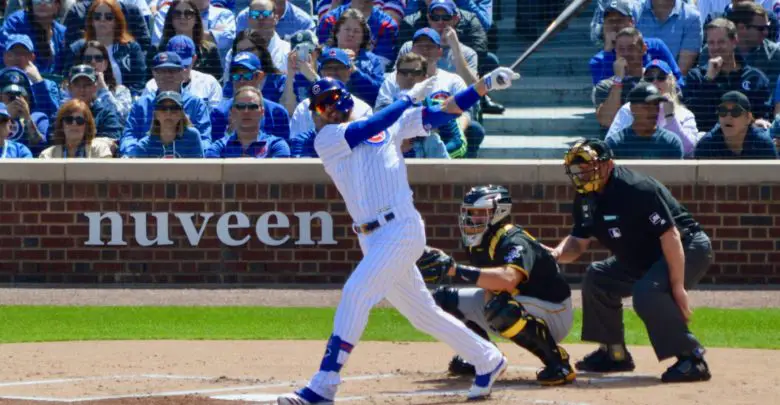 Arbitrator Hears Kris Bryant's Grievance Case, Ruling 'Expected to Take Months'
Per MLB insider Jon Heyman, the hearing for Kris Bryant's service time grievance has been taking place in New York over the last few days. Everything is now in the hands of arbitrator Mark Irvings, but Heyman reports that he's expected to take months to rule. That could have significant implications on what is already a potentially game-changing decision.
MLB arbitrator Mark Irvings heard the Kris Bryant grievance over last few days in NY; he's expected to take months to rule. The union claim is the Cubs unfairly manipulated Bryant's service time when they called him up after 12 days in minors in 2015. Boras, Theo both testified.

— Jon Heyman (@JonHeyman) October 25, 2019
The players' union and Bryant's camp, led by agent Scott Boras, claim that the Cubs unfairly manipulated Bryant's service time in 2015 when they called him after 12 days in Triple-A. That was just one day past the threshold for him to have earned a year of MLB service time, thereby pushing his free agency back by a whole season.
Should the union successfully argue its case, Bryant could be granted free agency after this season rather than after 2021. That would drastically alter the Cubs' strategy, either pushing them to be much more aggressive with an extension offer or an attempt to trade him. But the thing is, the timing of the ruling essentially takes the latter option off the table completely.
For the Cubs to trade Bryant, which I've remained steadfast in saying they should not do, other teams would have to know for certain what his future holds. Waiting on a decision for months would mean an inability to have realistic trade talks during the GM Meetings or Winter Meetings, where a huge chuck of offseason moves are consummated.
Based only on the limited sliver of knowledge to which I'm privy, this seems to make an extension much more likely. Whether it's a shorter deal to better compensate Bryant for what rightfully should have been a full year of service or a longer deal that keeps him in Chicago through his prime, working something out is more of a sure bet for both sides as things currently stand.
And make no mistake about it, this isn't about Bryant having a vendetta and wanting to screw the Cubs. His role as a union rep is bigger than just his own contractual status, so he's looking to set a precedent for other young players whose service time has been similarly manipulated. It's hard to imagine the arbitrator ruling in his favor simply because the letter of the law is what it is, but this will be a point of contention in the new CBA.
You could even look at this as a way for Boras to leverage the Cubs into making an offer to his client that provides some immediate security with an opt-out in the near future. We saw that with Stephen Strasburg a couple years ago, when he became one of the rare Boras clients to ink an extension rather than play things out to free agency.
Though not identical, there are distinct similarities between Strasburg and Bryant beyond just their agent. Both were college phenoms — and both in San Diego, oddly enough — whose early careers with successful teams were hampered by injury. It's entirely possible that Bryant's recent history would make him more amenable to a long-term deal now, particularly if he can work in the option for more money should he bounce back. To that end, Strasburg has the ability to opt out after this season.
This has been a pretty secretive process the whole way, which is pretty wild when you consider that it's taken four years just to get to this point, so it's hard to say when we'll see any resolution. The sooner the better for everyone involved, and ideally it ends with Bryant in a Cubs uniform well beyond this season.
Ed. note: After publishing, I began to get this nagging feeling at the back of my mind that I've not been able to shake. As much as I've been working to speak the KB extension into existence, there's this little voice telling me it's just not going to happen. Everything about who and what he is says he's a guy the Cubs should keep around, but the direction of the franchise over the past couple seasons hasn't always run parallel to common sense. So take that for what it's worth, but I'm not feeling as good about the eventual outcome as I once did.