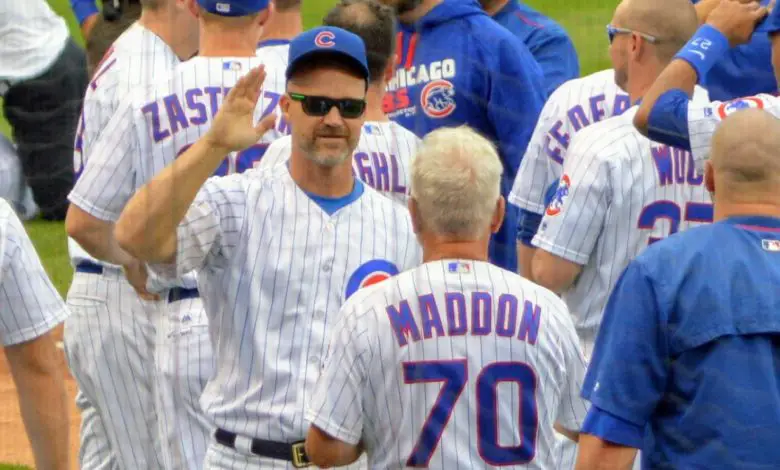 The Rundown Lite: Ross Presser Today, CI Medical Updates, Astros on Precipice, Boos and Boobs at World Series, Pirates in Chaos
This is something of an emergency Rundown, since our intrepid columnist Michael Canter has been placed on the IL (more on that in a bit). Monday should be interesting on a number of levels, not the least of which is the Cubs holding a press conference to announce David Ross as the 55th manager in club history.
It's doubtful we're going to get the same fanfare or flourish as Joe Maddon provided five years ago, but the presser should be interesting nonetheless. Ross has personality to spare and will surely have to address questions about his courtship and his vision for the team. I'd like to hear Theo Epstein talk about reconciling the idea of moving on from 2016 with hiring one of its cult heroes, even though I believe I understand the reasoning already.
And though it almost certainly won't be brought up, I'd like for someone to ask Ross to discuss the importance of being sensitive to baseball's culture of misogyny. More specifically, I'd like to hear about his thoughts on MLB's issues with domestic violence. One of the contributing factors to Maddon's departure was his ham-handed handling of the discourse around Addison Russell's suspension, and Ross has repeatedly referred to Aroldis Chapman as "a great guy."
In light of everything that's gone on in Houston recently, it wouldn't be a bad thing for Ross to maybe get out in front of these topics. Beyond that, the organization could certainly do a better job of educating it's players and coaches on how to speak publicly about such matters. I understand that not everyone will agree with this and may believe neither Ross nor the Cubs owe anyone anything on this front, but I'd like to hear it nonetheless.
Astros owner Jim Crane sent me a letter on Saturday retracting the team's original statement about my story. "We were wrong."https://t.co/arvGceF4To pic.twitter.com/bw2TZI3fh2

— Stephanie Apstein (@stephapstein) October 27, 2019
Health updates
As I mentioned earlier, I'm working this column because Mike is in the hospital with a staph infection and he was too lazy to bring his laptop with him. Not sure we can continue to employ someone with so little dedication to the cause, but I suppose we'll just consider this a stern warning. I'm kidding of course, we really just want Mike to get better.
I spent some time in the hospital myself this weekend, but it was as a parent and not a patient. My daughter is doing much better and her pain has subsided almost entirely at this point. As I type this, she's attending a pet therapy session with a dog that comes by the hospital once a week.
Weekend notes
After the Nationals got out to a 2-0 lead in the World Series, the Astros came back and took all three games in Washington to put themselves in the driver's seat. Though it may not have mattered with the way Gerrit Cole pitched Sunday night, the Nats had to throw Joe Ross after Max Scherzer was scratched due to neck spasms
President Trump did not receive a very warm welcome when he was introduced at Game 5 and displayed on the videoboard. Fans booed him vociferously and also engaged in chants of "Lock him up!"
https://twitter.com/jesseyomtov/status/1188623566369165314?s=11
Full on "LOCK HIM UP! LOCK HIM UP!" chants heard throughout the crowd at Nats Park after President Trump was announced and shown on screen here #WorldSeries pic.twitter.com/1ktVXkHYFy

— Monica Alba (@albamonica) October 28, 2019
Now, it's possible some of the fans were just chanting, "BOOOOOBS" in response to a pair of flashers behind the plate.
Some boobs behind home plate in the world series pic.twitter.com/zNfZRGeP8x

— JM Entertainment (@JomboyMediaEnt) October 28, 2019
Twitter user Julia Rose has taken credit as one of the two women who displayed her assets during the game, an act that apparently earned her an indefinite ban from all MLB facilities. More than just playing purity police, the league objected to what was an attempt to create publicity for her Instagram and Patreon projects.
Shit. pic.twitter.com/8YepMP4eA1

— Julia Rose (@JuliaRose_33) October 28, 2019
The Pittsburgh Pirates are a dumpster fire, even by their their own high standards in that regard. After saying manager Clint Hurdle was safe for next season, they fired him and began a managerial search. Then they announced Monday that they'd fired GM Neal Huntington and would be engaging in a search for his replacement prior to naming a new manager. What the hell?
Former Reds manager Bryan Price has declined an offer to become the Diamondbacks' pitching coach.
Joe Espada has been scheduled for a second interview with the Giants, set for after the World Series, and figures to be one of the frontrunners there.
They said it
"I greatly appreciate Neal's dedication to the Pirates organization and our city over the past 12 seasons. His time with the Pirates should always be remembered for ending a long stretch of futility and bringing Postseason baseball back to Pittsburgh." – Pirates owner Bob Nutting
"On October 27, 2019, you attended World Series Game 5 at Nationals Park in Washington, D.C. During the game, you violated the fan code of conduct by exposing yourself during the 7th inning, in order to promote a business. You were also part of a scheme in which you induced other to expose themselves to promote the business. You are hereby banned from all Major League baseball stadiums and facilities, indefinitely." – David L. Thompson, Vice President of Security and Ballpark Operations
Monday Walk Up Song
Protect Ya Neck, Wu-Tang Clan – Just looking out for my kid. Apologies for the brevity and relative shoddiness of this post, but I'm just feeling a little left of center.