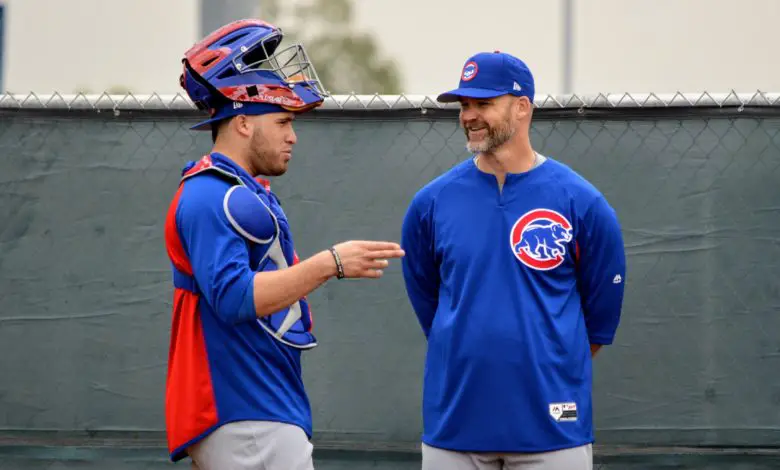 True Story of Motivational Speech David Ross Delivered During Cubs Interview
Shortly after it was first reported that the Cubs had chosen David Ross over Joe Espada and others to be their next manager, rumors began to circulate about what had won Ross the job. Well, really just one rumor in particular, since most assumptions revolved around his familiarity with the team and members of the front office.
As Craig Mish of FNTSY Sports Radio tweeted last week, Ross stood out in part based on his "strong delivery of a mock 2020 Spring Training team speech." As cheesy as that sounds when you see it put that way, it was far too specific to be completely made up. Turns out Mish was right on the money, though the speech was really just a small part of the process.
Per source – one of the things that put Ross over the top for the job with the Cubs, was his strong delivery of a mock 2020 Spring Training team speech. The club asked Ross and Joe Espada to compose and deliver mock speeches for the staff during their second interviews.

— Craig Mish (@CraigMish) October 23, 2019
Patrick Mooney of The Athletic provided a thorough breakdown of the entire interview ($), including details of the infamous motivational address.
"We felt like there would be more pressure if we had all the lockers filled, so we had our whole baseball front office come down," Theo Epstein told Mooney. "There was probably like 30, 35 people sitting around (the room).
"It would be pretty funny if he put a full uni on and everyone's sitting around in Allbirds and jeans. But he did well. He got a standing ovation. So did Espada."
Just in case you're wondering what Allbirds are, as I was when I first read through Mooney's piece, they're the self-proclaimed "world's most comfortable shoes." If anyone from the company happens to read this, I'm more than willing to serve as a test subject for that claim.
Getting back to the whole rah-rah session in the clubhouse, it sounds as though that wasn't actually the moment that put Ross over the top. Rather, it was his ability to process information and apply it quickly to different scenarios involving an opponent that had been getting the better of the Cubs. Maybe Epstein had Ross prep for the Reds. Or, you know, just about any team in the Central.
Ross was also put through a mock press conference, the specific content of which wasn't revealed. Given how Joe Maddon's ill-advised answers at times irked the front office, it's not hard to imagine the brass peppering Ross with some difficult questions. Either that or they just expected him not to be completely obtuse when addressing sensitive issues.
"We put it to him in that second interview and he dominated that day," Epstein said during Monday's real press conference.
It'd be a stretch to say Ross dominated during his formal introduction to the media, but he did a perfectly fine job of sticking to his main talking points and driving home his focus on accountability. As lacking as it was in the dynamism evident in Maddon's presser five years ago, Epstein's congratulatory, "That was awesome" at the conclusion of this one was a pretty clear sign that Ross more than met his boss's expectations.
Now it's a matter of seeing whether the first-time manager can synthesize real data in real-time when he's dealing with real players and not just members of the baseball ops staff wearing really comfortable shoes. All indications are that he can, since Ross has long been viewed by former teammates as a future manager, but he's admitted that it may take some time for him to catch up to the speed of constant in-game decisions.
To that end, he's already going to be at an advantage because he shouldn't even have the option to pitch Derek Holland against a righty or call upon Steve Cishek for the 150th time in two seasons.