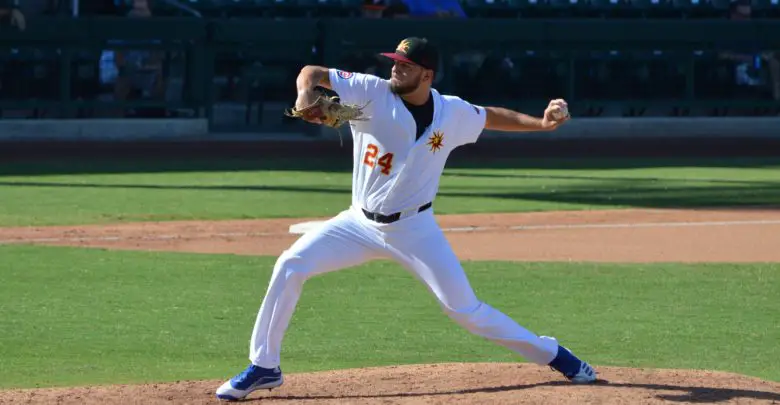 These 4 Longshot Relief Prospects Could Find Themselves on 40-Man as Cubs Seek Bullpen Depth
The Cubs have 72 players eligible for this winter's Rule 5 draft, most of whom they can't even begin to think about protecting on the 40-man roster. The whole point of the draft is to prevent teams from hoarding talented young players, which can lead to some really difficult decisions this time of year.
Catcher Miguel Amaya is a certainty to be added to the roster, with Dakota Mekkes and one or two other relievers likely as well. As the organization looks to bolster bullpen depth following the certain departures of several MLB veterans, they could look to protect and develop a few guys who aren't yet household names.
Here's a look at four such pitchers, some of whom have a stronger case than others. Though none have a high likelihood of making the cut, the Cubs could choose to gamble a little.
Jordan Minch
A lefty selected by the Cubs in 2014 out of Purdue, the 26-year-old Mich has had a checkered career as a reliever. He originally came out throwing in the low 90's and this year he ticked upward into the mid 90s. His strikeout numbers were solid this year (8.41 K/9) and he walked fewer than ever (3.88 BB/9), so the Cubs sent him to the Arizona Fall League to get a closer look against elite competition.
He matched up well in the familiar environment out West, posting a 1.80 ERA with 14 strikeouts in just 10 frames. As you may have forgotten, if you ever realized it in the first place, Minch actually spent most of spring training with the big league club last year and was one of the final players sent back to minor league camp. I wouldn't be surprised if the Cubs picked him and I wouldn't be surprised if the another team took a shot at him if the Cubs ghost him.
Bailey Clark
Clark has been one of my favorite players since the Cubs picked him out of Duke in 2016. He flashed a bit at Eugene in 2016 but had minor injuries that kind of delayed his career until 2018, when he took off as a bullpen arm at South Bend and Myrtle Beach. He was at Tennessee in 2019, where occasional flashes were highlighted by a 0.66 ERA in July that had him looking like one of the best arms in the system.
In order to help avoid injuries, the Cubs tweaked his delivery substantially this summer and it paid dividends quickly. Clark is not a max-effort delivery guy now, but he's still able to hit 97-98 with a clean, smooth delivery. If the Cubs don't roster him, it's easy to see another team taking a chance on that easy gas.
See the cleaned up delivery of Bailey Clark on the run he gets on his heater pic.twitter.com/xBYcDeaAjq

— TheBullpen🐾 (@RealCubsAnalyst) November 3, 2019
Michael Rucker
Taken in the 11th round out of BYU in 2016, Rucker moved quickly through the system by dominating the lower levels. The 25-year-old took a little while to get going at Double-A Tennessee this past seasons, but his 2.58 ERA after the All-Star break showed that he figured things out. He is susceptible to the home run ball but usually has pretty good command and can get the ball up into the mid 90's. Though his odds are still slim, he would probably be the most likely candidate from among this group to be protected.
Manny Rodriguez
It's rare for a guy who has never pitched at the upper levels of the system to be selected in the Rule 5 Draft, but it does happen occasionally. Rodriguez is this year's very long shot to make the 40-man because he can touch 96-100 on the radar gun finally started putting things together at Myrtle Beach this past season.
The 23-year-old out of Mexico spent his first two-plus years in the Cubs system just kind of getting buy, but had a 1.96 ERA with 33 strikeouts in 23 innings for the Pelicans in the second half. This is probably the only place you'll find anyone even mentioning Rodriguez as a possibility for the 40-man, or even as a possibility to be plucked away by another team.
However, I'm sure other teams have noticed his ability to touch triple digits with the fastball and that could be enough to push someone to take a chance.
MRod filthy armside run pic.twitter.com/XbOJBLhyEq

— TheBullpen🐾 (@RealCubsAnalyst) August 28, 2019
With the November 20 deadline for these roster decisions to be made, there's still a lot of uncertainty when it comes to what the Cubs will do. Their decisions will give us great insight into the thought process of how the new development leadership team values prospects and which players they think have a legit shot at helping the big league club in the next year or two.
Other 40 Man Articles at Cubs Insider
Dakota Mekkes
PJ Higgins and Jhonny Pereda
Oscar de la Cruz
Zack Short and Trent Giambrone