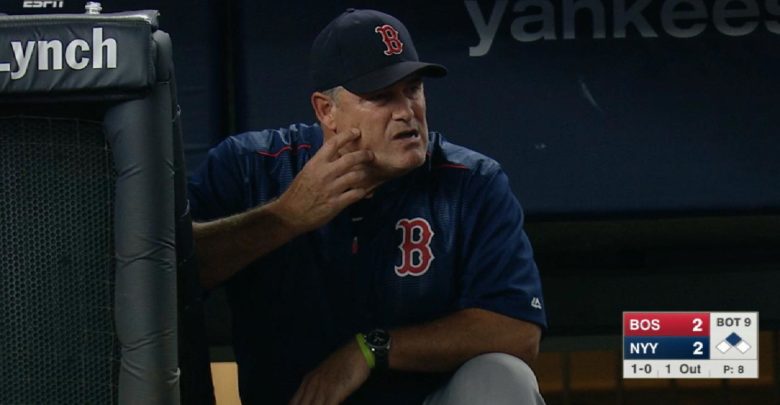 Cubs Prioritizing Managerial Experience in Bench Coach Search, One Early Favorite May Be Out
The Cubs haven't made any formal announcements regarding David Ross's coaching staff, which includes the bench coach job held by Mark Loretta last season. Though a return has not been ruled out, all the public statements and connected dots point to the Cubs opting for a more seasoned lieutenant to serve as their rookie manager's right hand.
Ross himself admitted during his introductory press conference that he'd need a bench coach to be "a step ahead" in terms of in-game decisions while he acclimated to the role. Theo Epstein echoed those same thoughts during a subsequent radio appearance, thus sealing Loretta's fate in speculative circles. Former Red Sox skipper John Farrell immediately jumped to the top of many lists, as the result of his familiarity with Ross and the front office, not to mention his familiarity with the NL from his recent tenure as a Reds scout.
Another possibility being discussed is Jim Riggleman, who's been around the block with a few different teams and fits the mold of a grizzled hardass some have clamored for the Cubs to bring in. Former Braves skipper Fredi González has also been mentioned, with recently fired Padres manager Andy Green also getting a little run in the rumor mill.
Levine listed three of those in a tweet Tuesday evening, though there's a conflicting report as to Farrell's candidacy.
Told former managers are a high priority for David Ross and the Cubs choosing the next bench coach . Good names to consider are John Farrell – Andy Green and Fredi Gonzalez .

— Bruce Levine (@MLBBruceLevine) November 5, 2019
Patrick Mooney and Sahadev Sharma of The Athletic reported late Monday via sources that Farrell is not being considered for a role on the coaching staff. They did confirm, however, that Green "is one of several names on the team's radar." While Green does meet the qualifications of being a former manager after nearly four years in San Diego, getting fired with eight games left in the season raised a few eyebrows.
The Padres were 69-85 at the time, just a little nicer than their overall 274-366 record under Green, so it's not as though the last few days of the season really mattered. That said, the premature exit lends a little credence to the scuttlebutt that he'd lost the clubhouse, not exactly an ideal resume bullet for a team looking to increase accountability. The extent to which any of that is true is a matter for the Cubs to suss out through the interview process, if indeed Green is involved.
With sweeping changes already taking place across other areas of the organization, including strength and conditioning, mental skills, and player development, announcements on the coaching staff should come soon. Even though players aren't making their choice on a new team based solely on the bench or third base coach, the process of filing those roles should not be drawn out too far into the free agency period.
Epstein has said they were moving full speed ahead to get the staff buttoned up, so we should hear more concrete reports in the near future.