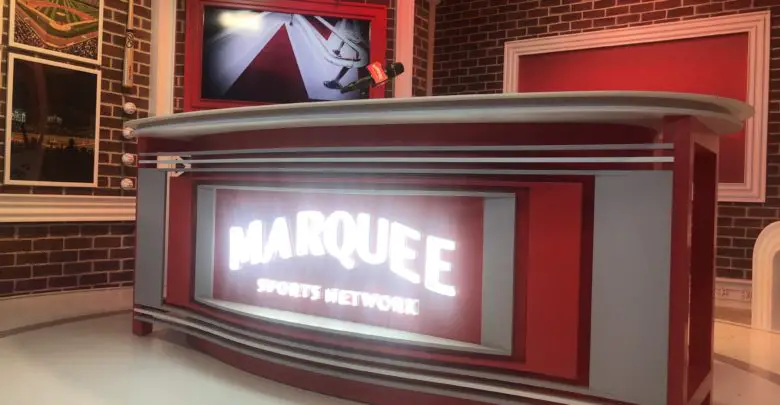 Marquee's Carriage Deals 'About 40% Done,' Comcast Conversations Just Beginning
Wednesday brought big news on the Marquee Sports Network front, as Sinclair Broadcasting announced a multi-year carriage deal with Mediacom Communications. That means more momentum for the broader adoption of the new channel, as both AT&T (which includes DirecTV, DirecTV Now, and U-Verse) and Charter Communications had previously agreed to multi-year deals.
Though we don't really know the internal timeline set by the folks at Sinclair Broadcasting, it would appear that things are ahead of schedule based solely on industry warnings of protracted negotiations. Crane Kenney, the Cubs' president of business operations, joined 670 The Score's Mully & Haugh Thursday to discuss the latest announcement and what's next.
"Yesterday was a big day for us," Kenney said. "We got Mediacom done, which is a significant carrier for our home television territory. Major League Baseball gives each team a territory in which they can broadcast their games [and] ours is roughly all of Illinois, Indiana, Iowa, and then small parts of Ohio and Wisconsin. So that's kind of our footprint that we're allowed to bring our games in.
"One of the places we've been underserved is in Iowa. A lot of fans, especially Des Moines, where we have our Triple-A club, weren't able to get our games in previous years with NBC (SportsNet Chicago) and Mediacom's the dominant cable provider there. So this agreement that we reached yesterday will pick up about 75,000 homes in Iowa that didn't have us last year."
Think of this like Mediacom as a local, family owned-chain of restaurants, with AT&T operating like Applebee's or something. One helps the Cubs to get more regional coverage, while the other blankets the entire footprint. It's even possible that the AT&T deal could bring Marquee into households outside the Cubs' territory, though it would not be able to broadcast games in those markets.
That's what you have in some areas now with YES Network, the Yankees RSN that is also partially owned by Sinclair. Many outside the greater New York area can still enjoy the non-game programming on YES, but they'll be blacked once the action starts. Whether or not that will be the case with Marquee has not been explained yet, but we'll know for sure by Cubs Convention.
As for simply ensuring that Cubs fans living in the team's defined territory can watch games, there's still a long way to go. The current arrangements are a big step in the right direction, but still don't come close to covering a majority of the market.
"We've got now about 40% of our carriage done, and those are all multi-year agreements, so that feels a lot better than where we sat when we announced this thing about a year ago," Kenney explained.
The white whale here is Comcast, which is the biggest cable provider in the Chicago market and would represent a huge portion of the remaining carriage deficiency. Only trouble is, Comcast is very well aware of its significant leverage and there are a number of complicating factors involved. The first of those is that the two sides are only now sitting down.
"Those conversations (with Comcast) are just beginning," Kenney admitted. "We're sort of going sequentially and most of this work, to be honest with you, is being done by Sinclair. They've got more experience in this space than we do and they're kind of just moving right through the market. I think the important part for us…you know, this is a new business launch.
"So we put forward what we believe is a really valuable proposition for the cable companies and satellite providers and then you start negotiating price. And what's really important about having three major providers in Charter, Mediacom, and DirecTV agreeing to these terms is that the price that we were seeking is seen by them as reasonable."
That last part is the most important aspect of the whole thing, since initial rumors had the Cubs and Sinclair seeking a $6 carriage fee for Marquee that might have been hard for providers to swallow. A subsequent report put it at a much more reasonable $4, which could be responsible for the speed of these initial deals. Even so, Comcast may play hardball as they seek to maintain market share in the face of an eroding subscriber base.
"In the old days, when you were making so much money in your video business, you couldn't afford to let a sports channel go off, because you would lose video subscribers," a Comcast exec told the Los Angeles Times in September.
"The question you've got to ask is: If a Cubs fan doesn't have the Cubs on Comcast video, are they going to turn off their Comcast broadband business? My guess would be very few do."
While it's not inconceivable that pressure to keep up with their competitors will have Comcast picking Marquee up in short order, it seems more likely that we'll be waiting on an announcement for quite some time. The same could be true for Dish Network, which has very publicly decried regional sports networks as poor business partners and may not even bother with this one.
While there's nothing concrete when it comes to Marquee's availability on streaming services, Kenney acknowledged Thursday that negotiations are underway with providers like Hulu, Sling, and fubo. When it comes to a stand-alone Marquee app or an over-the top subscription, however, you're going to have to wait until MLB changes its territorial broadcast guidelines.
In addition to the specifics of how you'll be able to watch, Kenney offered a little confirmation about who you'll be able to watch. Len Kasper and Jim Deshaies will indeed remain in the broadcast booth for the 150 or so games Marquee hosts each season, and more on-air talent should be announced within the next month or so.
Keep checking with Cubs Insider over the course of the winter as we keep you updated on the various Marquee carriage deals as we become aware of them.