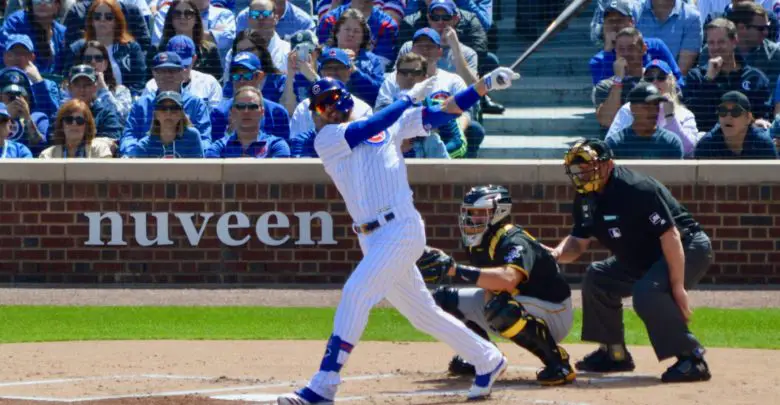 MLB Execs Believe at Least One of Kris Bryant, Mookie Betts, Francisco Lindor Will Be Traded This Winter
If the headline seems familiar, it's probably because you heard pretty much the same thing back in late August. That's when ESPN's Jeff Passan put out a premature hot stove Q&A that included his report that "a number of executives are expecting monster names to be in trade talks." He then went on to list Kris Bryant, Francisco Lindor, and Mookie Betts as the monsters in question.
Nothing much has changed on that front in the weeks since, though MLB Network's Jon Morosi reinforced it Monday morning via Twitter. Noting that it was the collective opinion of multiple MLB execs with whom he'd checked, Morosi said "at least one player among the Mookie Betts/Francisco Lindor/Kris Bryant group will be traded."
At least one player among the Mookie Betts/Francisco Lindor/Kris Bryant group will be traded this offseason, in the opinion of multiple @MLB team execs I've checked with over the last 24 hours. @MLBNetwork

— Jon Morosi (@jonmorosi) November 11, 2019
Again, nothing new here given that all three have been involved in separate reports about their respective teams' willingness to trade them. It is, however, a least mildly interesting that we're getting nearly the same report as before with slightly more stank on it. And if you consider how Braves GM Alex Anthopoulos brazenly told reporters that they'd been communicating with 27 other teams about what they were looking to do in free agency, you get that sense these execs may not simply be guessing.
Any trade involving a superstar is going to be complicated by it's very nature, but each of the three mentioned here is further complicated by a variety of factors. Betts has just one year of control left and is projected to earn nearly $28 million in 2020, Bryant's service-time grievance only recently concluded, and Lindor is the cornerstone of an Indians franchise that would have to make up for his star power as well as his on-field production.
All that said, it all comes down to whether the teams in question can find matches that bring back enough value in return. While the Red Sox are almost certain to fall short of that in terms of raw production, a desire to decrease their financial obligations might make them more eager to part ways with the man who trails only Mike Trout in terms of wins above replacement over the past five seasons.
That's true to a slightly lesser extent for the Cubs, who've got Kris Bryant at a lower figure for what everyone still believes will be two more years. He'll be more expensive in 2021, though, and his injury history has given many pause when it comes to his future production. Of course, that's just as true of teams looking to acquire him as it is the Cubs. Given their need to max out the next two years of the front office's tenure, it's next to impossible for them to replace his value in a trade.
Much of the same can be said for Lindor, who should continue to easily out-produce his arbitration figures over the next two seasons. But since Cleveland isn't on par with Boston or Chicago in terms of either expectations or expenditures, they've got a little more leeway when it comes to rebooting the franchise with a big trade. What's more, we've already heard from Morosi that the Dodgers are planning to pursue Lindor.
With full awareness that this could be much ado about nothing, it's absolutely something to monitor over the next several weeks. Only a handful of teams have the wherewithal to pursue these huge names, all of whom need to be ready to contend immediately. But wait, aren't the Cubs, Red Sox, and and Indians ready to contend right now?
There are many different ways to build a winner, and this winter may put all of them on full display.