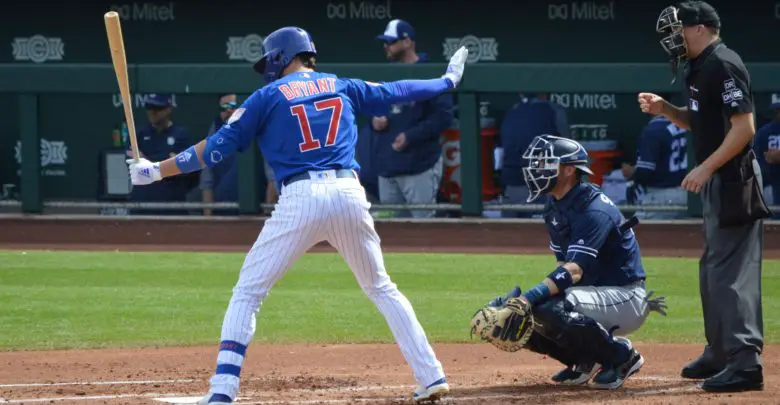 The Rundown: Bryant Being Grossly Undervalued, Cubs Lose Integral FO Member, Hoerner as CF Option
The best part about running a semi-popular web log is that it has vastly increased my access to a number of different avenues for Cubs news, rumors, and reports. On the other hand, it has naturally increased the size of the magnifying glass under which Cubs Insider operates and has opened the door to any number of very, uh, interesting takes. One suggestion would be to simply log off, but I've been unable to convince the rest of the general public to do so.
Among the various different opinions of the burgeoning hot stove is that Kris Bryant is a whiny prima donna who should be traded away for whatever the Cubs can get in return. He's got no heart and is good for only mediocre production, or so I've been told numerous times, so the Cubs should go ahead and move him while they still can. It's really odd what people will allow themselves to believe.
My assumption is that a lot of fans feel personally slighted by Bryant seeing his service-time grievance through, which they take to mean he wants to get out of Chicago. As such, he's saying very obliquely that he isn't all-in on the Cubs and what they're trying to accomplish. Never mind that the grievance was filed all the way back in 2015 and his role as a union rep means that he's doing things in order to help other players now and in the future.
But enough of that business, let's talk about the idea that Bryant is somehow anything close to an average producer or that he can simply be replaced with another team's prospects or…gulp…David Bote. Prior to injuring his knee right around the All-Star break this season, Bryant was on pace to surpass his MVP numbers of 2016. The same was true of his production in 2018 before a shoulder injury laid him low.
This is the part where I explain yet again that being beaned in 2018 had nothing to do with it. I've tried to kill that notion with fire several times, yet it keeps coming back.
Since making his unnecessarily delayed debut in 2015, Bryant has been the Cubs' best producer by a wide margin. His 27.8 fWAR is well ahead of Anthony Rizzo's 21, and Bryant accumulated that total over 241 fewer plate appearances. In fact, the gap between the Bryzzo boys (6.8) is greater than that between Rizzo and Javy Báez (6.3) or Javy and Addison Russell (5.3). Jason Heyward has accumulated 6 fWAR total in that time.
If we zoom out to see the entire sport over that same time, only Mike Trout (44.2) and Mookie Betts (35.4) have best Bryant, with Christian Yelich (27.7) right on his heels. And remember, Bryant's done this despite nagging injuries that have limited him to some extent over the last three seasons. Anyone who says he lacks heart ignores that he's been playing hurt, possibly to the detriment of his future earning potential, because he puts the team first.
Then there's the idea that Bryant isn't clutch, which must have come up at some point after the World Series. Patrick Mooney dispels the fallacies around Bryant and the Cubs' desire/ability to keep him at increasing arbitration salaries and beyond in a great piece over at The Athletic, adding in the obvious that they need star power for Marquee Sports Network as it gets ready to launch in February.
There is one thing I'll say about Bryant when it comes to his future performance and why the Cubs investing in it more heavily is a good idea. The guy is admittedly his own biggest critic and he's also a total homebody who loves the routine of the batting cage and the simplicity of a board game party over the club. He just wants to know he's secure and set moving forward, and I can guarantee he'd love for that to be in Chicago.
As such, I would be willing to further guarantee that he'd play better under the security of a long-term extension than he will as an arbitration-eligible player hurtling toward free agency. The trade rumors and uncertainty would be gone, thereby freeing him up from a psychological standpoint while also allowing the Cubs to work on building the team around him.
Wow, that was a lot. Gotta keep it short of the rest of this.
Front office erosion
It's long been assumed that some high-ranking members of the Cubs' front office would eventually leave for bigger (or just newer) roles, but the primary candidates were always Jed Hoyer and Jason McLeod. As they've remained in Chicago, however, it became clear that some of Theo Epstein's lower-ranking officials would be the ones moving on.
Hoyer discussed as much last year in talking about how the club's "flat hierarchy" encourages all employees to speak up and have their input heard. Former director of professional scouting Jared Porter was hired away by the Diamondbacks in 2016 to serve as assistant general manager and former AGM Shiraz Rehman transitioned to the Rangers last year, though the Cubs may not have been too upset about the latter move.
This time, it's former AGM Scott Harris leaving to take the reins in San Francisco alongside baseball ops president Farhan Zaidi. The Cubs had to have known this was coming, which could even have been the motivation behind reshuffling the front office as they did recently. You hate to lose good people, but the Cubs have proven more adept at developing talented young minds than they have talented young arms, so here's to hoping Harris's replacement produces even more WAR.
Cubs notes
If the Cubs manage to re-sign Nicholas Castellanos, they may look to improve their play in center field with internal options. That could be more time for Nico Hoerner, who might serve in more of a utility role depending on how many other second basemen are still on the 26-man roster.
The same could be true should the Cubs indeed pull off a deal for Whit Merrifield, though he'd probably displace any incumbent infielders one way or the other. He's also a little older and would age better at 2B than CF.
The Andy Green hire still seems odd, with several people from the San Diego area questioning how it improves the Cubs' on-field decision-making. Time will tell, I guess.
It'll be a while before the real winter action gets going at the big league level, but there's all kinds of stuff happening in the minors. The Cubs and other teams recently decided which minor-league free agents to retain, and next comes the decision on which players to protect from the Rule 5 Draft by putting them on the 40-man roster.
Mike Canter should be back on The Rundown by Wednesday, so you'll only have me as a replacement writer for a short time.
News from around the league
Now that the Giants have their GM in place, they'd like to make a decision on their next manager this week. Alex Pavlovic of NBC Sports Bay Area is reporting that Joe Espada is the frontrunner for that job, which should surprise no one.
Former White Sox pitcher Odrisamer Despaigne has signed with KBO's KT Wiz for a guaranteed $750K.
The Pirates continue to sail slowly through the doldrums and have yet to name a GM, though they are reportedly down to three candidates.
Monday Walk Up Song
Dance Band on the Titanic by Harry Chapin – My dad loved Chapin, so I listened to a lot of his music growing up and this remains one of my favorites. I just wonder what might have happened if, rather than hitting those icebergs off the starboard bow, the captain had just turned portly.