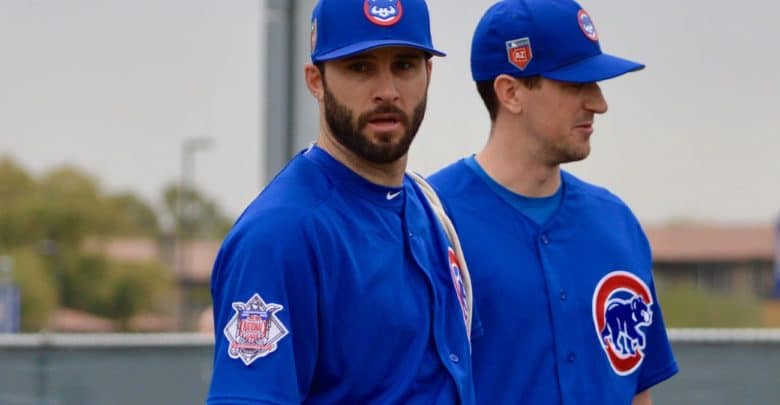 Ben Zobrist Undecided on Future, Brandon Morrow Could Return to Cubs on Minor-League Deal
There's a distinct possibility that the Cubs could bring back a pair of veterans who both missed all or most of the season. One of them was even paid $3 million not to play this season, though that was more about the risk was far too great to pick up his $12 million option. We're talking, of course, about Ben Zobrist and Brandon Morrow.
Ben Zobrist hasn't made a final decision yet, but he is working out in case he wants to play next season. The Cubs clearly missed Zobrist, 38, while he took a personal leave of absence this year.

— Patrick Mooney (@PJ_Mooney) November 12, 2019
The 38-year-old Zobrist has not decided whether he wants to return for another go, but he looked good toward the end of the season and provided a needed emotional boost as well. Patrick Mooney tweeted Tuesday that Zobrist is working out just in case he does want to play. If he's willing to take a significant discount over what he's made over the last four seasons, Zobrist could provide depth at multiple positions and give the Cubs a contact bat they might otherwise have to overpay for in free agency.
Bringing Zobrist back would make sense should the Cubs opt to part with Addison Russell and roll with Nico Hoerner at second. The tenured vet would also provide support for a rookie manager as a steadying clubhouse force.
Morrow is likewise a possibility to make a return to Chicago, in large part for the same reason the Cubs weren't about to pick up his 2020 option. The flame-throwing righty pitched for only half a season in 2018 before a stress reaction in his elbow shut him down. Offseason clean-up surgery guaranteed a delayed return, but Morrow's elbow remained so creaky that it required an injection of synthetic lubricant to counter persistent irritation.
As if that wasn't enough, the righty had yet another procedure late in the season to alleviate pressure on a nerve. He said afterwards that he felt better and might be able to make a return, but that obviously wasn't in the cards for 2019. He's ready to pitch this coming season, though, and Gordon Wittenmyer reports that the cost-conscious Cubs are keeping tabs on Morrow's rehab with an eye toward bringing him back on a minor-league deal. Morrow seems open to that as well.
"I don't believe Brandon would sign with anyone else until the Cubs decide what they want to do," Joel Wolfe, Morrow's agent, told Wittenmyer. "The Cubs invested a lot of time into Brandon, and money, of course, and Brandon feels a certain sense of loyalty and obligation back to the Cubs to stay with them if they want him on a minor-league contract or something like that."
Such a deal would almost certainly include performance and playing-time incentives, so it'd have little risk for the Cubs and would allow Morrow to rebuild some value. From the sounds of it, the reliever wants to repay the organization to an extent. Sounds good to me.
Given their desire to find value while also filling gaps in the bullpen and lineup, not to mention improving the clubhouse culture, Zobrist and Morrow would both be great gets. Morrow, who will turn 36 in July, might actually be the better option of the two. Assuming he's still got the ability to touch upper 90's and miss bats, that is. Neither move would surprise, but I'd bet on Morrow if forced to choose. Here's to hoping that's a moot point and they're both back.