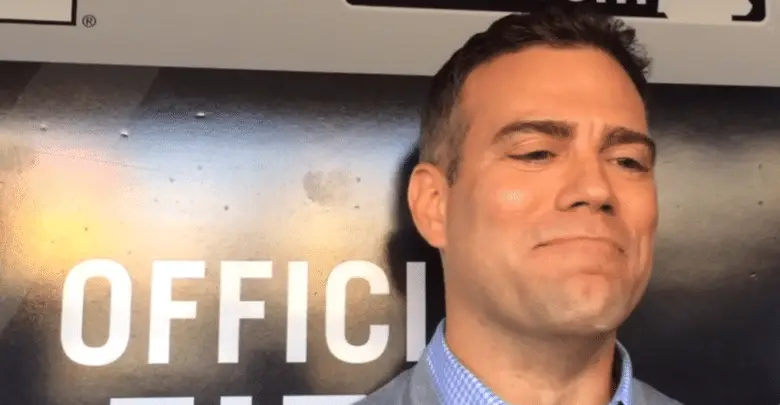 The Rundown: Take Rumors with 'Mouthful of Salt,' Venable Returning as Coach, Padres Getting Aggressive
It goes without saying that you need to tread lightly this time of year as trade speculation gets dialed up to 11 and rumor-mongers come out of the woodwork to share and create stories. Don't get me wrong, the offseason hype machine drives a ton of traffic to the site and it's very good for business. At the same time, sorting through all the reports to find out what's legit can get pretty tedious.
That's why I tend to avoid putting together my own trade proposals, at least for the most part. Others are better with those things, like Mike with his daily breakdowns of possible deals that could make sense if the Cubs are listening to offers on Kris Bryant. Well, we know they will be listening, though to what degree they're actively trying to move any of their young core is up for debate.
Theo Epstein said Monday from the GM Meetings in Scottsdale that the Cubs were "rapidly approaching" the time when they'd have to make difficult decisions on players, but he didn't say that time had come. So even though multiple reports say rival execs are expecting one of Bryant and two other monster names to be dealt this winter, that stuff can often end up being more titillating than informative.
Epstein warned against taking anything too seriously, especially at this point in the offseason when so much has yet to be determined.
"The nature of any offseason, there are gonna be rumors about your major-league players and even your best players and that doesn't necessarily mean they're true," Epstein told Tony Andracki of NBC Sports Chicago. "No one knows how this winter's going to evolve. Even us. We have no idea who will be available for us, so I think taking any name that comes up in a trade rumor with a mouthful of salt is appropriate — not just a grain because I think they're usually untrue."
There are so many complicating factors involved in any offseason, but this one is particularly interesting for the Cubs. Not only are several of their young stars arbitration eligible, and thereby possess somewhat amorphous value, but the result of Bryant's grievance hearing is still pending. Even though everyone believes he'll "lose" the case and have two years of control remaining, the arbitrator's decision will determine a lot.
Then you've got decisions on the 40-man roster and the upcoming Rule 5 Draft, all of which will affect how the Cubs and other teams view their respective systems. Then you've got players to whom a qualifying offer was extended. They have until November 14, the last day of the GM Meetings to make a choice on whether to play one year at $17.8 million and try free agency in 2021 or hit the market branded with the scarlet letter of draft-pick compensation.
All told, it's just too difficult to say anything definitive at this point, which is what Epstein's saying about trade talk. He also acknowledged the reality that these rumors can be detrimental to players, especially those with families. While it's easy to say people should simply avoid reading about rumors, the general public can't always be trusted to act with decorum in these matters.
"Most trade rumors out there are not true," Epstein said. "We have no idea how this winter's gonna go down, we have a ton of respect for our big-league team and the policy of having no untouchables is something we've had here for eight years. So we'll just see how the winter evolves, what's available to us and take it day-by-day, but we'll try to operate with a lot of respect for our players."
Cubs notes
Notes from MLB
Tuesday Walk Up Song
Fix You by Coldplay – My daughter is over halfway through her halo gravity traction period and has grown by more than an inch, or so it appears. She's up to 34 pounds of counterweight and things are looking good as we await what we hope will just be a single surgery on December 2.