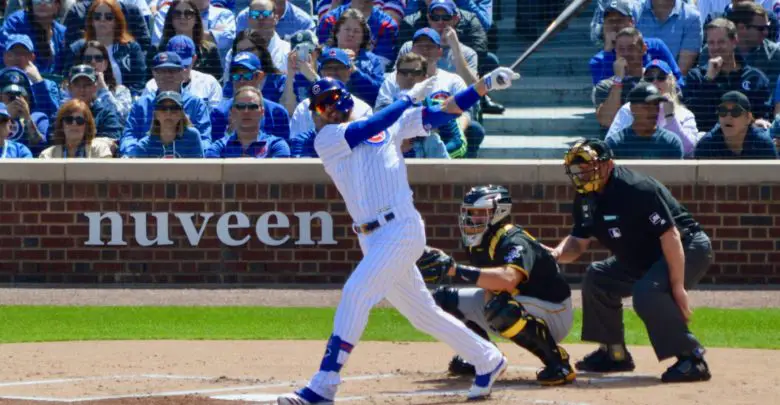 Scott Boras Says Kris Bryant Still Open to Extension, Downplays Trade Speculation
Winter Storm Boras blew through the GM Meetings in Scottsdale Wednesday, propelled by a bunch of hot air that would have been welcomed in the cooler climes of the Midwest. The game's biggest pirate loaded his trusty blunderbuss with a cache of carefully crafted one-liners and opened fire upon the requisite scrum with indiscriminate bluster.
Boras makes Xmas joke about 30 teams needing "30 stockings of Cole." pic.twitter.com/kfNb8sEfEY

— Paul Sullivan (@PWSullivan) November 13, 2019
Ed note: Can anyone explain how in the blue hell Bruce Levine gets to the front of every scrum? His ability to outmaneuver dozens of younger colleagues is as uncanny as the X-Men. Hey, maybe that's his mutant power.
Make no mistake, "pirate" is a term of endearment in this case. Or maybe it's one of respect. Whether it's creating viral quotes or commanding massive salaries for his clients, Boras is always good for stretching both column inches and the bottom line. That isn't going to change this winter, as he represents the consensus top three free agents and another three or four of the top 15.
Then you've got the intrigue of a marquee player who may or may not be playing on Marquee Sports Network depending on things shake out. That would be Kris Bryant, a man whose rookie contract will expire either after this year or the next depending on how an arbitrator rules in his recently concluded service-time grievance.
Boras wouldn't talk specifically about the hearing since it's still pending, but get a couple shots of truth serum in him and he'd almost certainly tell you he doesn't expect to win. Put air quotes on that last word because no one really comes out victorious in these situations. More than giving Bryant a realistic shot at hitting the market early, following through on the grievance was about acting on behalf of the rest of the union and drawing a clear line in the sand for the next CBA negotiations.
Though they were on opposite sides of the table in this particular case, one of many aspects of the business of baseball that suck the joy out of a child's game, Bryant is able to compartmentalize it. This grievance wasn't about trying to get even or get out of Chicago, despite what many on the outside seem to believe.
"For Kris, it is just about getting ready to play and working with his teammates," Boras said. "This aspect of it I don't think has any effect on who he plays for or who he plays with. He certainly enjoys the city of Chicago."
Bryant has said numerous times that he's open to an extension, a stance many see as dubious given the general MO of Boras clients. One case in which a star player did agree to an extension, however, might provide a template for something similar between the Cubs and Bryant. Stephen Strasburg, who had previously undergone Tommy John surgery, inked a seven-year, $175 million deal with the Nats ahead of the 2016 season and opted out this year in hopes of an even bigger payday.
After seeing his production hampered by injuries in each of the past two seasons, Bryant might be amenable to a deal that grants him both security and flexibility. He wins, the union wins, and ideally the Cubs win as well. Such a deal isn't going to come cheap for the Cubs, as Boras talked about getting fair market value for his client, but he also made it known that the option is out there.
"Look, we're open to talking with them and we've always said that to them," Boras explained. "It's always been Kris's philosophy with the team."
Note how he said the openness to an extension was Bryant's philosophy, which runs parallel to what the former MVP has said in the past about being the boss in this situation. Not that something is going to get done just because Bryant wants to stay in Chicago. That whole business side of things could dictate otherwise, namely if the Cubs end up flipping him in a trade.
But as Boras reasoned Wednesday, the chances of the Cubs getting adequate value for a superstar player are probably too slim to make a deal worth it.
"[Conversations about being traded] happen when they are not under contract for a long period of time," Boras opined. "All that tells me is Kris Bryant is really, really good. Certainly every player I have had of that talent level, they're always asking the question about, 'Will they or won't they [trade me]?'
"The answer to that is always…I can give you a percentage over a decade of how many of those players get traded and the answer is very low. To get something back worthwhile, the percentages are very low."
While the Cubs have made it known that they're willing to listen on anyone, they've not spoken publicly about the very obvious fact that they'll need to get a huge haul in order to move Bryant. Even setting aside the emotional connection to him as a player who led them to the World Series as one of their prized draft picks, getting value for value isn't going to be easy.
So based on all that, I'm saying the Cubs will agree to an extension with Bryant mere moments after they learn of the decision on his grievance. Based on everything we know about the team's financial proclivities, however, a really big expenditure that would stress payroll obligations seems to be out of the question for this offseason.
At the same time, Boras's transparent comments Wednesday offered hope of the two sides coming to a suitable long-term arrangement prior to Bryant becoming a free agent. That's different from when Jake Arrieta was two years away from free agency and was adamant about testing the market. He maintained all along that, while he enjoyed Chicago and the Cubs, he also wanted to see what else was out there.
Bryant, on the other hand, has said all along that he's open to talking about an extension and that he, not Boras, is in charge at the end of the day. But as we've seen many times in the past, the business of the game doesn't always allow for players to get what they want. So if the Cubs have painted themselves into a corner and can't offer Bryant close to market value, he could very well end up elsewhere one way or the other.
On that note, my hunch here is that Bryant would indeed take a little less to remain with the Cubs. I guess you could call that a hometown discount, but it's more that an extension would buy out at least one arbitration year. It would also enable him to avoid the hassle of moving and getting acclimated to a new situation, hence the "hometown" part. We're not talking $50 million below the going rate or anything, but enough to grease the wheels of negotiation ever so slightly.
As I've mentioned here before, I believe Bryant would perform better under the security of a deal that gives him a little more control over his future. At the very least, eliminating the trade talk and uncertainty of free agency can't hurt. Guess we'll find out soon enough whether I'm right.