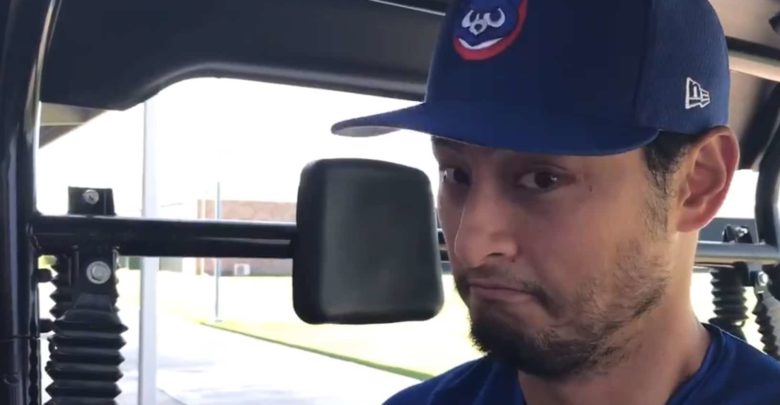 The Rundown: Darvish Slays Social Media, Cubs Score Big Addition to Scouting Department, Dodgers Looking to Add Cole and Rendon
Joel Sherman dropped a heaping pile of steaming garbage on readers yesterday that suggested the Cubs should consider trading Yu Darvish to the Yankees for a package of minor league prospects. In order to allow the Yankees to take on the $22 million Darvish is owed this year, Sherman suggested the Cubs take the astonishingly bad contract of Jacoby Ellsbury, who is owed $21.4 million in 2020 with a $5 million buyout for 2021. It's entirely realistic that Ellsbury will never play baseball again.
Darvish has been in the news quite a bit lately, but until that NY Post piece it was for entirely different reasons. Amid allegations that Houston was stealing signs during their 2017 championship run, the theory existed that the right-hander was tipping his pitches during a pair of uncharacteristically bad World Series outings when facing the Astros as a member of the Dodgers. But Tuesday's report had baseball fans reconsidering what was really behind Darvish's back-to-back meltdowns.
And it's not just the abhorrent fact that Houston may have used technology to circumvent gamesmanship in order to beat the Dodgers. Darvish was entering his walk year, and his performance in that series legitimately cost him significant money during free agency. Once his price range dropped to a level that was comfortable enough for Theo Epstein to engage in discussions with the would-be ace and his agent, he became a member of the Cubs.
Then there is the matter of his reputation. Darvish has had to fight off rumors that he is soft since that series. And what of Dodgers fans? They've watched their team flail in the playoffs with 2017 being arguably their best shot at winning a championship. After Darvish and his teammates destroyed the Cubs' chances of repeating in the 2017 NLCS, Los Angeles took Houston to a deciding seventh game in the World Series. If Darvish would have won his Game 3 start, the Dodgers would have won in six and taken home their first championship since 1988.
For what it's worth, Darvish, who has emerged as a social media darling since the season ended, is taking it all in stride while fans are actually apologizing to him.
Why am I tranding?
Do people finally realize I'm cool? pic.twitter.com/ji73rT9ram

— ダルビッシュ有(Yu Darvish) (@faridyu) November 12, 2019
Cubs News & Notes
Today's Theoretical KB Trade
Again, there are currently no real or warranted rumors attached to Bryant. This is just an exercise to determine what he may be worth in trade with any of the other 29 MLB teams. The White Sox are up today, as we (somewhat) discussed the Red Sox in the comments section of yesterday's Rundown.
White Sox get Bryant and Tony Kemp
Cubs receive Lucas Giolito, Leury Garcia, Aaron Bummer and minor league pitcher Jonathan Stiever. The White Sox get the veteran leadership the team needs and Bryant would be the best third baseman in the American League. It might be soul-crushing to see KB sporting the black pinstripes, but the ChiSox pay up, giving the Cubs a legitimate ace, a solid bullpen piece, and an all-purpose utility player. And if you've never heard of Steiver, just know that his nickname is "Verlander" and he is one of the fastest rising pitching prospects in baseball.
Thursday Stove
Major League Baseball has expanded its investigation into the Houston Astros after The Athletic reported the team stole signs during home games ($) in 2017 by using a camera positioned in center field. Astros GM Jeffrey Luhnow offered little more than lip service in responding to the sign-stealing allegations.
"We take [this] seriously and we're going to look into it. If you're not following the rules, it's a serious matter," Luhnow told reporters at the GM meetings in Arizona yesterday. "I'm not going to get into exactly what I knew or anybody knew at this point. So I'm just going to have to wait and see. But I'm sure there will be an appropriate time to answer that question directly."
Yankees outfielder Aaron Judge was either not surprised or completely caught off guard by the report the Astros may have been cheating.
The Dodgers may be in the lead to acquire the services of stud starter Gerrit Cole in free agency.
Per MLB Insider Jon Heyman, the Dodgers also have National's third baseman Anthony Rendon on their radar. I imagine they'll ask about Bryant at some point this winter if they haven't already. If the Cubs decide to punt on 2020, which seems unlikely,  the two teams match up well on potential trades.
The Yankees and Phillies have been showing interest in Giants' free agent Madison Bumgarner.
For teams averse to spending on baseball's biggest free agents, the trade market may offer a ton of exciting possibilities, led of course by the usual suspects Bryant, Francisco Lindor, and Mookie Betts, though it's no guarantee any of those three will be moved.
Scott Boras held court for reporters in Scottsdale yesterday, and it was everything you might have imagined.
Justin Verlander and Jacob deGrom were awarded the AL and NL Cy Young Awards last night. Each pitcher won for a second time, deGrom doing it back-to-back.
Extra Innings
Darvish uploaded a video to YouTube of him and a friend playing baseball in his driveway, with Darvish throwing his pitches left-handed. The big righty is actually ambidextrous and has hit 80 mph throwing left-handed previously. CI was even on hand to see him launch a BP homer as a lefty batter back in 2018. And who can forget last week's impersonation of Anthony Rizzo?
https://www.instagram.com/p/B4iNVJqH5sW/?utm_source=ig_embed
They Said It
"To be able to hire [Dan Kantrovitz] to run our drafts who's already held that position and run successful drafts in the past, it's a unique opportunity. Guys don't usually go back once they reach the assistant GM level. But in Dan's case, he's discovered that his passion is running the draft." – Theo Epstein
"When you go to the zoo, and half the bears are asleep, you're not able to enjoy the zoo. The industry is in a competitive hibernation, and the fans are reacting to it." – Scott Boras
Thursday Walk Up Song
Naked Eye by Luscious Jackson. All four members of the band play the same role, with filming taking place at the World Trade Center in 1996, made to look like an airport. The video is inspired by the Luis Buniel film That Obscure Object of Desire, which featured two actresses playing the same role.