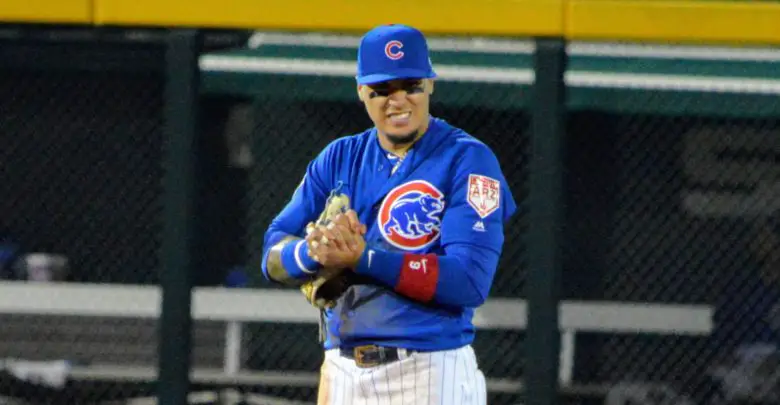 Cubs 2019 Season Review: Infield Performed Well Before Costly Injuries Took Toll
The first two installments of our 2019 season review focused on the pitching, with looks at the strong starting staff and the decidedly weaker bullpen. Now we turn to the position groups, specifically an infield that appeared to be the strength of the team heading into the season. That was very much the case for the first four months, but key injuries late in the year proved very costly to Chicago's playoff hopes.
The 2019 Cubs infield boasted four All-Stars who've all been part of the MVP conversation at various points: Kris Bryant, Willson Contreras, Javy Báez, and Anthony Rizzo. All four had stretches of excellent play last season, yet all would end up suffering significant injuries that diminished their production.
Another key infield piece, Ben Zobrist, went on the restricted list for over three months during a messy public divorce. Addison Russell was reinstated in May after completing his suspension under the league's joint domestic violence program. With rumors of a major shakeup in 2020 flying, let's take look at what went right and what went wrong on the Cubs' infield last year.
What worked
Javy's numbers were slightly lower than his breakout 2018 season, but he still had a monster year. His 29 homers with an .847 OPS and quality defense at shortstop earned him 4.8 WAR in just 138 games. Contreras had a big year behind the plate in just 105 games played with a career high 24 homers and 3.1 WAR.
Bryant recovered very nicely from a down 2018 with 31 homers and a .903 OPS while generating 3.6 WAR playing mainly at third base. The other half of the Bryzzo Souvenir Company didn't slack either. Rizzo had his highest OPS (.924) since 2016 and won the Gold Glove at first base.
Nico Hoerner made the jump from Double-A to the majors in September and acquitted himself pretty well, slashing .282/.305/.436 in 82 plate appearances playing shortstop. David Bote was demoted at one point, but he had a .785 OPS and generated 2.0 WAR in 127 games. Victor Caratini smacked 11 homers and posted a .794 OPS in 279 plate appearances while serving as an effective backup at catcher first base .
What didn't work
Injuries were a huge factor for Cubs infielders in 2019. Báez broke his thumb on a slide and missed the final month of the season. Contreras missed five weeks when he pulled his hamstring in August. Bryant battled knee soreness that impacted his numbers in the second half. Rizzo had his typical back stiffness and then suffered a nasty ankle sprain in September. He returned more quickly than expected and hobbled through the pain the final weeks of the year.
Russell was an all-around disaster after returning from his suspension. He posted a .699 OPS and had numerous mental lapses in the field that eventually got him demoted to Iowa. Speedy Tony Kemp came over from the Astros and didn't add much at second base. Daniel Descalso failed to bat above .200 and spent a large part of the season nursing his own ankle injury.
Biggest Needs
The Cubs could use some depth players, especially a backup shortstop. Despite the way things fell off late, the infield remains the best part of the team and not a lot of big moves are needed. That doesn't mean that changes are off the table, however, as the front office may look to revamp the roster.
Question marks
Will the Cubs trade one of their core infield pieces heading into 2020? Rumors about Contreras and Bryant are already flying around the baseball world. The fact that four of the core players are approaching free agency only adds to the drama. If the organization seeks to save money and/or re-calibrate for next season, a move could very well happen.
Will Chicago finally decide to move on and non-tender Russell? Personally I'm hoping that one is a yes. Do the Cubs decide to move on from Descalso who is still signed for 2020? Where does Hoerner start the year after his cup of coffee in 2019?
Conclusion
The Cubs had one of the best infield units in baseball in 2019 until untimely injuries derailed what could've been career years for all of their primary infield contributors. The depth of the roster was tested and didn't always hold up well, though there were some bright spots among the replacements. Financial issues could lead to big changes in this unit, which should be one of the best in baseball again even if it remains only mostly intact.
As with everything else this offseason, that is a very big if indeed.