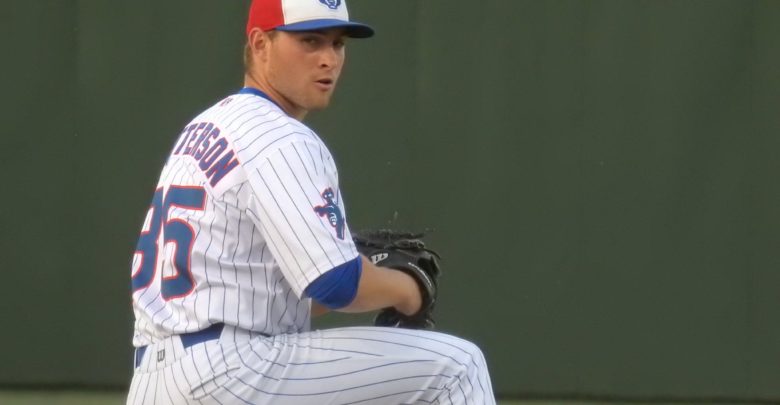 After Liner to Head Forced Him into 18 Month Hiatus, Lefty Jack Patterson Pitching with Renewed Purpose
As the 2019 South Bend Cubs were being introduced and hopping from the dugout to toe the first base chalk at Four Winds Field, Jack Patterson was nowhere to be seen. The lefty had failed to break spring training with a full-season affiliate less than a year after being drafted in the 32nd round out of Bryant University and had stayed behind for extra work in extended spring training.
But being off a roster and fighting to get back to the diamond was a familiar situation for Patterson, whose month in Arizona was nothing compared to the hiatus he was forced to take in college. He recently detailed his crazy comeback story on the Growing Cubs Podcast, but it's worth revisiting here for those who've not heard it yet.
It was his freshman year and the Bulldogs were taking batting practice on the field. Patterson had been tasked with bucket duty, a glamorous task that involves standing behind a net up the middle of the diamond and tossing shagged fly balls into a five gallon bucket. However, the net wasn't quite tall enough to protect him from a top-spin line drive struck by one of his teammates and the ball found the back of Patterson's head.
"I went down hard and kind of blacked out for a second and I just remember for the next 90 minutes my vision was completely at a 45 degree angle," Patterson recalled. "So I would be talking to our trainer and my head was just completely tilted 45 degrees."
He had suffered a concussion and missed some time as a result, but it was decided that he was healthy enough to suit up for his summer ball team. All the while, he dealt with symptoms of post-concussion syndrome that included migraines along with anxiety and depression.
By the time his sophomore season rolled around, Patterson was feeling better physically and was in the midst of his final indoor outing before starting play in the freezing cold New England weather. That's when a teammate hit a comebacker that had radar lock on his face. A high school soccer player and tremendous athlete, Patterson was quick enough to get his glove up and block the ball, but the close call spooked him and put him on notice.
Though he was able to make a few more starts that year, he soon realized that things just weren't right both physically and mentally. The headaches were still hanging around, as were the other mental health concerns, so he sat down for a long talk with head coach Steve Owens and his pitching coach Ryan Fecteau.
"We ultimately decided it would be best to step away for a little bit," Patterson said. "That little bit ended up being 18 months. When I first stepped away I thought it was going to be for good.
"I knew my head wasn't there, I wasn't happy. I knew I wasn't performing the way I should or could be."
Understanding that the circumstances were out of his player's hands, Owens offered Patterson the opportunity to remain a member of the Bryant roster without actually suiting up. That would have allowed him to remain on scholarship while continuing to work toward his degree.
Feeling as though his scholarship money should be split between his teammates, Patterson turned down the offer and was off the team. But it wasn't possible for the baseball junkie to stay away from the sport that he loved, so he became a student worker at the games in order remain close to his former teammates.
Being near the field without having the ability to help the team quickly gave Patterson the determination to do whatever it took to get back in uniform. Throughout his extended absence, he continued to meet with Owens to work out a path to a potential return to the mound.
That vision and plan created by coach and player ended up paying off as a physically and mentally healthy Patterson returned in 2017 and '18. The lefty's wild college ride culminated in a senior season in which he posted a 3.84 ERA and struck out 101 batters in just 82 innings, good enough to catch the Cubs' eye deep into the draft.
He made 11 appearances between both Arizona Rookie League squads and Eugene after being drafted, putting up a 2.83 ERA with 33 K's in 35 innings. But the Cubs felt he still had a few things to work out coming out of camp the following season, hence holding him back. Rather than allow the slight to eat at him, Patterson turned it into a springboard.
"I definitely used extended spring training as a little chip on my shoulder for once I got out of there and got called up," Patterson said. "I used it as some fuel to get through the season.
"I had some great instruction from the coaches down there and they really helped me. We threw a lot more bullpen sessions than we did throughout the year, so I felt like I grew a lot as a pitcher. And I honestly don't think I would have come even close to the year I had if it wasn't for that month in extended."
During his extra time in Mesa, the southpaw switched up his routine by working strictly out of the stretch, a la Yu Darvish. It has paid off in the consistency of his pitches, particularly an absolutely devastating bowling ball of a sinker that led to a system-best 61.5% groundball rate. It was such a ridiculous number that no one came within eight percentage points of it.
Patterson sets the sinker off with a trio of offspeed pitches, headed up by a slider that could be a go-to out-pitch if he can learn to shape it differently from his spike curveball. The changeup has potential to stick as well, as it follows the same action as his heater with glove-side run. His ability to tunnel the two pitches together will allow him to stick around in the rotation as he ascends through the system.
The changes he made and the motivation he gained in extended spring training came in handy as Patterson made his way up to South Bend on April 25 as a reliever. That started a ridiculous climb up the ladder, as he spent only 16 games in the Midwest League before getting the call to Myrtle Beach. He did not give up a single earned run in his 23.2 innings, striking out 24 with eight walks before finishing the season at Double-A Tennessee.
Expectations are through the roof for Patterson in 2020, as he is widely considered one of the top pitching prospects in the entire organization. He should begin the year back at Tennessee, but could easily make a push for Iowa and and even Chicago if he continues the success he's had so far.
Not too shabby for a guy who was hanging around the field as a student worker just three years ago.