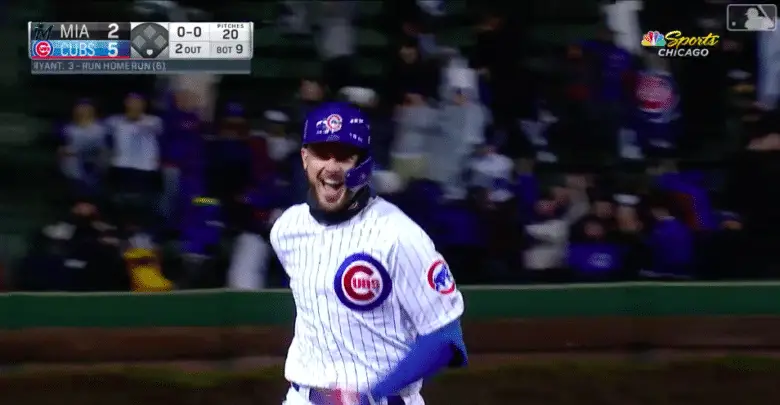 Kris Bryant Made Yet Another Successful Adjustment Against Fastballs in 2019
I feel like these posts have become a broken record. Once again, I'm writing about Kris Bryant's intentional adjustments translating to immediate success at the plate.
He struggled against inside heat in 2018, so he put in targeted work with his father, Mike, a professional hitting coach. The Bryants made it a priority to ambush pitchers who were throwing up-and-in on the hands, which resulted in Bryant smacking four-seamers much harder all over the zone.
Because of his previous struggles, pitchers attacked Bryant almost exclusively up and in with fastballs when ahead of the count last season. That stood in sharp contrast to 2018, when pitchers threw four-seamers all over the zone.
Despite pitchers' efforts to get Bryant out on high fastballs, the 2016 MVP actually hit such pitches about 30% harder in 2019. Not only was he generating greater exit velocity on those particular pitches, but he was also crushing low fastballs. Just look at how red the entire right strike zone is in the below figure.
Still, it's driving the stuff in on his hands that was most impressive. Bryant actually hit 15 four-seamers locates in MLB Gameday zones 1,2, 4, and 11 harder than 100 mph this past season. I repeat for emphasis: Kris Bryant turned 15 up-and-in fastballs around at 100 mph or more.
One of the hardest of those that KB smoked in 2019 was a clutch — very clutch — walk-off homer against 99 mph heat. You can clearly see the Marlins catcher set up for the pitch because that had been the scouting report. But as he did most of last season, Bryant sent the pitch flying deep into the Wrigley night.
Kris Bryant is one of the most intellectual, hardest-working players in MLB and he has proven every single year that he is capable of rapidly adjusting to scouting reports against him. The Cubs trading him due to financial inflexibility would be an absolute travesty. If the Cubs do extend their former MVP rather than deal him, I'm beyond confident that he will continue to adjust and produce well into his 30's.
He's shown the willingness and ability to transform his game year after year and I'm excited to see how the burgeoning Cubs legend continues to evolve next season.