Kyle Schwarber's Second-Half Showed Potential to Become MLB's Best Offensive LF
Kyle Schwarber has been a focal point of trade discussions for years, practically from the time he debuted in 2015. He was discussed as a leading candidate to bring back Andrew Miller prior to the 2016 trade deadline, but a demotion to Iowa and inconsistent performance since has had many hoping the Cubs would move on from the World Series legend for much less.
Schwarber's strong second half in 2019, over which time he was arguably the Cubs' best hitter, might have created an opportunity to sell high. On the other hand, his improved production and relatively low cost might mean he's a vital piece for a team that needs to compete without spending tons more money to do it.
Approach changes that saw Schwarber hitting the ball to all fields helped bring about better numbers that had previously been buried beneath a little poor fortune. To that end, his expected weighted on base average (xwOBA) was greater than 90% of MLB last season. In other words, how Schwarber mashed pitches theoretically should've translated to top-tier offensive production much sooner.
So once he was able to put everything together down the stretch this past season, Schwarber's expected numbers were actually in the top 3% of MLB. Yes, Schwarber was legitimately one of the best hitters in MLB for about a three-month period. And in case you're tempted to wag a finger and warn about small samples, the numbers were no fluke.
Schwarber's second-half success was driven by a noticeable mechanical change. As I highlighted in September, the burly slugger made an adjustment to his hand path and actually implemented more pre-pitch movement. That was surprising because he had made it a priority to decrease his pre-pitch movement for years prior, but he'd talked back in spring training about saying "screw this" and getting back to his old ways.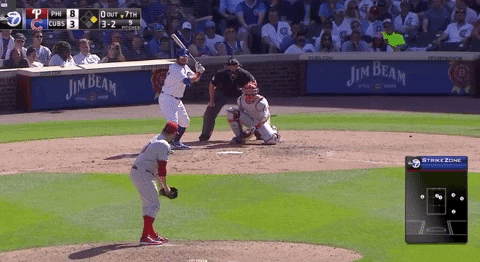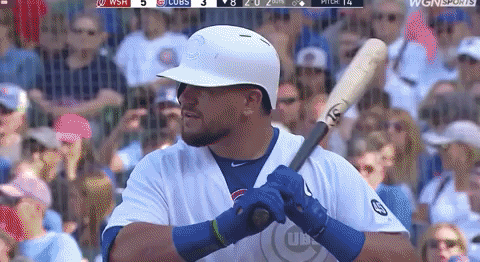 We clearly see that Schwarber drove more pitches to the opposite field in 2019, as illustrated above in the second GIF and in the below figure that contrasts the last two seasons. Lighter blue means more pitches were hit to the opposite field, whereas darker blue and red mean more balls pulled to right. Notice how Schwarber pounded the opposite field against fastballs middle and away in 2019.
There's a really big difference here, folks.
Maybe there are trade packages that make sense for Schwarber (e.g., for younger and cheaper defensively skilled outfielders), but the Cubs might be giving up one of the better bats in MLB. This will sound crazy to his many detractors, but if Schwarber's second-half adjustments carry over into 2020, he could be the best offensive left fielder in baseball.