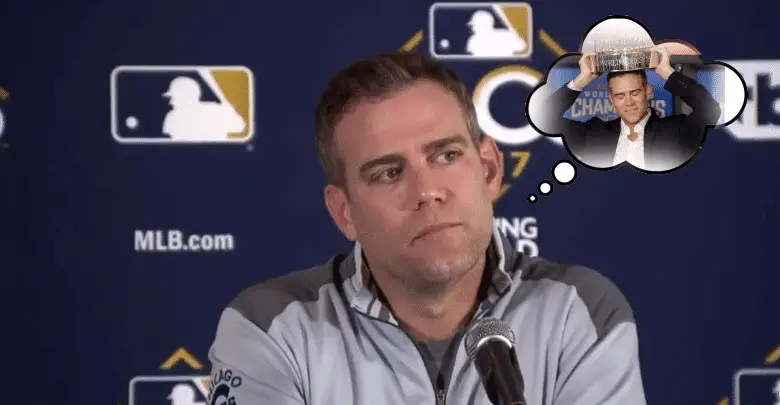 The Rundown: Cubs Make Historic Hire, Oft-Injured Cotton Acquired for Cash, Trade and Free Agency Speculation Galore, Sunday Baseball Notes
The Cubs acquired Jharel Cotton yesterday and the armchair sabermetricists were praising the sleuth-like move l Theo Epstein uncovered a hidden diamond while sifting through the Athletics' compost pile. That Cotton has barely pitched in two years and ended his Triple-A season in 2019 with a 7.71 ERA and a 1.77 WHIP is no matter. Epstein and his entourage will use their vaunted pitch lab to make him major-league ready and the failed right-hander will be the steal off the offseason, just like Drew Smyly in 2018 and Kendall Graveman last year, I suppose.
I'm starting to think that Epstein charges his staff each winter to find the most outside-the-box reclamation project and then gives a crisp one dollar bill to the winner. For an organization that has stated for the second straight year it won't pop for big contracts in favor of the ones stamped with a big, blue light special sales tag, it still makes no sense to spend any money on a failed and previously injured pitcher. By this time next year, he will be about as valuable to the team as their batting practice pitcher, if that. With Cotton expected to earn $800K in arbitration, keeping Dakota Mekkes on the 40-man roster would have offered the Cubs far more upside.
Get your hopes up if you want, but I'll sit this one out. Cotton is supposedly everything a cash-strapped organization like Oakland should be seeking, and they don't want him. I'm betting he never pitches a single inning at the major league level in Chicago, and if he does, it could be a long season on the North Side. As for Epstein, maybe he's digging through the sofa cushions for loose change so that he can sign Jacoby Ellsbury next.
Cubs News & Notes
This Week's Baseball Trivia
There are nine ways a batter can reach first base. Can you name them all without looking to the internet to find the answer?
Apropos of Nothing
In my opinion, those 1938 uniforms are the best the Cubs have ever sported.
Wrigley Field, Chicago, Oct 6, 1938 – In Game 2 of 1938 World Series, Cubs lead Yankees 3-2 in 7th inning as their starter Dizzy Dean gets Joe DiMaggio to ground out. But his next at-bat in 9th inning the Yankee Clipper would hit a 2-run shot off Dean as Yanks rallied to win 6-3 pic.twitter.com/HwenPJGvma

— Old-Time Baseball Photos (@OTBaseballPhoto) November 21, 2019
Updates On Nine
Extra Innings
What does being added to the 40-man mean?

A big league spring training invite, which means $350 week per diem.

Minor league pay goes from roughly $2,000 a month to a minimum of $46,000 a year.

Oh, yeah, and a better shot at a big league debut. https://t.co/R922WKRke7

— Baseball America (@BaseballAmerica) November 24, 2019
They Said It
"This is going to be more prominent than people think. Baseball has moved to a place where you don't need to have been a successful ex-player to be a coach, which is always how it used to be. Women have played baseball too. And they are gravitating toward the coaching side, too, and it's really cool that people are starting to notice that and starting to employ women." – Rachel Folden
Sunday Walk Up Song
I'm the Only One by Melissa Etheridge. Pure badass.