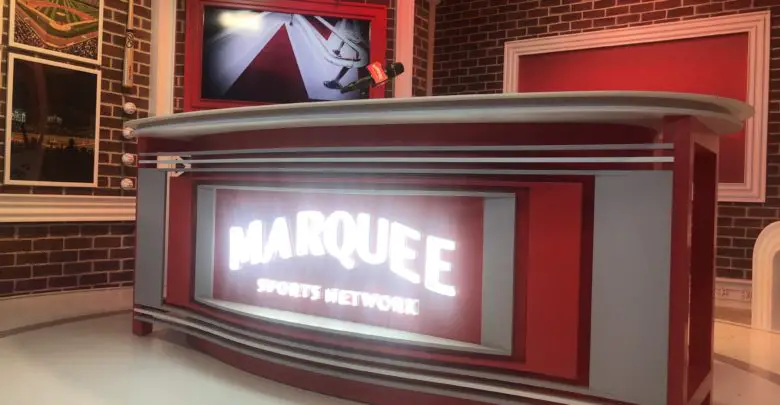 MLB Takes Big Step to End Local Blackouts, Some Cubs Fans Could Still Be in Dark
With attendees protected by a phalanx of police officers and under no obligation to talk to the media, there wasn't a lot of news coming out of the owners meetings in Arlington last week. Next to revelations about the Astros' systemic cheating, the story about police escorts protecting Astros owner Jim Crane and his colleagues was probably the biggest of the proceedings. As such, one particularly salient note about the potential disappearance of local blackouts went largely unnoticed.
Just to be clear: There are police officers stationed in the lobby of the hotel working as security, and when they got the sense Jim Crane did not want to talk, they cut in to the media scrum and escorted Crane to a staircase leading to the level where meetings are taking place.

— Jeff Passan (@JeffPassan) November 20, 2019
To clarify, all owners, not just Crane, are under the same restriction. We can't approach owners. Tarrant County police on scene to enforce it.

— Laura Albanese (@AlbaneseLaura) November 20, 2019
According to Hannah Keyser of Yahoo Sports, the owners "approved unanimously a revised interactive media rights agreement," which probably doesn't mean much if you don't have context. Happy to discuss anything other than Houston's sign-stealing debacle, commissioner Rob Manfred explained that it meant "certain in-market digital rights" were being returned to the clubs. Yeah…and?
Well, "digital rights" in this case refers to local broadcasts, something teams previously had no control over selling. That's why people in Iowa, Indiana, or various other parts of the Cubs' vast broadcast territory were unable to watch games if they didn't have access to a local broadcast of ABC 7 or WGN. While dozens of local affiliates syndicated those games, it wasn't enough to cover the whole region. Not every provider had NBC Sports Chicago, either, and that's where about half the games were housed.
Cord-cutters were the most heavily impacted, since they were left in a lurch as a result of the previous digital rights agreement. Plenty of people had figured out ways to stream via IP masking and reddit, but the fact that they had to take those measures at all was a problem MLB amazingly managed to get out of it's own damn way long enough to fix. Well, sort of, at least where Cubs fans are concerned.
The concept of blackouts has really morphed over the last five years for those who grew up watching it all on WGN. It really started earlier than that, when NBC Sports Chicago — known at the time as Comcast SportsNet Chicago — was formed and usurped a good chunk of WGN's broadcast rights for Cubs games. Once WGN's long-running partnership with Cubs expired prior to the 2015 season, the resultant hodge-podge arrangement mucked up the whole works.
It's like someone knocked over a nice vase and then tried to glue the thing back together. Even meticulous effort and a steady hand can't make it what it was, and you'd better not even think about putting water in it. To that end, consolidating the broadcasts on Marquee Sports Network will be a good thing in theory. Of course, that means getting the channel on more than 40% of local providers.
Marquee has already struck deals with AT&T, Mediacom, and Charter Communications, giving the Cubs a much larger broadcast footprint in Iowa and theoretically blanketing their entire territory with the possibility of coverage. With Comcast and various streaming services still in limbo, however, massive chunks of the viewing audience are currently without an option.
But wait, isn't the whole point of this story to explain how cord-cutters and others can simply purchase access directly from the Cubs on an a la carte basis? Well, yes and no. That's what the vote is supposed to mean in theory, but there are still a lot of hurdles left to clear for the Cubs in particular and MLB in general. The first of those is that the change in ownership of digital rights likely means nothing for MLB.tv packages.
That service has long been a target for Cubs Insider, to the extent that we actually played a role in changing some of its viewing parameters. However, further changes probably aren't in the works because MLB.tv is operated by the league and will still be subject to territorial restrictions. That means fans in Indiana, Illinois, and Iowa (along with portions of Wisconsin and Michigan) can't get the Cubs via an MLB.tv subscription without an IP cloak of some sort.
Okay, but what about just paying for Marquee on a stand-alone basis like the new vote seems to allow? Again,, great plan in theory, but one that seems to fall apart in the face of what we've been told to this point. In order to better understand what I'm talking about, let's first look back over the landscape as we knew it prior to Marquee and this vote from MLB owners.
Under the previous rights agreement, fans could download an app or visit a website to stream games from whatever broadcast partner had the game that day. The kicker was that they had to authenticate as subscribers of a cable or satellite provider that carried said channel. So you could watch the Cubs on NBCSC through their My Teams app if and only if you signed into it through your account with DirecTV or Comcast or whatever.
As indicated by Manfred, teams holding the rights to sell their own broadcasts would mean either eliminating that authentication or having a separate deal that fans could purchase through the team. The simplest option seems to be a process wherein subscribers could authenticate and watch via app or online streaming for free, while non-subscribers could pay a per-game or per-season fee.
That might get a little hairy with games being played on something like four separate stations, not all of which offer streaming capabilities. Ah, but that's what Marquee is supposed to be able to fix, right? Well yeah, if there were plans for an over-the-top service or a streaming app. That doesn't appear to be an option for fans at this point, which is bad news for those who'll have Marquee and worse news for those who won't.
To be fair, the Cubs had discussed those plans prior to this vote by the owners and might be willing to change their minds now. A bigger factor, however, is that they are likely using it as a bargaining chip when discussing carriage with local providers. This is purely speculation, but you can imagine how it might be helpful for the Cubs and Sinclair, their partner on the new network, to ply Comcast with a promise not to offer their games directly to fans should the media giant agree to carry Marquee.
With Comcast and other cable providers already hemorrhaging subscribers, you'd think they'd appreciate a little assurance that Marquee gives them a value prop to entice millions of Cubs fans to stick around. To that end, it makes sense for the Cubs to at least act as though they've got no plans for a stand-alone service or to give providers a little runway before going with a stand-along streaming plan. They'll need to go that route eventually if they want Marquee to be as successful as possible in the long run, just depends on when and how.
So while the notion of returning in-market digital rights to teams seems like a win for fans in general, it may not have much of an impact on Cubs fans for the time being. Cord-cutters probably won't have access to a stand-alone app right away, carriage hasn't been secured with streaming services, and there are no longer any terrestrial broadcasts. That last part is the real kicker for longtime fans in Chicagoland, since you could at least get WGN and ABC on the ol' rabbit ears.
Now, it's entirely possible that we'll have a whole different story come the business operations panel at Cubs Convention. Marquee will undoubtedly be a focal point of the weekend, so you know the team would love to have additional details to announce that could run contrary to what we know right now. In the meantime, you may want to take this potentially good bit of news with Theo Epstein's recommended daily requirement of a mouthful of salt.