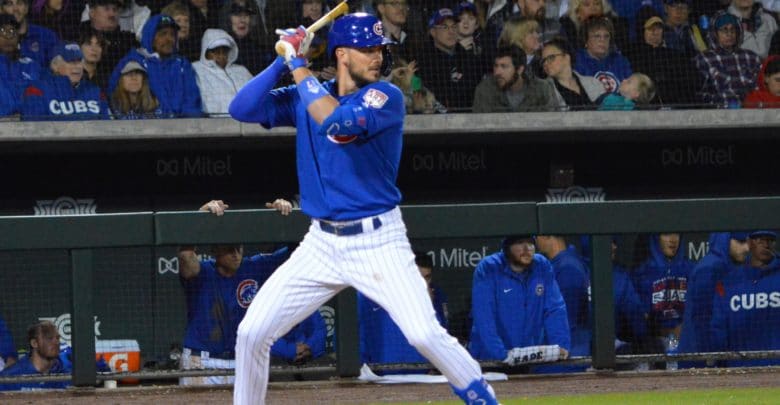 As Cubs Limit Spending, Possibility of Trading Kris Bryant 'Cannot Be Dismissed'
If you're still holding out hope that Tom Ricketts was playing some sort of 3D chess when he talked about the dangers of the luxury tax, this week should burst your bubble. The Cubs aren't going to the Winter Meetings looking to hand out blank checks, just like they didn't last winter after making similar claims about a limited budget. Barring the liquidation of Charles Schwab stock options or a drastic change of heart, there isn't going to be enough money for Gerrit Cole or Anthony Rendon.
The latter player might still factor in the Cubs' plans, though, at least according to some educated speculation ($) by Sahadev Sharma of The Athletic. Though he doesn't say a trade is likely, Sharma offers up the possibility of the Cubs "dangling" Bryant to teams that miss out on Rendon. That's the same strategy it's been reported they could use with Willson Contreras and teams that were pursuing Yasmani Grandal. But until both Rendon and Josh Donaldson find new homes, the Cubs really don't have much leverage.
Those players will require only a financial expenditure and will be able to contribute for several years. Bryant, on the other hand, is set to earn almost $19 million in 2020 and will get another arbitration raise the following season, plus it'll take a haul of prospects and/or controllable MLB-ready talent to pry him loose. Oh, and about that arb raise? It might not happen at all if Bryant wins his service-time grievance, as unlikely as that may be. In short, there are just too many moving parts to make Bryant a top priority for teams looking to acquire an elite third baseman.
That complicated situation should a lot simpler in short order, as a decision on Bryant's grievance — which could come this week — will better clarify his control. Then once the top free agents sign, the market for Bryant will come into better focus. Sharma lists the Rangers, Braves, Dodgers, and Nationals as potential fits, though how motivated they'll be to make a splash of this nature remains to be seen. The Cubs even entertaining this possibility at all would have been unfathomable just a couple years ago, yet here we are.
And let's be clear that where we are is still very much a hypothetical realm. Rather than being "manic" in their desire to unload core players, the Cubs are being pragmatic about a reality that hasn't developed according to their plans. As a result, they may have to resort to tactics that were once unthinkable. So even though I think it'd be a huge mistake to trade Bryant rather than extending him, I have to agree with Sharma that the possibility "cannot be dismissed."