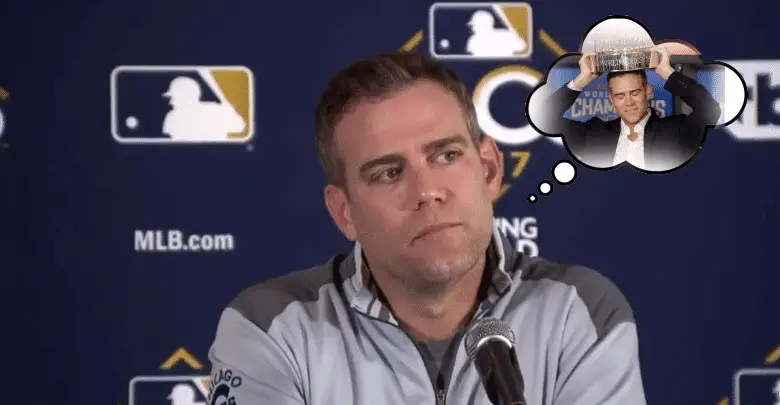 The Rundown: Winter Meetings Get Underway, Cubs Handcuffed Again by Budget Limitations, Sunday Baseball Notes
The Winter Meetings are here, and based on a lot of insider chatter, the Cubs are expected to make a big move or two this week in San Diego. Will they move Kris Bryant in a blockbuster trade? What about Willson Contreras? And will Joe Maddon ask his new bosses to try and poach a player or two from his old organization? Jo Adell of the Angels would make a for a nice long-term center field solution for the Cubs.
If you remember last year, the Winter Meetings began with similar hype as Theo Epstein was on a mission to make his team better — a reckoning, if you will — but did not make a single move. If the front office is shut out again this week, it might be worth considering why it is so difficult for Epstein and his entourage to make a move or two. Does he overvalue his players? Are other front offices loath to trade with the Cubs? Is it a matter of sticking with his players too long?
It's certainly going to be interesting to separate fact from fiction this week, but while other teams have already made big moves and started restructuring their rosters, Epstein has just signed a couple of castoff pitchers, and is said to be close to re-signing Brandon Morrow to a minor league contract. A lot of Cubs fans have applauded the strategy of building pitching depth, but are we to genuinely believe that any of the recent additions will be significant contributors to the Cubs in 2020? To me it feels too much like last winter, when the Cubs made a few low-cost fringe moves before announcing their big free agent signings of 2019, Brad Brach and Daniel Descalso.
Cubs Reportedly Telling Agents They Can't Negotiate on Even Low-Cost Free Agents Until They Clear Salary https://t.co/wwYotlBdAZ pic.twitter.com/akRhG7zEQf

— Bleacher Nation (@BleacherNation) December 8, 2019
The Cubs probably won't be active in free agency this week and you're likely to hear that Craig Kimbrel was the big acquisition for this season, even though he signed with the Cubs last June. In fact, Epstein said as much at the time of the signing. At this point I suppose we should all applaud the president of baseball operations for jump-starting the 2020 market. I know the Cubs are operating with a Tom Ricketts sleeper hold on the team's checkbook, but a decently priced starter like Dallas Keuchel might be a nice way to shore up the rotation. Too bad it probably won't happen.
And if you are hoping for the return of right fielder Nicholas Castellanos, I would advise against holding your breath. You should probably focus instead on potential Rule 5 options. The draft takes place Thursday morning and is the unofficial end of the Winter Meetings. Epstein has to find a way to add a 26th man onto the 2020 roster with just a few pennies to spend, after all.
In the meantime, what do we think the Cubs will do as far as trades this week? I've read the over/under line is set at 2.5 moves. I suppose that might mean Bryant and Contreras are traded, and Jed Hoyer takes Dayton Moore out for drinks one night and somehow convinces him the Royals need Descalso. The smart money says not to bet the over, however, but maybe we'll be surprised. Few will admit it, but if I could take an honest temperature reading among Cubs fans, I'd say they secretly want Epstein to blow the whole thing up and start over.
Cubs News & Notes
Apropos of Nothing
If you have access to Hulu, The Last Days of Phil Hartman is an excellent documentary. I watched it last night and was glued to the television.
What to Watch on Thursday: The Last Days of Phil Hartman examines comedian's murder in ABC special https://t.co/AF9S00cMxQ

— Entertainment Weekly (@EW) September 19, 2019
This Week's Baseball Trivia
Before Chicago's North Side baseball team unofficially became the Cubs in 1902 when they went through their first ever roster rebuild, they went through a number of name changes. Can you name them all?  The "Cubs" designation was made official in 1907 according to historian Jack Bales.
Updates On Nine
Extra Innings
Huzzah! Congratulations to the Schwarbers!
Congrats to the new Mr. and Mrs Schwarber. What a beautiful wedding!! Cheers to many years of health, happiness and love. 🥂 pic.twitter.com/Rtbqz6aBx4

— Jason Romano (@jason_romano7) December 8, 2019
They Said It
"We put Nico [Hoerner] in a really challenging spot and he couldn't have responded better. His makeup, competitiveness is fantastic; his poise was really impressive." – Jed Hoyer
"I think you could make strong arguments [for Hoerner] on both sides. I think a lot will depend on what else we do and yeah, sure, what type of spring training [he has] might be a factor as well. We're not at the point where we're ready to make that decision yet, but we're open-minded." – Theo Epstein
Sunday Walk Up Song
Wind of Change by the Scorpions. Could be an interesting week for Epstein and Hoyer. Not for nothing, I really love this song but have no real reason for that. It always puts me in a good mood though.