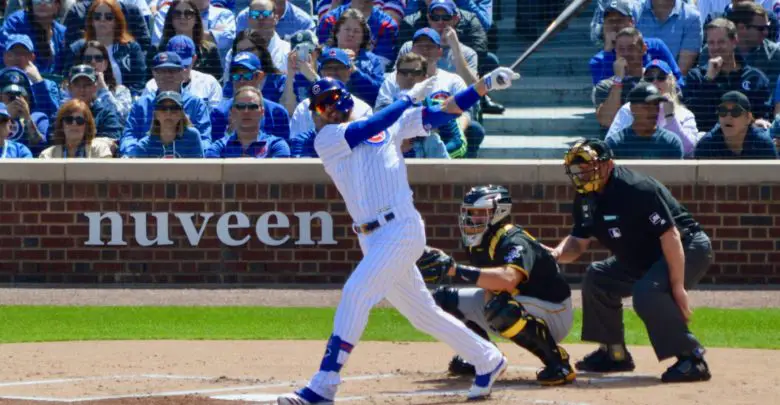 Cubs Trade Rumors: Nationals Have Made 'Initial Inquiry' About Kris Bryant Deal
After signing righty Stephen Strasburg to a record $35 million AAV deal, the Nationals may not be willing to stretch to what it'll take to bring Anthony Rendon back into the fold as well. That could mean turning to the trade market, which has prominently featured Kris Bryant in new series of rumors and reports each day. The Cubs have admitted that they're willing to listen to offers on all their players, and it figures that they'd have interest from the teams that miss out on Rendon.
The Nationals are likely to be among those and MLB.com's Jon Morosi reported Tuesday that they have already "made an initial inquiry to the Cubs" about the possibility of trading for Bryant. This is all very preliminary, of course, since a few dominoes have to fall before anything definitive can really be worked out. Chief among those is the resolution of Bryant's grievance hearing, which will determine whether he becomes a free agent after the coming year or the next.
"I think we're fairly confident in what the outcome's going to be. But the timing I guess is a bit frustrating," Epstein told Gordon Wittenmyer and other media members. "It'd be nice to know. We're at the winter meetings, and there hasn't been a ruling. But I understand these things take time. And I think certainly it's not going to be more than a couple weeks ago."
Though he didn't say it, Epstein and the rest of baseball are fairly confident the independent arbitrator will rule that the Cubs did not violate the letter of the law in manipulating Bryant's service time by calling him up just 11 days into the 2015 season. Scott Boras almost certainly believes as much, though this grievance was never really about hastening Bryant's free agency. Well, it was to an extent, but this was a shot across the bow of MLB ownership when it comes to service-time manipulation in general.
In addition to the pending decision on Bryant's club control, the other factors involved in a possible trade are the eventual destinations of Rendon and Josh Donaldson. With more than two teams in play for their services, there will be a few clubs still in search of a corner man once all the dust settles. The Braves, Donaldson's current team, have been predicted as a destination for Bryant, with their AL East rivals in Philly also reportedly in contact with the Cubs.
Then you've got the Rangers and Dodgers out there as potential interested parties, though, again, it's all just idle speculation at this point. Since we're already on this path, you have to wonder where this whole situation would be sitting had the union not filed the service-time grievance in the first place.
Would the Cubs even be considering moving Bryant with a guaranteed two years of control? Would there ever have been a leak about him supposedly turning down an extension worth "well north of $200 million?" Or would the financial concerns that seem to be driving the last two rounds of offseason strategy have resulted in a painful rending of the young core no matter what?
In accordance with my sworn duty to defend the hill upon which I've chosen to die, I will repeat that trading Bryant is not in the best interests of a team that wants to compete in the next two seasons. Only a win-now team will trade for him, which means they're not parting with players who could impact that success in the immediate future. So a Bryant deal would be aimed at improving the Cubs' chances over the next 3-5 years, which makes no sense with their execs only under contract for two more seasons.
But hey, there's a reason those guys make the big bucks and I'm pecking away feverishly from the musty confines of my mom's basement. Or the sun-drenched bustle of a hospital room, but same difference. If you're one of the folks who's been complaining about our coverage of rumors throughout the Winter Meetings, you may want to further gird your loins against what promises to be even more such talk over the next few days.