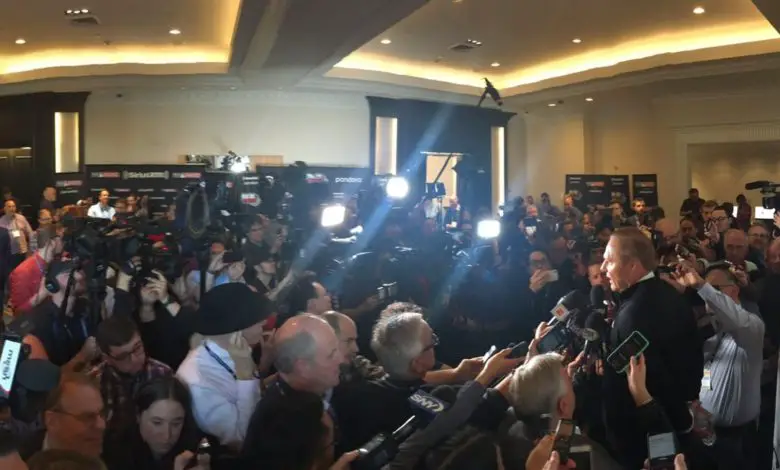 Scott Boras 'More Than Willing' to Talk Kris Bryant Extension with Cubs
Scott Boras is always good for a quote or six when he takes the stage, particularly when it comes to his annual command performance at the Winter Meetings. Mixing metaphors and one-liners with the erudite flair befitting his position among baseball's royalty, the super-agent held court as reporters from every available outlet gathered round.
Before flapping his gums about the specifics of his pursuits on behalf of his clients, Boras showed off his legal background by showing off his knowledge of bird law.
"MLB teams are like birds," Boras opined. "There's some hummingbirds that buzz around. Sparrows get something they can't carry the weight of. A lot of owls, who are wise and work at night. A lot of hawks. And you don't want to be an ostrich and lay the biggest egg."
After scrambling everyone's brains with that long-form analogy, Boras went on to describe the sunny side of the market. He's already landed the highest average annual value for any player ever with Stephen Strasburg's recent deal, and now fellow Boras Corp. pitcher Gerrit Cole is expected to exceed that mark. Boras explained that two mystery teams have entered a fray that already includes the Yankees and Angels, among others, so keep an eye on that.
Unless ownership has decided to liquidate a few Charles Schwab shares, the Cubs aren't among those teams pursuing Cole. Hell, they don't even have the available payroll space for Dallas Keuchel, another former Astros pitcher represented by the world's most bombastic ornithologist. Despite their turned-out pockets and a wave of trade rumors, however, the Cubs might be willing to talk turkey on a Kris Bryant extension.
"We communicate with the Cubs constantly," Boras said when asked about Bryant. "Our doors are open [and we are] more than willing to discuss anything like that on a long-term basis."
Not that this sentiment is either unexpected or novel, since it's the same thing we've been hearing for quite some time now. Just last month at the GM meetings, Boras said remaining open to an extension has "always been Kris's philosophy." He also said a trade for such a high-profile player is unlikely, something he reiterated Tuesday. This has all come during the limbo of Bryant's service-time grievance, which many have wrongly assumed means Bryant wants to leave.
The Cubs, however, don't seem particularly inclined to offer him what it'll take to keep him. Maybe that will change in the near future or even next offseason, particularly if Marquee Network gets broad coverage by reaching an agreement with Comcast. The Cubs aren't moving Bryant for anything less than a massive return, so it's hard to see them finding a team willing to give up what it'll take to get him.
As we've noted here before, Strasburg and the Nationals provide a pretty solid rebuttal to the idea that Boras only ever wants to get his players to free agency so they can leave. Strasburg signed a big extension during the 2016 season that could have kept him in Washington for seven years, but also featured opt-outs and significant salary deferrals. He exercised an option at the end of the season, hitting free agency and landing an even bigger deal with even more deferrals to stay in Washington through what figures to be the end of his career.
The deferred salary, which in Strasburg's case is something like $80 million due in the first three years after the expiration of the base contract, is really just a matter of accounting. It's still all rolled into the average annual value of the deal for purposes of the competitive balance tax, but spreading it out over a longer period helps ownership with cash flow and liquidity. So where am I going with this?
First, Strasburg is one of just a few Boras clients who've agreed to an extension prior to reaching free agency. That was based largely on his injury history, which prompted a desire for more immediate security. Whether it's his own spate of injuries over the past three seasons or just his semi-homebody nature, Bryant is almost certainly amenable to an extension for similar reasons.
Seeing what Strasburg was able to get after staying healthy and establishing himself as a legit ace may offer additional motivation to a player like Bryant. Buying out what will likely still be two years of arbitration means taking a little discount on the AAV of an extension, but the ability to opt back out after, say, three years would allow him to more than make that up on the back end. It would also mean getting a new deal under a new CBA, something Bryant will be partly responsible for crafting as the Cubs' union rep.
Finally, there's the idea that the Cubs financial issues might not simply be a matter of wanting to avoid CBT penalties as a matter of principle. That's part of it, for sure, but it could be that ownership is in a bit of a liquidity pinch after buying the remaining share of the team back from Tribune Company and running "around 100%" over budget on their Wrigleyville renovations. Maybe the aversion to the tax is about not having enough additional cash on hand to readily pay the bill when it comes due.
While that doesn't bode well for paying Bryant fair market value on a new deal, perhaps an extension that defers some big money would be more palatable to the Ricketts family's financial model. That may sound silly when you consider that they just sold TD Ameritrade for $26 billion, but the all-stock transaction didn't exactly put straight cash into the Cubs' coffers. Not that I'm trying to drum up sympathy for ownership, mind you, just looking at the specifics of the deal.
And maybe looking at the specifics of Strasburg's deals provides us with an even better for than does the Nolan Arenado extension in Colorado, which Bryant said he'd "absolutely" be interested in with the Cubs. Then again, it could just be that I've been making the connection for a while now and want to keep planting my flag on it. Sure would be nice to find out one way or the other before long.