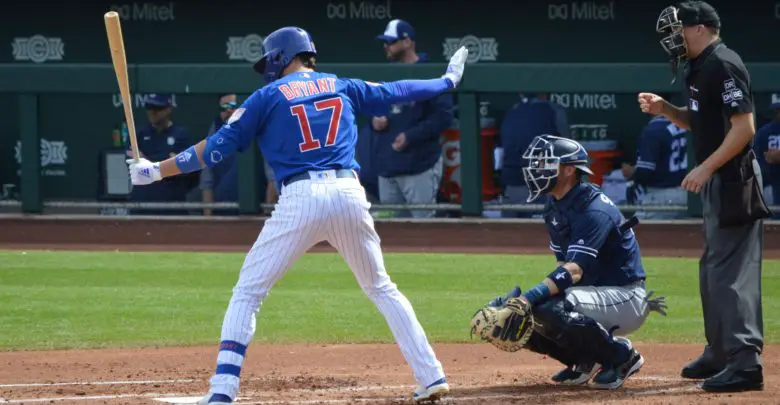 The Rundown: Cubs Still Sitting on Sidelines, Bryant Rumors Dominate Day Two of Winter Meetings, Yankees Sign Gerrit Cole
In an offseason of awful takes for the Cubs, the hits (or lack thereof) just keep on coming. The first two days of the Winter Meetings provided spectacular theater for baseball fans, with record-setting contracts for players like Stephen Strasburg and Gerrit Cole, big name player trades like Nomar Mazara going to the White Sox, and a steady stream of ongoing rumors.
Except for Cubs fans. With his hands cable-tied by financial restraints, Theo Epstein has been unable to swing a trade or sign a free agent and has instead had to handle questions about rumors surrounding Kris Bryant. For all of the talk about the team being aggressive and potentially "manic" to make a move when the Winter Meetings kicked off on Sunday evening, things haven't been exactly bustling this holiday shopping season.
I did find a quote by Jed Hoyer to be very compelling, however.
"The end of our roster did struggle last year in certain places and we have to do a better job of fortifying that," Hoyer said. "And so those conversations are really important. They're not the names you read in trade rumors and stuff like that, but they are really important and we are having a ton of those conversations."
In fact, the Cubs may not be looking to move any of their core players unless they are presented with something too ridiculous to turn down.
So for all the talk surrounding the Cubs' core four and the possibility that Bryant, Anthony Rizzo, Willson Contreras, or Javy Báez may be moved, perhaps idle gossip simply got the best of us. It may just be that Epstein and Hoyer are waiting for the dust to settle and will look to fortify the team at its periphery by scavenging through the recycling bins outside their San Diego hotel once everybody else heads home.
Cubs News & Notes (The KB Edition)
More Cubs News & Notes
On Deck
Wednesday Stove
Cole was long considered a certainty to head to the West Coast in free agency, until the Yankees decided to make him the richest pitcher in the history of the game.
The finality of Cole's decision will force several teams to quickly pivot their offseason plans.
Cole now earns the same amount of money as Netflix CEO Reed Hastings, but far less than the $2.2 billion that Elon Musk pays himself annually.
The Dodgers are "still stinging" from the allegations of sign stealing by the Astros and had really hoped to and Cole.
Davis Price is drawing interest from several teams, while the Angels are showing heavy interest in Rendon.
Pitchers have been the happy recipients of a supercharged market so far and even those starters and relievers thought to be fringe additions may cost much more than initially expected.
The Mets are shopping outfielder Brandon Nimmo, who would check a lot of boxes for the Cubs. Nimmo is said to be the bait to acquire Starling Marte from the Pirates, who are looking for a catching prospect instead. Sounds like the perfect storm for a three-team trade.
The Pirates also like Mets first baseman J.D. Davis.
Extra Innings
I really thought Pat Hughes deserved to win the Ford C. Frick Award this year. He'll have another chance and will no doubt hear his number called eventually.
Hawk's call from the Hall!

Ken Harrelson is the 2020 Ford C. Frick Award winner! pic.twitter.com/J3i1nuzn3P

— Chicago White Sox (@whitesox) December 11, 2019
They Said It
"We're in the early stages of the offseason. We haven't really done much yet. We're still exploring lots of possibilities. We never point to where we expect to end up in terms of our payroll. And this year particularly, I think there's a lot of strategic reasons with what's going on out in the marketplace to play our cards close to the vest." – Theo Epstein
"Rarely, core, premium, All-Star, MVP-type players [referring to Kris Bryant], they're so valuable to a team. It's hard to think how you ever replace them, and so when you get into those levels, historically, it's normally not something that's done." – Scott Boras
"Right now, we don't have anything that's in the red zone. That'd be my instinct. But at the same time, there's a bunch of days left. More than any other time of year, things happen quickly at the Winter Meetings. That's the one great thing about the Winter Meetings, where an idea can go from the germination to deal very quickly because we're in the same place and people have a certain level of motivation." – Jed Hoyer
Wednesday Walk Up Song
Sooner or Later by Mat Kearney. At some point the Cubs have to do something to fill the holes in their roster and decide on commitments to players nearing free agency.