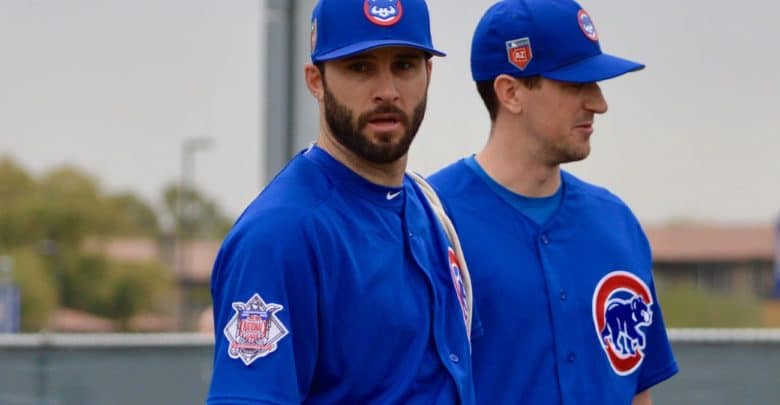 Sky-High Upside Easily Justifies Risk-Free Minors Deal for Brandon Morrow
After weeks of reports, the Cubs have indeed agree to a minor league deal with oft-injured former closer Brandon Morrow. Not surprisingly, news of the deal comes the day after the Rule 5 Draft, which Morrow would have been eligible for had he signed earlier. The first rumblings of a potential return were greeted with a surprisingly robust volume of meatball-adjacent takes. Whether it's about the money he "stole" from the Cubs or the presumed futility of giving the oft-injured reliever another shot, some folks have been vehemently opposed to the potential deal.
Cubs and Brandon Morrow agree on a minor league deal, per source. Says his arm is feeling great. Hasn't pitched since before the all-star break in 2018.

— Jesse Rogers (@JesseRogersESPN) December 13, 2019
According to Bob Nightengale of USA Today, Morrow's deal will pay him $1 million if he's in the majors. He can earn an additional $1.25 million in incentives, every penny of which will be well worth it because it means he's healthy.
While Morrow's inability to stay healthy during his time with the Cubs is undeniable, his extraordinary performance during those times he was able to take the mound are equally inarguable. It's hard to remember just how good Morrow was during the first half of the 2018 season, but there's a case to be made that he was the best reliever the Cubs have employed in the last decade-plus not named Aroldis Chapman.
With results that compare favorably to baseball's most elite relievers, Morrow has been spectacularly effective since transitioning to the bullpen full-time in 2016. Digging a little deeper, though, allows us to see just how dominant he was and has the potential to be again.
Brooks Baseball provides us with some incredibly useful data that help illuminate the things Morrow does so well. The data in question is provided in Z-scores, the number of standard deviations Morrow sits away from the average pitcher's results in a given metric, but I've converted those numbers into percentiles. I thought that you, reader, might appreciate that.
| | | | | | |
| --- | --- | --- | --- | --- | --- |
| Pitch type | Number | Velocity | Horizontal movement | Whiff/Swing | GB/FB |
| Four-seam | 355 | 98.54 | 20.61 | 91.15 | 98.71 |
| Slider | 66 | 97.38 | 61.79 | 96.86 | 98.64 |
| Cutter | 67 | 96.78 | 96.41 | 99.94 | 98.87 |
Brandon Morrow Results with Cubs (2018), percentiles
The bold numbers underscore just how elite some of Morrow's tools are. With so many elements of his pitching repertoire in the 95th percentile or better, it's not hard to see why the reliever has produced such amazing results when he's taken the mound. He generates a staggering amount of both whiffs and groundballs, the former was a noted deficiency in the Cubs' bullpen last season. When the game is seeing more fly balls leaving the yard than ever, you can't ask for anything more of a late inning reliever.
A quick look at Morrow's in action is enough to send shivers down the spine of any hitter.
Fastball
Brandon Morrow with your standard, run of the mill 100 mph Backdoor Fastball. 😳 pic.twitter.com/EpQizbFtT8

— Rob Friedman (@PitchingNinja) May 25, 2018
Slider
Brandon Morrow, Filthy 89 mph Slider (release/spin). 🤢

And, Gyorko with the ⚔️ pic.twitter.com/NEA5PvkuI6

— Rob Friedman (@PitchingNinja) May 7, 2018
Cutter
Brandon Morrow, 97mph Fastball (foul) and 92mph Cutter (dirt/swinging K), Overlay.

Why Scooter Gennett would swing at a pitch that bounced? That's why. pic.twitter.com/vN7nkfoM1m

— Rob Friedman (@PitchingNinja) July 8, 2018
Morrow's ability to successfully "tunnel" his pitches, unleashing them from similar release points, makes it that much more difficult for hitters to be successful against his filthy arsenal. Given his velocity and movement, it'd be hard enough for opponents to hit against Morrow even if they knew exactly what was coming. Thanks to his top notch deceptiveness, and assuming no banging trash cans or buzzing band-aids, they don't get the benefit of foresight.
Health has been Morrow's great equalizer, preventing him from living up to the contract the Cubs gave him to be their closer before the 2018 season. He knows that just as well as every fan who's lamented it over the last year and a half, which is why he's been publicly amenable to a minor-league deal that carries no risk to the Cubs. If he can come even close to getting back to his first-half form of that 2018 season, the Cubs will gladly award him with a roster spot and hand him a setup role.
But what if he never gets healthy or his age and rust prevent him from having even a modest impact? Well, then he won't get a roster spot and the Cubs move on with no harm done. C'est la vie.