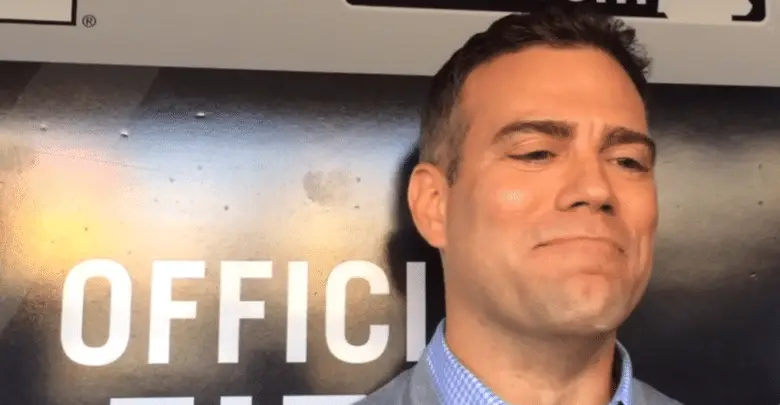 The Rundown: Cubs Set Up Nicely to Control Trade Market, Yu Darvish Mentioned in Rumors, Trevor Megill Could Be Diamond in Rough
"You know, Hobbes, some days even my lucky rocketship underpants don't help." – Calvin
"Reality continues to ruin my life." – Hobbes
I suppose I could have attributed those Calvin & Hobbes quotes to the dynamic duo that runs the Cubs, seeing that they were shut out in San Diego this week. If the whirlwind of the Winter Meetings left some of you unable to keep track of the moves Theo Epstein and Jed Hoyer have made since the 2019 season ended, let me help you catch up:
Their only major league addition after four days in sunny San Diego came yesterday when they claimed 6-foot-8 reliever Trevor Megill from the Padres in the Rule 5 Draft. Megill was originally a draft pick of new scouting director Dan Kantrovitz when he was with the Cardinals in 2014, though he didn't sign.
The Cubs came to the meetings needing to add to their bullpen and the big righty has an excellent chance of being an impact reliever this summer. If you want to get to know more about Chicago's newest bullpen addition, you can check out this interview he did with a Padres blogger in July.
As a quick aside, I have been following Megill in my NL-only fantasy baseball league since he was drafted in 2015 and I believe he is an adjustment or two away from being a 100 mph pitcher with better-than-average command.
Hoyer on Cubs Rule 5 pick Trevor Megill: pic.twitter.com/nCNaW2moQO

— Mark Gonzales (@MDGonzales) December 12, 2019
Epstein and his entourage are now back on the North Side having done their work assessing other teams' needs with respect to a trade market that should be every bit as robust as the free agent market has been. Whether or not the front office starts shipping players out of Chicago depends on the desperation of their front office brethren. Teams lining up to acquire young, established veterans like Kris Bryant, Willson Contreras, and Anthony Rizzo will be expected to pay a very heavy premium. Even players outside the core, such as Ian Happ, Kyle Schwarber, and particularly Victor Caratini, will command a generous return.
In fact, the Cubs have reportedly received a decent amount of interest in Yu Darvish. I'd say any chance of trading their ace is practically non-existent, so I can only imagine what the ask for Darvish would be. And though Bryant still remains the heavy favorite to be moved based on his salary and the current market for third baseman, about the only suggested offer I've seen that seems somewhat palatable is Victor Robles, Carter Kieboom, and a minor league pitcher from the Nationals. Would Washington do that? It's doubtful, but we'll see what happens once Josh Donaldson signs somewhere.
At any rate, if you were disappointed by the Cubs' lack of participation out West this week, it's probably worth noting that Epstein and Hoyer have set themselves up quite nicely to control the trade market for the rest of the winter. The pace at which the top free agents have signed had to have been a dream come true for the executive tandem given the shaky balance of their needs and constraints. I feel a palpable sense of excitement from the two now that baseball is entering the second phase of the hot stove season, and I'd bet dollars to donuts that Epstein will thrive knowing he gets to set the market with his inventory.
Cubs News & Notes
Friday Stove
Who will be baseball's next $300 million pitcher? Noah Syndergaard would seem to be the likeliest candidate, though we might have to wait until Walker Buehler reaches free agency.
The Yankees and Brett Gardner agreed to terms yesterday that will keep the outfielder in New York for at least one more season.
Some teams that lost out on Anthony Rendon have turned their attention to Mariners third baseman Kyle Seager.
It's actually kind of a small upset that Seattle GM Jerry Dipoto didn't sign a free agent or make a single trade at this week's Winter Meetings.
Though it once seemed unlikely, there is mutual interest between Madison Bumgarner and the Dodgers.
The Dodgers are also interested in trading for Cleveland shortstop Francisco Lindor, and Gavin Lux may be part of the package that the Indians would demand in return.
General manager Brodie Van Wagenen believes his Mets have baseball's deepest rotation.
Major League Baseball announced changes to its drug use and testing policies on Thursday, removing marijuana from its "drugs of abuse" while announcing mandatory tests for cocaine and opioids.
Extra Innings
If you answered Scott Boras you would be 100% correct. He's pompous and bombastic, and loathed by so many, but he rarely disappoints his clients.
The stove was on 🔥. pic.twitter.com/xuedxqAToa

— MLB (@MLB) December 12, 2019
They Said it
"It feels to me like there's going to be continued action in free agency in the days to come. There seems to be a lot of activity. And so, I think as those things get finalized, it will clarify the trade market. There's going to be teams that still want to improve after free agents are generally off the board." – Jed Hoyer
"We've laid some foundation for discussions that could spill into next week. We have to be patient, try to find the right moves. And as the free-agent market continues along, I think it will open up for us." – Theo Epstein
Friday Walk Up Song
The Only Living Boy in New York by Simon & Garfunkel. Besides choosing today's song because it's my daughter's favorite, Simon waxes lyrically about what it's like to say goodbye to a friend and professional peer just as their dynamic has hit its stride. Sounds like our favorite baseball team.