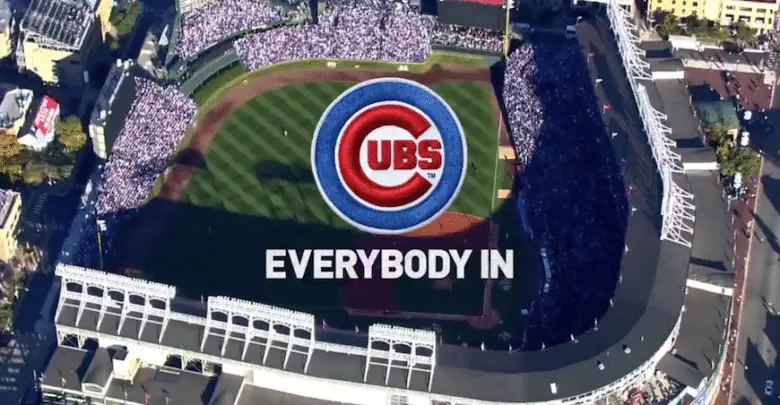 Trading Away Stars to Build Budget Roster Would Almost Certainly Cost Cubs More Than Additional Luxury Tax Hit
If things go according to the media buzz coming out of the Winter Meetings, Theo Epstein and Jed Hoyer may go down as the biggest pair of traders since Cassius and Brutus. After two or three winters of big talk, the action could begin in earnest once a few pieces fall into place. And where the Cubs once continued to maintain the status quo in the face of mounting incredulity, everyone seems to believe their primed for an inventory liquidation sale.
It's hard to call their potential strategy — at least what we know of it anecdotally — a full-scale rebuild, since that would take longer than the two years Epstoyer has remaining. Nor can we safely say they're looking to reload, since they very clearly ran out of ammunition last season. But there is this growing sense that the Cubs are wide open for business, to the extent that we could see a more seismic shift in the roster than anyone could have predicted heading into the offseason.
More than seeking to fill holes with affordable value like the Brewers are doing, the Cubs may look to clear a little salary glut while rebuilding the farm. They could even fall prey to trade fever, getting caught in the momentum of a market that is hungry for controllable talent at a time when free agent contracts have broken records at every turn. Doesn't sound like the Cubs, does it?
I wouldn't have thought so even a week ago, but it's impossible to discount all the rumors and reports when they continue to walk in lock-step. While you'd have to imagine the front office would still prefer to hold onto all their talented young players with big extensions, that's simply not the reality in which they exist. Planned talks with Javy Báez were apparently fruitless if they took place at all, and the Cubs are far enough apart with Anthony Rizzo on a new long-term deal that his agent went public with it earlier this week.
Assuming the edict to control spending is far less malleable than it was last year, the alternative to inking new deals is swinging big trades. That becomes even more likely given the going rate for star players, the top three of whom have gotten contracts worth at least $35 million annually. By that math, Kris Bryant is an absolute steal at what could amount to something like $22-25 million AAV over the next two years. Willson Contreras will cost far less over each of the next three seasons. Rizzo will earn $16.5 million this year and has a club option for the same amount in 2021.
Even the resurgent Yu Darvish would be a bargain at just $21 million AAV, which is why the Cubs have reportedly gotten offers on him. Hell, why not consider moving José Quintana's $10.5 million for 2020 or Kyle Hendricks' incredibly valuable $13.8 million AAV through 2024. Toss in sweeteners like Ian Happ and a prospect while eating some salary and you could even see the Cubs finding a trade partner for Jason Heyward. After all, the right fielder is his final season of partial trade eligibility before his 10/5 rights kick in next winter. It's not that everything must go, but openness to one big trade means openness to all trades.
Or does it? I mean, it's highly unlikely that the Cubs would move more than two of those players, right? And maybe all this talk is just a case of guys like Joel Sherman and Bob Nightengale running with whatever story is most fun in the wake of big signings that happened in such quick succession that they really just made one collective splash that left a void when the Winter Meetings ended Thursday.
So whether they're actually going to be "darlings of January" or not, the Cubs have most definitely made it known that they're willing to listen to just about anything on anyone. The only question is whether they'll stick to their "absurd" asking prices or eventually come down for fear of experiencing another stagnation like they've suffered through the last two seasons. If they're truly being hard-capped by ownership, there might not be much choice.
Make no mistake, this isn't an accusation that the Cubs have been cheap. As many people not named Tom Ricketts who somehow still remain concerned with the competitive balance tax will tell you, the Cubs have maintained one of baseball's top payrolls for years. As one of the top-grossing teams in the game, they should have a top payroll. They've even said they expect to again this season. But all indications are that they've got to cut before spending, which signals a desire to remain right around the $208 million CBT threshold. They may yet be trying to get under it.
That, my friends, would be a mistake. Not that spending like drunken sailors is the solution, but maintaining something similar to their $237-ish million payroll from last season would give the front office roughly $27 million to spend. So unless they're blatantly lying to literally everyone, which the failure to meaningfully pursue even very reasonably priced players at positions of need says is not the case, the Cubs really can't fill out the roster without swinging a trade or three. Beyond the potential to be disastrous for their competitiveness, it could also be bad for business.
There's actually a very convincing argument to be made that spending more on payroll would end up as a net financial positive for ownership. Even if liquidity has taken a hit from budget overruns of 100% or so on their myriad development projects, slashing payroll will most certainly have an adverse impact on revenue. Whether it's Marquee Network's adoption and advertising rates, occupancy at Hotel Zachary, or the number of meals and drinks rung up at various Ricketts-owned establishments around Wrigley, a better team means more robust business.
And that's just taking the regular season into account. After playing a grand total of one postseason game over the past two seasons, the Cubs have missed out on all the additional money from the gate, concessions, and Wrigleyville entertainment. That has to represent tens of millions of dollars in revenue opportunity that just vanished, not to mention the negative momentum it established.
Just doing a little quick math, the Cubs' 2019 payroll overages will cost them in the neighborhood of $7.5 million. That's based on estimates shouldn't be taken as gospel, but it's close enough for our purposes. Maintaining roughly the same payroll this season would mean a jump to around $10 million. What do you think, would reaching the playoffs generate enough to justify the additional $2.5 million in "dead-weight loss" from tax penalties?
With a new TV network and a need to prove themselves again, this isn't the time the for the Cubs to be trading away faces of the franchise. Bryant is the embodiment of everything a team would want in a poster boy for its new venture, let alone as the cornerstone for a team that seeks to be competitive for years to come. Same for Contreras, Rizzo, and Báez. If financial concerns factor even a little bit in the Cubs' willingness to part with core players, the problems run deeper than just a broken offense.
At the very least, it may simply say that ownership is aligned with the late PK Wrigley in the belief that fans are simply gullible enough to keep spending their own money at the same rate no matter the product on the field. In that case, trading players and cutting payroll is a great business decision. So, yeah, go Cubs go.