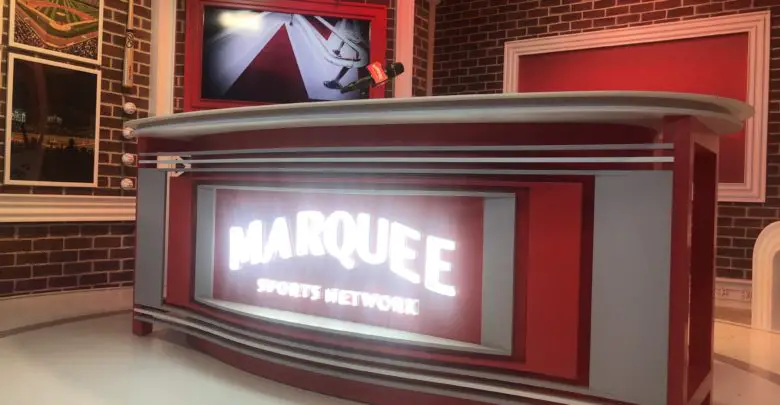 The Rundown: Thanks for Your Support, Marquee Network May Have Its Face, White Sox Making Moves
Merry Christmas Eve, folks. Even if you don't celebrate it directly, I'd like to wish you and yours all the best. Spending as much time online as I do can be pretty deleterious to your faith in humanity, what with all the toxicity people feel compelled to put into the world, but these last several weeks have been much more uplifting.
As many of you may already know, my daughter recently underwent a dual-stage spinal fusion that was preceded by six weeks of inpatient halo gravity traction. The end result was a pair of titanium rods held in place by 22 screws and fixation points. The images are pretty gnarly and we got to keep some of the temporary hardware that was installed during her initial surgery, so I guess my wife will make a shadow box of some sort.
Anyway, the outpouring of support we had from members of the online community was just incredible. Whether it was just messages of hope and support or financial donations, we were not wanting for anything during Addison's time in the hospital. In fact, the generosity was so overwhelming that we were able to share some of it with Shriners Hospital for Children in St. Louis in order that other families would be able to experience well into the future.
Here's the temporary rod a two screws they took out of Addison's back. She has 22 of these screws and 2 rods now. pic.twitter.com/PDtO4JpaQk

— Evan Altman (@DEvanAltman) December 9, 2019
Here we are leaving the hospital, then having Addison's first meal as a free woman in over 7 weeks. Last is the before and after of her spine. pic.twitter.com/pfkQpLxwxl

— Evan Altman (@DEvanAltman) December 12, 2019
Unlike traditional halo traction in which a device sits on the patient's shoulders and immobilizes their neck and spine, gravity traction involves an increasing amount of weight designed to stretch and "unwind" the spine of someone with severe scoliosis. As you can see in one of the images above, Addison had a pair of 86-degree curves that caused chronic pain and led to breathing and digestive difficulties.
As such, it would be too traumatic to simply wrench her spinal column into a better position. So she was fitted with a halo, which was attached to her skill with six screws, which was then attached to a pulley system that bore an increasing amount of weight. She eventually got to 35 pounds, with half that amount also attached to her while she slept. That meant having a specialized walker fitted with a pulley system to allow her to be mobile while in traction.
The same is true for every halo patient at Shriners, but those contraptions don't last forever. After consulting with the folks there, I was able to put in a call to the manufacturer of the walkers and put in an order for three brand new ones. Within a couple days of Addison being released, we saw that a 6-year-old boy who'd just gotten his halo was the first patient to use one of the new walkers.
There are lots of ways to give, whether it's time or money or just a kind word, and many people and places who could use your gift. Maybe that's just in your own home, but there are undoubtedly folks in your virtual or actual communities who could use a little boost this time of year. Do me a favor and lift someone up over the next few days. You might find your own burden lessened as a result.
New face of Marquee
According to a report from Ryan Glasspiegel of The Big Lead, Marquee Sports Network is expected to name NFL Network anchor Cole Wright as the new "face of Cubs studio coverage." Wright, a Joliet native who starred in baseball at Waubonsie Valley High School and Waubonsee Community College, would be returning home after several years away building an impressive resume that includes FOX Sports 1, NESN and ESPN in addition to his current gig.
Chicago media news: hearing NFL Network anchor Cole Wright is expected to be the face of Cubs studio coverage on the new Marquis network. Wright grew up in the Chicago area.

— Ryan Glasspiegel (@sportsrapport) December 21, 2019
There probably won't be any official announcements since Wright is finishing out the NFL season and may have a buyout of some sort to negotiate, but Marquee goes live in February and one would assume there's some prep time required. That's especially true for a guy who's been on the West Coast hitting up Dodgers games when he's not covering football. But Wright grew up a Cubs fan and still follows the team from a distance, so it's not as though he's in for a total indoctrination.
Expect something official by Cubs Convention, at which point the Cubs might also be looking to announce a Marquee carriage deal with Comcast. That's the big domino left to fall and our sources said recently that a deal was a "foregone conclusion," so it would be a nice plank for the business operations panel's platform.
While this pick might seem like it's a little outside the box, that's probably what Marquee is looking for. The new network wants to establish its own look and feel, which should be different from what else is out there. With a familiar duo back in the broadcast booth, establishing a new face in the studio — and one with some national cachet in other markets and sports — is a good idea.
On a personal note, I've gotten to know Wright a little bit over the last few years via social media. While I can't claim to be a friend of his or anything, he comes across as a good dude with a ton of energy and a very positive outlook on life. I think this is a great hire for Marquee.
Cubs notes
Like toxic gasses from wind turbines, these don't really exist right now.
Other notes
Since 33-year-old José Abreu wasn't old enough or sufficiently limited from a defensive standpoint, the White Sox appear to be closing in on a deal for 37-year-old slugger Edwin Encarnación. Both players still possess a little thunder, though, so the first base and DH spots should be solid.
While we're on the topic of defensively deficient sluggers, the Sox are also showing a good deal of interest in Nicholas Castellanos. He'd get the opportunity to stay in Chicago with a team that is both willing and able to pay him, so it's a win-win.
The Indians signed César Hernández to a one-year, $6.25 million deal.
The Astros re-signed Martín Maldonado, who you may remember briefly a Cub last season.
Rich Hill and his wife were arrested Saturday outside Gillette Stadium while trying to enter the Patriots-Bills game. Caitlin Hill was carrying a bag that apparently didn't meet the NFL's strict standards, so she tried in vain to go through several different gates before eventually being arrested for disorderly conduct and trespassing. The lefty was then taken into custody for interfering with the cops' efforts to load his wife into a transport vehicle. His protestations probably looked something like this…
Rich Hill is not a fan of the shift. pic.twitter.com/0SKcXdMkTX

— Jomboy (@Jomboy_) May 23, 2019
More thanks
Before closing, I just want to say thanks to everyone who's helped to make CI what it is. We've more than doubled our readership again this year, which I'm really proud of. That isn't possible without the talented and dedicated writers who do this as a hobby that pays them very little in relation to the effort they put it. And they wouldn't write at all if not for readers like you, even those from Facebook who don't make it past the headlines.
Christmas Eve walk-up music
Christmas in Hollis, Run DMC – I love this one and this is the only time of year I'll listen to it, even though it occasionally comes up on my iPhone shuffle. I'll be popping a giant brisket into my smoker as the clock turns to Christmas, so I'm afraid I may prevent a certain fat man from breaking into my house. Oh well, the kids don't need presents.