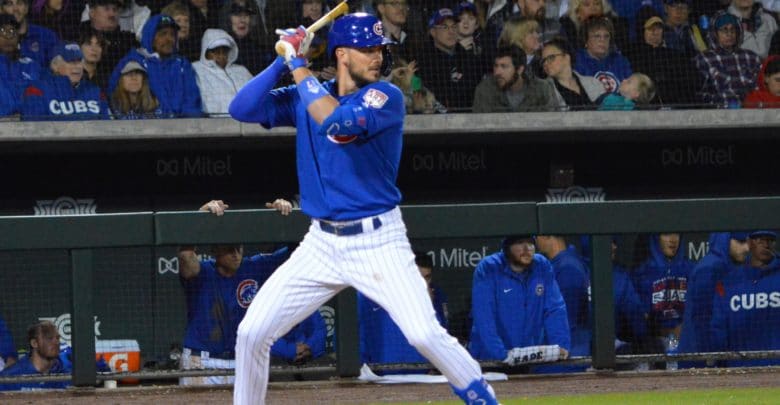 Cubs Trade Rumors: Very Specific Report Lists Players Cubs Want from Braves for Kris Bryant
I was made aware of this rumor by a tweet addressed to Bleacher Nation, where I subsequently read a detailed post on the latest installment of a potential Kris Bryant-to-Braves trade. You may want to go ahead and check that original post out, because it really doesn't behoove me to retread all the same ground here. I will, however, echo BN's thoughts that the specificity of this rumor makes it stand out from its predecessors.
Before getting into that, let's note that this is based on the assumption that Bryant will lose his service time grievance and will still have two years of club control remaining. That's what everyone in the industry — presumably even Bryant's camp — believes will happen, but any deal will have to wait until a final decision. That won't come until January, or maybe even February, so nothing is imminent on the trade front.
That said, the Cubs can't really wait until then to have conversations and are almost certainly entertaining contingencies for trading away a single year of control. According to Paul Crane of the Scout's Honor podcast and the Atlanta Falcons Radio Network, some of those conversations have taken place with the Braves, who've been very heavily connected to Bryant over the course of the offseason.
https://twitter.com/AllStuffGamblin/status/1209642704654798850?ref_src=twsrc%5Etfw%7Ctwcamp%5Etweetembed%7Ctwterm%5E1209642704654798850&ref_url=https%3A%2F%2Fwww.bleachernation.com%2Fcubs%2F2019%2F12%2F26%2Frumor-out-of-atlanta-cubs-want-three-of-anderson-waters-riley-and-wright-from-braves-for-kris-bryant%2F
I'm not sure whether or not Crane's primary duties as a football guy make this more or less plausible, as arguments could be made either way, but he's certainly plugged into the Atlanta sports scene. What's more, he listed four specific names and seems to be sharing direct information that had been passed to him by someone in the know. Was that someone with the Braves or just moderately informed speculation from a Braves-adjacent individual? Impossible to say at this point.
"Now I was told the Cubs showed great interest in the Braves' minor leagues," Crane said. "They've already — so I'm told — told the Braves, 'Any three of these four and they'll send Kris Bryant.' And those four are Ian Anderson, Austin Riley, Drew Waters, and Kyle Wright.
"'You send three of those four, you get Kris Bryant.' Now, obviously there's room for negotiation. That's what they asked for, but I think whether a team knows they're getting one or two years it makes a big difference."
If you're keeping score at home, that's two righty pitchers, a third baseman/outfielder, and a center fielder. Huh, almost sounds like positions the Cubs covet. All four are also top prospects, or were until such time as that designation expired. They're relatively young and have high ceilings as well, with Anderson and Wright standing out as potential rotation pieces as early as the 2020 season. But is there enough immediate impact there to offset Bryant's projected contributions?
You have to remember that this isn't eight years ago and the Cubs aren't in a position to conduct a full-on rebuild. They do appear to be pretty working pretty aggressively to get under the competitive balance tax threshold, which means making some trades to shed salary, but it's hard to imagine them aggressively shopping Bryant. Not that they aren't open to trading him, which I maintain is a bad move, just that it seems a little odd for them to be the ones essentially presenting an offer to the Braves.
That's where the veracity of Crane's report really falls apart for me, though we should make allowances for interpretation and context. We don't know how direct this info was, or even if it's legit in the slightest, though it's possible there was a situation in which the Braves gave the Cubs a list and said "Pick three." And that's where I'm going to leave off, since the idea of trading your best player with two years left and a new TV network about to launch just makes no sense to me.
Even if you feel differently, it's important to maintain proper perspective when you hear these rumors. There are just so many moving parts and everything is being filtered through people with their own agendas and preconceptions, so by the time it reaches us it might look like an entirely different animal.