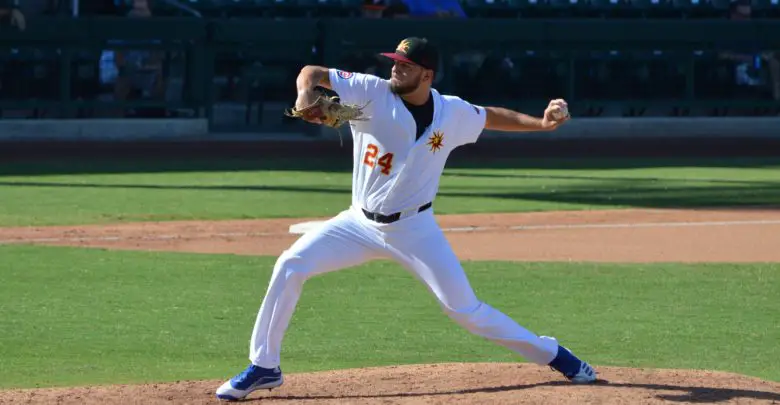 Cubs Organizational Breakdown, Pt. 10 – Couple Lefty Relievers from Sparse Crop May Be Ready
The Cubs have never really had a lot of lefty bullpen arms and depth is still a concern in that regard. Luckily, most of their lefty relievers will be at Tennessee and Iowa to start 2020 and they should all get some big league experience in the first few weeks of spring training.
While this post does not have a "Most likely to succeed" tag, the Cubs will have several choices should they need lefty help. That doesn't include Justin Steele, who is currently a starter but might move to the pen this year. If that eventually is the case, you can move that 95 mph fastball and beautiful curve to the front of the line.
Lefties in line
It took Jordan Minch until age 26 to see his velocity get into the mid-90's. He spent almost all of spring training with the big league club and finished the season with some time in the Arizona Fall League, where he struck out 14 in eight outings of relief. 
Danny Hultzen re-signed with the Cubs on a minor league contract after making his long-awaited MLB debut last season. He's been brought along slowly in his recovery after missing the better part of five seasons, so whether he can pitch on back-to-back days is still up in the air. His journey will continue this spring and will be one of the most interesting follows in spring training.
https://twitter.com/MLBastian/status/1170861398588633090
Armed with a mid-90's heater and a biting curve, Ryan Lawlor was named a Cubs organizational All-Star in 2019 by MLB Pipeline. The 25-year-old will begin 2020 at Double-A Tennessee and could move to Triple-A Iowa pretty quickly. CD Pelham was claimed off waivers from the Rangers and could make a little noise. The 6-foot-6 lefty comes close to hitting triple digits, but missed most of the last year and then struggled with his command upon his return. 
Wyatt Short has been productive so far at Eugene, Myrtle Beach, and then Tennessee. He struggled after moving up to Iowa, but we will find out in spring training how much faith the big league club has in him by how much time he gets in with big league squad.
Breakout guys
Brandon Hughes was originally an outfielder who switched to pitching at the end of spring training last year and did well enough to make it all the way from Mesa to South Bend in just a matter of a couple of months. He can run it up there at 93-94 and should be even better in his second year as a reliever.
Adam Laskey did not pitch after signing out of Duke last summer and could be a starter or reliever next year. Prospects Live ranked him the No. 30 Cubs prospect last week, citing his "extremely good feel for an above-average pair of offspeed pitches in a slider and change, locating both very well when he's fully healthy."
Bryan King can be extremely hard to hit because he is all arms and legs. He did well at Eugene and it'll be interesting to see how he does at South Bend to start 2020.
Bryan King slo mo pic.twitter.com/rlxXAAFsSX

— TheBullpen🐾 (@RealCubsAnalyst) August 10, 2019
Injury comeback candidates
Can Luke Hagerty come back from another elbow reconstruction at 38 years old? Conor Lillis-White came over in the Tommy La Stella trade, but he has yet to pitch an inning as a Cub.
Other Breakdown Articles
Catcher
First base
Second base
Shortstop
Third base
Right-Handed Starters
Left-Handed Starters
Right-Handed Relievers