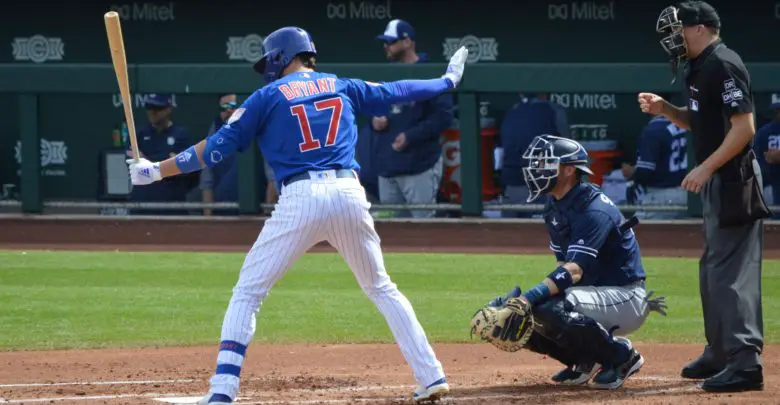 Cubs Set 'Joke' Price for Kris Bryant, Seeking 'Obscene' Return for Willson Contreras
None of what follows should strike you as particularly novel, though David Kaplan's latest on the Cubs' stagnant offseason features a good deal of input from a former MLB general manager and other baseball execs. Those sources confirm what's been both reported and assumed for weeks, which is that the Cubs are asking for huge returns on Kris Bryant and Willson Contreras, and also discuss the perceived value of those players.
Everything has come to a head this offseason, as the Cubs' failure to properly identify and develop talent outside of the top of the draft is really coming back to bite them. Disappointing performances from players on big contracts, massive cost overruns on development in and around Wrigley Field, and uncertain carriage of Marquee Sports Network have resulted in a budget crunch. After exceeding the competitive balance tax threshold by around $36 million in 2019, the front office may have been tasked with getting payroll under $208 million this season.
That could mean having to trade some of their best players, which isn't a great way to drum up excitement for the new network and get fans to keep shelling out the highest prices in MLB to attend games. As such, Theo Epstein knows he can't just give those guys away. Getting a load of MLB-ready talent back in return would at least soften the blow, while failing to move anyone despite all the reported trade talks shows at least that the front office tried to be active.
That latter possibility is becoming more real each day, especially if what the Cubs are seeking is as out of line with their players' value as some believe.
"The Cubs' asking price for Bryant is a joke," a former GM told Kaplan. "They want nearly ready major league talent at the level of a Gleyber Torres type or close and there is no chance a team is going to give them a package of those caliber of players."
You may want to take some of that assessment with a mouthful of salt, since the individual responsible for it is really down on Bryant. Lamenting a dramatically different swing and questionable health, the former GM said the former MVP is no longer a top 30 player in baseball. While he's actually right about Bryant's swing being different, that's a function of working to get better plate coverage and limiting the swing-and-miss that was so evident in 2015.
Questions about his health aren't out of line, as minor nicks in 2017 gave way to shoulder and knee issues in each of the past two seasons. Thing is, Bryant had been putting up better numbers than ever before those respective maladies threw him off track. Even with persistent knee pain hampering his second half in 2019, Bryant's 135 wRC+ was higher than Nolan Arenado has ever posted.
The Cubs absolutely should ask for a boatload in return for Bryant, it's just that they're probably not going to get it due to concerns about his future production relative to cost. After all, he could earn something like $45 million over his final two years of arbitration, assuming he loses the never-ending grievance that's still hanging out there.
Though the cost and circumstances are very different for Willson Contreras, the catching market is a lot clearer and more top-heavy than third base. When you factor in that Contreras will earn much less than Bryant in 2020 and over the duration of his club control, his value really shoots up. Even so, the Cubs appear to be looking for a lot more in return that what teams are willing to give up.
"It is getting late in the offseason and Contreras will not bring you the return that they are asking for and what they are asking for is obscene," a high-ranking executive shared with Kaplan. "Yes, he's a really good player but the Cubs want a king's ransom for him and I don't see them getting that back."
The general sentiment seems to be that something will only get done if the Cubs back down and make a move aimed more at just dumping salary. How pathetic would that be? I mean, if they really have to trade a player who's posted the third-most fWAR in baseball since he debuted solely because they don't have payroll flexibility, it's an unfortunate indictment of both baseball and business operations on the North Side.
See, I told you none of it was particularly novel even if you wish it was fiction. That's what happens when you serve multiple masters and have to try to keep all of them happy. Except that this winter is more about just trying to upset each of them the least. In that regard, Epstein and the front office are operating like the servant in the Parable of Talents who buried his master's money out of fear.
I was going to close this with a real flourish, but it seems more appropriate to leave you expecting something big while I conclude with nothing.