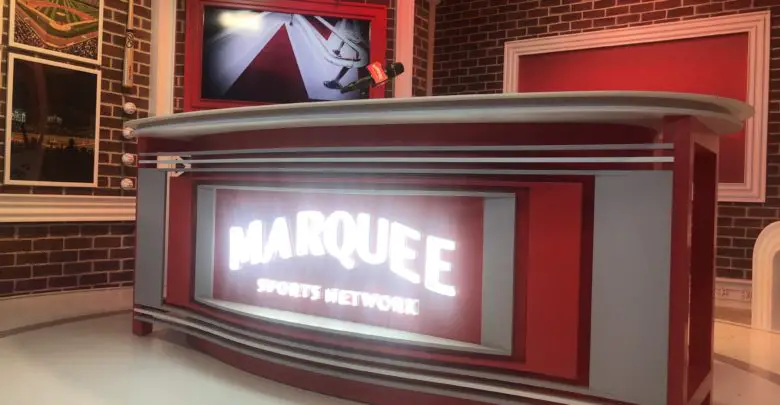 'Only Greed or Ineptitude' Will Prevent Marquee from Wide Launch by Season Opener
Marquee Sports Network got off to a fast start by agreeing to carriage deals with AT&T, Mediacom, and Charter Communications this offseason, but that still leaves roughly 60% of the desired market uncovered. The biggest remaining player is Comcast, the media giant with which the Cubs and Sinclair Broadcasting appear to be engaged in a billion-dollar game of chicken. Sources have told Cubs Insider that an agreement is a "foregone conclusion," but we now sit less than two weeks from Cubs Convention with nary a peep from either side.
That could simply be a marketing ploy, a way for the Cubs to make a splash at a fan event that figures to be devoid of any other big news. With the Wrigley renovations complete and literally zero guaranteed contracts signed, the new network may be the only card the team is holding at this point. Yeesh.
But what if a Comcast deal isn't done and won't be for some time? That's the worst-case scenario explored by the Tribune's Phil Rosenthal, who laid out the possibility that the Cubs end up repeating the sins of the Dodgers by failing to have broad territory coverage by Opening Day. Except it'd actually be worse for the Cubs, who don't have the same up-front guarantees as LA did. Even though millions of fans still lack access to SportsNet LA, which is entering its seventh year, the Dodgers are reaping the benefits of a guaranteed $8.3 billion over 25 years.
That $332 million per season might be enough to make a team forget all about luxury tax penalties and the forfeiture of revenue-sharing windfalls. Ah, but the Cubs aren't guaranteed anything under their joint venture with Sinclair because their revenues are reliant upon the number of households paying for Marquee as part of their cable package. That total will have a huge impact on the advertising rates Marquee can charge, so the Cubs really need those 1.5 million households with Comcast's Xfinity service.
"The general assumption has been that Marquee will get its affairs in order by the time the regular season starts at the end of March," Rosenthal wrote. "Only greed or ineptitude can stop it."
Greed or ineptitude, you say? Good thing those words have never been used to describe Cubs ownership or business operations. Wait…strike that, reverse it. The Santo Dumpster and Lindbergh Mural are well in the rearview, but the PR snafus have continued with political stumping against alderman Tom Tunney and reports of intimidating journalists. Then there are the budget overruns on the 1060 Project that may have reached $500 million and triggered a federal probe into the ballpark's accessibility.
I'm still waiting to find out about my CubsCon pass, so I'll leave it to you to determine whether it's fair to call Cubs leadership either greedy or inept. What I will say, however, is that they've given plenty of reason to be concerned about Marquee having full coverage across the team's broadcast territory by late March. That would be the organization's worst misstep yet, and not just because of the revenue hit.
The Cubs have spoken for years about avoiding the Dodgers' pitfall, which would be amplified in Chicago due to the importance of WGN in building the fanbase. Moving from free to paid TV is hard enough for some longtime fans to swallow, but leaving millions unable to get Marquee even if they want it would be a terrible look. That's to say nothing for the cord-cutters and those who've never had to watch games with anything other than a pair of rabbit ears.
Having every game from spring training through the regular season on one channel isn't much of a value prop for people who can't get the channel in the first place. And with the Cubs boasting the most expensive live experience in MLB, there are plenty of fans who can't make it to the park on a regular basis. I have no idea what the Venn diagram of these fan segments looks like, but I'm guessing there's a broad overlap labeled "pissed off."
Of course, this is all hypothetical right now. It's entirely possible that the Cubs announce a Comcast deal in the next two weeks, or at least by spring training. That should ensure that their revenues from Marquee are eventually enough to allow them to once again compete with juggernauts like the Padres and Reds for low-level free agents.