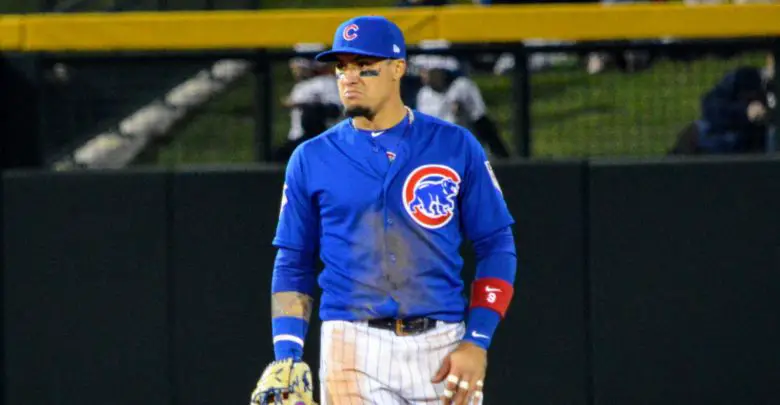 Let's Project Cubs' Arbitration Salaries with Numbers Due Friday
This one's about as simple as they get, so let's dispense with any trifles and just get right to it. With arbitration figures due by Friday, I figured it was a good time for some last-minute estimates on where the Cubs and their eligible players will end up. As an added bonus, I've created some Twitter polls that I'll include and update once they're complete.
Oh, I lied a little bit about this being simple. Part of that is the nature of the business of baseball, which has seen teams shift to more of a "file-and-trial" approach over the last few years. Rather than exchanging numbers and then continuing to talk prior to an actual hearing, teams are more likely than ever to take a hard-line stance and present a take-it-or-leave-it offer.
Theo Epstein and Jed Hoyer used to have a reputation for avoiding arbitration altogether, but that began to change with Justin Grimm prior to the 2018 season. The Cubs' financial situation may force further use of heavy-handed techniques this winter as they need to shave every dollar they possibly can from a payroll currently projected to fall just slightly over the $208 competitive balance tax threshold.
The quickest way to free up the most possible money is via trade, but the league in general has slowed in that regard and the Cubs are asking so much for their coveted players that nothing is going to happen on that front right away. There's also the matter of Kris Bryant's service-time grievance, which complicates both the trade market and the arbitration process.
Absent any imminent trades and needing to clear a little room, it's entirely possible the Cubs will lowball a few of these guys and then proceed with what is certain to be an uncomfortable arbitration process. And the thing is, the Cubs have a lot of leverage in most cases should they go the FNT route. There's also the possibility, however slim, that the Cubs could seek to negotiate after the exchange of numbers by making an appeal to the players to sacrifice for the greater good.
As horrible an idea as that is from a labor perspective, and as ludicrous as it seems for a major market team to be asking players to take pay cuts, that's sort of where we're at here. Maybe there's even a little quid pro quo with the front office offering to make things right should they reset their CBT penalties and open up the purse strings again next season. That's almost certainly not plausible, but stranger things have happened.
With all that in mind, let's proceed to the estimates (MLB Trade Rumors projections listed).
Kris Bryant ($18.5M) — 2 years, $43 million
It seems like something could be worked out here due to the grievance, but a legit extension. Bryant was made the highest-paid "second-year" player ever back in 2017 when the Cubs gave him a good-faith raise to $1.05 million. He then set a record for highest first-year arbitration salary when he made $10.85 million in 2018.
After a relatively small raise to $12.9 million after a shoulder injury laid him low for most of that season, KB is primed for a nearly 50% bump heading into 2020. So wait, why did I project him for a $21.5 million AAV that would actually put the Cubs further above the threshold? Mainly because it either firmly sets his trade value should they look to move him or it gives him security over the next two years in Chicago.
Javy Báez ($9.3M) — $8.5 million
Here's where they start making up for some of that increase I laid out above. Javy made $5.2 million this past season, so this is still a decent raise from a percentage standpoint. He's also in line for an extension and perhaps this is a prelude to something bigger in the offing.
Kyle Schwarber ($8.0M) — $6.5 million
Despite being well below MLBTR's figure, this would nearly double Schwarber's $3.4 million salary in 2019 and would lower the Cubs'  projected obligations. And if we're being honest, Schwarber is probably the player most susceptible to the hard reality of arbitration. The hearings often focus on box-score numbers like batting average, where his .250 wasn't impressive, while his 38 homers got washed out with the skyrocketing totals around the league.
Willson Contreras ($4.5M) — $4.25 million
We'll stick close to the MLBTR estimate here because it's his first year of eligibility and the Cubs can keep things pretty low as they look to save a few bucks.
Albert Almora ($1.8M) — $1.3 million
Even this may be a bit too much for a guy who put up negative WAR last season, but it's still more than double the $584,000 he made to do it. Almora is probably even more susceptible to arbitration than Schwarber, but he doesn't have anywhere near as much room to maneuver.
Jharel Cotton ($800K) — $645,000
Hard to really peg this one because I've never seen him pitch. Nor has anyone else who's only watched the majors over the past two seasons. Cotton already signed for $645,000, so really no estimate
Kyle Ryan ($1.1M) — $950,000
Ryan was a very reliable after a shaky start, using his funky delivery from the left side to become one of the team's best bullpen options. This would be about a $400,000 raise over 2019 while still cutting a little bit from the initial projections.
Okay, so I didn't get the Cubs below the CBT threshold. But I did slightly lower their projected arb figures despite giving Bryant a raise. Which means that they'd likely be under if KB just gets a one-year offer. I'll update this post Tuesday or Wednesday with the poll results, but feel free to leave your own in the comments.