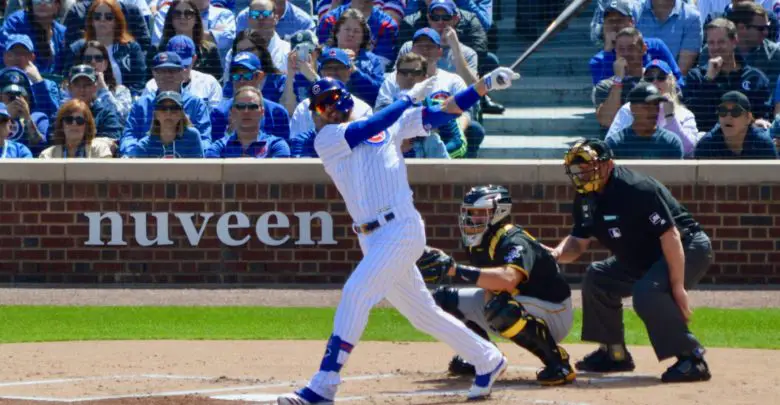 Cubs Expect Kris Bryant Grievance Decision 'Within the Next Week or So'
Whether you look at it as nearly three months or five years, Kris Bryant's service-time grievance has been an omnipresent asterisk on the Cubs' operations. They were able to push it back like student loan deferments for several years and now may be dragging their feet of late when it comes to making the first payment. Or maybe it's Bryant's side drawing things out. Lord knows MLB might also being slowing it up, as this matter is a big one for the league as a whole.
Whatever the case, it's very clear that this process is taking much longer than the standard process, which is allowed under the current CBA so long as both sides are okay with the timeline. Whether and to what extent that's the case we may never really know, but we can all see pretty clearly that it's holding up the Cubs' activity this winter.
"Not until the Cubs get a Bryant decision can they consider any major moves," David Haugh wrote in the Tribune Tuesday. "The Cubs expect news within the next week or so but privately have acknowledged frustration with the drawn-out process."
Theo Epstein has actually expressed that frustration publicly if I'm not mistaken, and he's far from alone in that regard. On one hand, it's newsworthy that Haugh says the Cubs expect a resolution to come soon. Hell, I used that for the title of this piece. On the other, however, is the notion that the arbitrator is going to have to come up with something here really soon.
The timing mentioned here also fits perfectly with Friday's deadline for the exchange of arbitration figures, which Bryant and the Cubs will have to do whether he's got one year left or two. The decision shouldn't impact what he's paid in 2020, though it could spur or hasten the desire to hammer out a hasty two-year deal that locks Bryant into a set figure should his camp be on the "losing" end of the decision.
And make no mistake, that's what everyone expects. For Bryant to "lose" the grievance, that is, no for him to sign a new short-term deal. In estimating the Cubs' arbitration numbers the other day, I did predict that KB would earn a $43 million mini-extension, but that was as much about trying to be a little bold as anything else. Still, the drawn-out process of this decision makes you wonder whether the two sides are taking a little time to piece something together.
In addition to providing Bryant with a little security, having a set cost would also solidify his trade value if the Cubs indeed look to move him. It also means there's less of a gap between his AAV and Nolan Arenado's, though such a move would necessitate at least one corresponding trade to clear salary. Unless, that is, the Cubs can find a way to shed both Jason Heyward and Jose Quintana, thereby freeing up enough money to offset Colorado's superstar.
But wait, moving all of Heyward's money means trading at least one major piece, like Willson Contreras, and probably a very solid prospect or two. Ugh, not fun.
In any case, this last bit has just been a stream-of consciousness thought exercise brought on by the boredom of the offseason to this point. The White Sox have already signed more former Cubs than the Cubs have signed guaranteed players, and that's just in the last day. Hell, the Marlins are even being tied to Pedro Strop and Brandon Kintzler.
What a time to be alive.