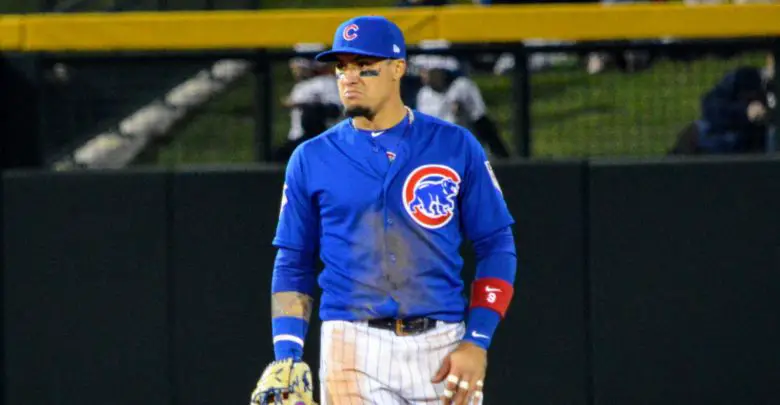 Here's What Javy Báez Extension Could Look Like, Still Good Chance to Ink One This Spring
Javy Báez and the Cubs weren't able to come to terms on an extension during the Winter Meetings, but they agreed Friday to a $10 million salary for 2020 that keeps the sides away from the arbitration table. That neither portends nor precludes a longer deal, which isn't even possible right now given the Cubs' budget restrictions. Then again, they could draw up an extension that kicks in next season, which would otherwise be Javy's last of arbitration eligibility.
So what would such a deal look like? Check out the tweet below, which, regardless of the unknown credibility of the account, lays out a pretty compelling case for a seven-year, $140 million deal.
Javier Baez agreed at $10M with #Cubs. Sets up $15M as baseline estimate on final trip through Arbitrationz

2Yrs $25M (2020-21)
5 Yrs $115M (2022-26)

Realistic Extension?

7Yrs $140M

Arbitration plays pivotal role in extension dialogue. Today slow for fans, but important in FO

— MLBExecutiveBurner (@HotStoveintel) January 10, 2020
For some additional context on the potential for a deal like this to get done, we need look no further than Kyle Hendricks. Wait, seriously? Yes. In addition to being teammates, Hendricks and Javy are both repped by Wasserman Media Group, an agency that has a reputation for being open to extensions. Though the dollar figures and situations are vastly different, Wasserman also counts Nolan Arenado as a client.
Drilling down a little deeper, we can look at the specifics of the extension Hendricks signed just before the start of the 2019 season to see whether something similar is possible for Javy. Timing is the first and most obvious aspect of the deal, and not just because it tells us the two sides could continue to work on something over the next two-plus months. Under the terms of his deal last year, Hendricks' "new" money didn't start until the 2020 season.
That shouldn't be confused with back-loading or deferring salar in a contract, neither of which serve to reduce a deal's average annual value. As a quick primer or reminder, a team's competitive balance tax payroll is based on the AAV of all players and not the actual aggregate amount being paid to those players. For example, a team can't circumvent the CBT by paying a player $5 million in 2020 and '21, then having his salary jump to $35 million in two subsequent years. His checks are going to get a lot bigger in the last two years, but his AAV of $20 million is what hits the bottom line each year in that scenario.
Hendricks, however, had already agreed to a salary for 2019 and didn't fall under the terms of his new deal until the start of the 2020 league year. Should the Cubs truly need to remain under the $208 million CBT threshold this season, they could simply structure Javy's extension the same way and keep him at a $10 million payroll hit for now. Between resetting their penalties and not having to forfeit as many of those sweet revenue-sharing dollars, not to mention having Marquee up and running, the Cubs have even fewer excuses to avoid spending next season.
Along those lines, it's at least a little bit interesting — and maybe even a little telling — that Javy was the only one of the Cubs' six arb-eligible players to receive a significantly higher salary than what had been projected. Kris Bryant got an extra $100K, but the others all combined to come in somewhere around $1.4 million under the estimates. Javy, on the other hand, got $700K more than expected in what some might see as sort of a negotiation promise ring. Or maybe just a save-the-date card.
Going back to the money laid out above and the circumstances we just discussed, Javy would actually get $130 million in new money over six years. That comes out to a very reasonable $21.67 AAV that should make both player and team very happy. Javy gets the security of a longer deal and the Cubs get a little bit of a break for buying out a final arbitration year that is currently estimated at $15 million. Pushing it out to eight years and $160 million (h/t to @FullCountTommy) would further increase the security and lower the AAV, good for both sides.
Of course, that's just a really basic sketch for a deal that is almost certain to contain various performance escalators and options. Hendricks has annual escalators that boost his salary each time he finishes anywhere from 1-10 in the Cy Young voting, so it's easy to imagine something similar for Javy using MVP results. Or maybe he'd like to get a bump for being MLB's best infielder in terms of outs above average.
All things considered, working out a deal to keep Ednel Javier Báez in Chicago for the foreseeable future makes a ton of sense and is still very much a possibility for this spring. Who knows, the Cubs may have already planted the seeds for an extension and could have an understanding with their shortstop that they'll revisit it once they get the rest of the offseason settled. Now, if only they'd do the same thing with Kris Bryant and others.
But whatever, this is about Javy in particular. As such, I'll close with the prediction that he agrees to a six-year, $136 million extension ($22.67 AAV) with a club option for a seventh year at $20 million that vests if he wins an MVP. There will also be bonuses for finishing in the top five in MVP voting, though I'm not going to guess at the specific values of those. Book it.
Damn, I probably just jinxed it.